Best Phono Preamp Under $1000: Your Top 5 Choices
To get the best sound out of your record player, you'll want a phono preamp.
But which preamp is the best option?
In this article, I'll be going over the top 5 best phono preamps under $1000. Let me know which choice is your favorite in the comment section below!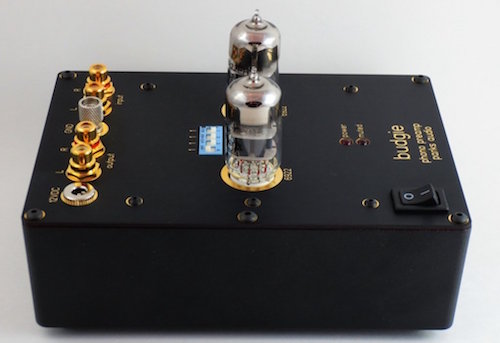 Budgie Tube Phono Preamp
$399.00
The first preamp we'll be talking about is the Budgie Tube Phono Preamp.
This is my favorite preamp for many, many reasons.
First of all, this preamp sounds crystal clear. Many will argue that this is because of the fact that the Budgie is powered off of two high quality tubes. The main reason why this preamp sounds so good is because everything, from the build quality to the circuitry, was done with so much care and consideration. High quality components are used.
Another reason this preamp sounds so good is that it has no op amps. This is very surprising considering how rare this feature is among preamps that cost less than $500.
In case anything goes wrong, budgie offers a generous 2 year warranty. From what I've read, Budgie's support is very understanding and fast to respond to your questions/concerns.
The Budgie Tube Phono Preamp is possibly the best valued preamp on the market. For its price, you get a lot of bang for your buck.
The construction of this preamp is super strong and will withstand many, many years of use.
Overall, if you're looking for the #1 tube phono preamp for under $500, check out what Budgie has to offer!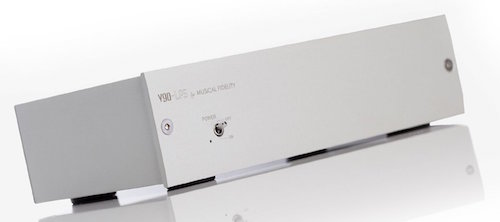 Musical Fidelity – V90-LPS
$229
For less than $300, you can pick up the Musical Fidelity V90-LPS. It is a quality preamp ideal for higher quality turntables.
Some of the specs include:
Input impedance: 47kOhm (MM), 100Ohm (MC)
Input sensitivity: 3.0mV (MM), 200mV (MC) – for 300µV out
Frequency Response: +0, -0.1dB, 20Hz to 20 kHz
Signal / Noise ratio (A weighted): >80dB (MM), >80dB (MC)
With this preamp, flat sound was a goal. You hear your music exactly as the artist/engineer intended it to be heard.
Audiophiles will approve on how great the V90 sounds. If you plan to amplify a phono turntable, you can expect a huge difference in how good your LPs sound.
The immediate difference you'll hear is how much detail is in the soundscape of this preamp. It really opens up your turntable's sound without any annoying amplification noise in the background.
If you're worried about not having enough amplification with this preamp, don't be! For the average listener who likes to really crank your tunes, you won't have to turn up the volume more than a quarter of the way up to get a comfortable sound.
I really liked how well put-together this preamp is. The V90 is built like a tank and features a super sleek, white design.
The front is very minimalistic with a small analog-style on/off switch. Guaranteed, this preamp will look great when added to your current set up.
Overall, check out this preamp if you're looking for the best sound for under $300.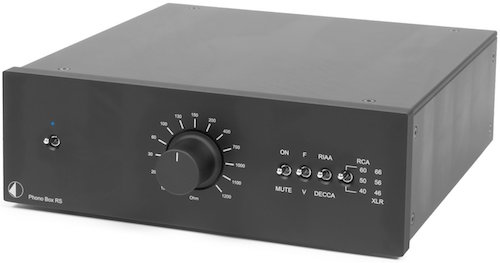 Pro-Ject – Phono Box RS
$999.00
Pro-Ject is a really innovative pro-audio company that releases quality gear. I'm specifically a fan of their turntables, but have also became fond of the Phono Box RS.
This preamp costs just under $1000 and is the grandaddy of all phono preamps.
If you're after the best sound possible and want nothing else, your clear option is the Phono Box RS.
This is probably not meant for your average beginner. This is a serious audiophile preamp capable of producing the clearest amplification beyond your wildest imagination.
You have both RCA and XLR inputs/outputs. This gives you versatile options in terms of connecting devices.
I'm a big fan of the simplistic design of this preamp. It has a flat-black paint job and well laid-out controls.
On the front of the Box RS, you have a beautiful volume knob in the center that has an incredibly smooth turning action. You'll also find analog switches to help you control various parameters. There's also an additional analog switch for turning the preamp on/off. You'll find a nice, blue power indication above the on/off switch.
In simple terms, the Phono Box RS is the best preamp you'll find for under $1000.
If you're a serious audiophile, it's the way to go.

Parasound – Zphono
$249.00
Parasound's Zphono is an amazing phono preamp that will only cost your $250.
If you're looking for a quality rack-mountable preamp that provides a pristine sound quality, you can't go wrong with the Zphono.
This preamp is unique in the sense that it pretty much becomes an audio interface. There is a usb connection that will allow you to plug it into your computer. This is perfect for sampling vinyl, while maintaining a crystal-clear sound quality.
You'll find a headphone output, for monitoring live instruments easilly. There are 2 inputs for you to plug in line level audio sources. Of course there is a single input for connecting phono audio sources as well.
The last feature I wanted to mention about this phono preamp is the front-panel clip indicator. This makes it easy to make sure your channels aren't clipping when you are recording to your computer.
Overall, if you are specifically a producer and you are looking for an affordable way to sample vinyls, I'd highly recommend the Parasound Zphono.

NAD PP 2e
$169.00
The last phono preamp we'll be talking about is a nice, affordable option. For roughly $170, you can get your hands on the NAD PP 2e.
The first thing I want to talk about is this preamps super sleek design.
I was surprised by this for the price point. The NAD is built solid and has a simplistic front panel design.
You won't be disappointed when it comes to sound quality!
For the price, the NAD PP 2e sounds incredible! The is very low background noise. The sound quality brings an unheard clarity to your records.
A nice touch that the NAD PP 2e had was the quality of its components. Just looking on the outside, you can see that the PP 2e has gold-plated inputs.
Overall, if you're looking for the best affordable phono preamp, the NAD PP 2e is a very respectable solution. Check it out!
Final Notes
So there you have it!
Those were my choices for the top 5 best phono preamps under $1000.
Let me know…
What music are you dying to play out of your newly purchased preamp? Leave your response in the comment section below!