What's The Best Vocal Preamp? We Found Your Top 5 Amp Choices
Signals produced by mics are often too weak or too prone to noise to be transmitted for mixing or recording.
Therefore, preamplifiers are required to increase the microphone signal to line level and to increase the gain to a stabilized value.
In addition, the preamp can also filter out noise which would otherwise amplify as well and lead to loss of information.
During production sessions, your choice of microphone preamps will greatly affect the quality of your work.
The function of a preamp may seem to be minute but in reality it is very much vital for you to get crystal clear sound to your equipment.
Many audio engineers think that a mic preamp affects sound quality greatly so a high quality preamp will proportionally affect what you hear at the output side.
A preamp may be the source of coloration and microphones like condenser ones might require a decent preamp just to function properly.
The article explores various avenues when it comes to Vocal Preamps.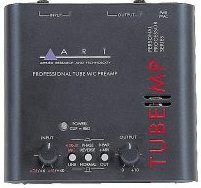 The ART TubeMP is a real deal maker and for $42 only, can provide you with features like:
Superior preamplification,
Over 70dB gain,
Smooth warm & fat sound quality,
Variable input & output controls,
Phase reversal switch
When TubeMP first entered the market with its innovation & research, it brought pro-caliber tube preamping to the general market at an affordable price.
The MP studio follows on those very footsteps and now adds a VU meter to the entire experience.
In short, this mic preamp brings greater control, higher accuracy and protected circuitry to you for fraction of the competition's cost.
The output peak signal is controlled by the mic to protect your recording systems, soundcards, etc. while the VU meter reflects the impact of the circuitry while its activated, allowing for finer tuning.
Lastly, the preamp comes with a 3 years warranty, which would be more than enough to keep you satisfied & locked in with this product.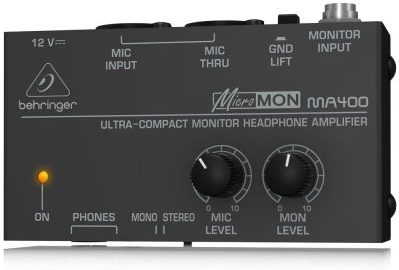 Behringer is a well-known company, famous for its audio products and has set the market standard for all kinds of musical products for too long now. This mic preamp brings to you features including:
– Ultra-compact monitor headphones,
– Personal mixer (mixing a mic plus a monitor),
– Stereo monitor input with dedicated level control,
– High power headphones output,
– Flexible mic in and mic through,
The MA400 comes with XLR THRU jacks, assuring superb, noise-free operation of your systems. Simply connecting your mic to the input port and sending in a line from THRU will give you all the power you need.
The amp comes with +48V phantom power so connecting a studio-grade condenser to it won't be a problem. The phones jacket is compatible with both 1/4 and 1/8 inch headphones.
The preamp is fully capable of both stereo & mono operation and an inbuilt mixer will allow you to work with 2x sources at the same time!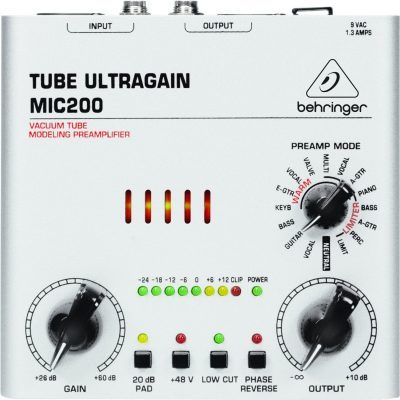 Another great preamp from Behringer, the Ultragain MIC200 brings features like:
– High end preamplification for all microphone, instrument and line sources,
– Perfectly matches your studio, live and hard disk recording set up
– Ultra-flexible preamp modelling,
– 16 preamp voicing designed for electric & acoustic guitars,
– Hand selected vacuum tube,
Tubes can warm up a signal real fast, give it depth, character and detail. Even though transistors have conquered everything tubes were set out for, but there are some things that are still better dealt with the classics!
The Ultragain MIC200 comes with 16 different preamp voicings designed to give anything the user asks for.
The MIC200 is perfect for studio & live applications. The balanced ¼ '' TRS gives you maximum flexibility while hand-selected 12Ax7 tube makes extreme low-noise operation a reality.
Two big vintage style knobs control gain & output, along with a switch for phase reverse & limiter for protecting the preamp itself.

A truly top of the line mic preamp, the MIC2200 brings you:
Ultra-low noise discrete microphone preamp,
Mic input stage based on conjugate transistor pair circuitry,
Ultra-wide bandwidth from 10 Hz to 200 kHz,
Integrated fully parametric EQs,
Independent line driver
The MIC2200 will give you the sound quality of a vintage preamp at a mere fraction of what a true preamp would cost in the 60s.
Built for all kinds of applications, the preamp is for those who are truly looking to enhance what they hear. With balanced ¼ inch TRS and XLR inputs, the MIC2200 is awesome for adding character & low noise operation to your inventory.
The preamp has a fully parametric EQ with adjustable bandwidth, center frequency and level per channel. Last but not the least, the preamp comes with phantom power through which it can add warmth to condenser microphones.

A costly preamp for sure, but it does have features that match:
Studio quality mic preamp,
Channel strip processor,
Classic dbx compression,
Frequency tunable de-esser reduced distortion,
Enhancer increases the detail & definition of frequencies
The dbx 286s is a fully featured, channel strip processor that delivers a studio quality preamplifier and 4x processors that are completely at your disposal.
The sonically pristine dbx 286s has all the goodies you need including a wide range input gain control, phantom power, 80Hz high pass filter to remove frequency hum.
You'll be able to eliminate vocal sibilance & high frequency distortion from instruments like cymbals with this and fine tune "The Enhancer HF detail Control" to add sparkle to your tracks.
Final Notes
As you can see that the price range of vocal preamps vary greatly so it's up to you whether you want something that's studio grade or a preamp that will fulfil your less intensive requirements.
Feel free to leave your feedback below.