Best Audio Interface under $500: Your Top 5 Choices
An Audio Interfaces is arguably the most confusing piece of gear that makes up a home studio.
What you have to understand is that there is no "grand daddy" of audio interface.
The problem isn't with the price or features of an Audio Interface but instead comes with its specificity; each Audio Interface is built for a specific set of demand which makes the selection process all the more difficult.
Don't worry!
This article aims to completely simplify the process of choosing an interface.
We have picked the best audio interfaces under $500 and compiled  them into a nice, consumable list.
Please let us know which interface is your favorite in the comment section below. Thanks!

Focusrite Scarlett 18i8
The Focusrite Scarlet 18i8 is a premium Audio Interface that comes with 18 inputs and 18 outputs. I'm a huge fan of Focusrite's products and I believe the 18i8 is one of the greatest interfaces on the market today.
Mainly, the Scarlet 18i8 has been designed for upcoming producers and bands who wish to record more than one instrument at a time.
The Audio Interface is compatible with Mac, PC as well as iPad so portability isn't an issue.
Features:
Comes with 4, award winning Focusrite Mic Pres with 8 outputs and 18 inputs.
The Interface offers 2 independent headphone outputs along with level controls for each one.
The chassis is made up of rugged metal body.
The interface records sound in 24bit, 96KHz quality.
An authorization code for Ableton Live Lite comes bundled with the Interfacalong with Scarlett Plug-ins, Novation Bass Station and 1 GB worth of sounds from Loopmasters.
>> Click here to check the current price <<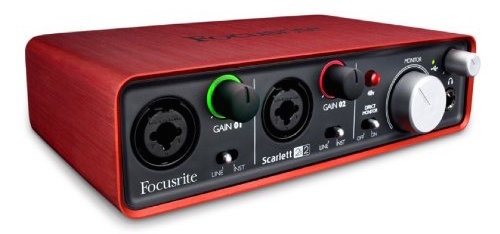 Focusrite Scarlett 2i2 USB Recording Audio Interface
The Focusrite Scarlett 2i2 is a highly aesthetic, superb yet savvy Audio Interface that has 2 inputs and 2 outputs.
The preamps are award winning while the chassis is sturdy.You can easily take it one the road with you without any hassle because of it's shear portability.
Focusrite has been developing Audio Interfaces for over 25 years now and has used all that experience to come up with a portable, cost-effective, low-noise & low-distortion preamp.
The preamp is not present in the company's flagship model but included in small-end models like the Scarlett 2i2.
Features:
High quality mic preamps give the user high quality sound which is very important for rising bands and musicians.
The digital performance is simply excellent.
The metal body allows easy transport from one place to another.
The interface is USB which makes up for easy connectivity.
Also comes with an authorization code for Ableton Live Lite.
Scarlett plug-in suite as well as Novation Bass Station included.
1GB worth of Loopmasters sounds free.
>> Click here to check the current price <<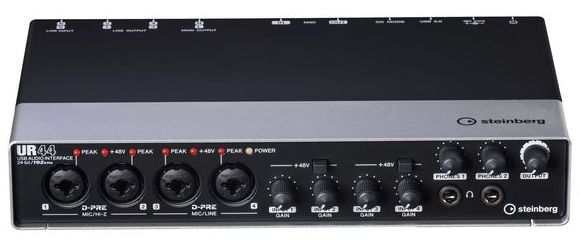 Steinberg UR44
If you're looking for a great audio interface with plenty of inputs, yet costs only $28, the Steinberg UR44 is a perfect choice. It has become a great option for bands due to its plentiful amount of inputs, its high build quality, and its affordable price.
Music producers also demand greater sound quality, slim design as well as flexibility when it comes to Audio Interfaces; all of these are qualities, the Steinberg UR44 proudly provides.
Features:
The UR44 is laced with 4 class-A D mic preamps assuring high quality sound is recorded.
Sturdiness is guaranteed with a rugged metal body. The interface is fully compatible with Windows and Mac.
The UR44 comes bundled with extra software like hardware monitors and DSP plug-ins which make analyzing sounds a piece of cake. Cubase and FX suite included.
>> Click here to check the current price <<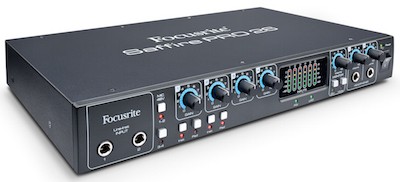 Focusrite Saffire Pro 26
Focusrite is simply the master of Audio Interfaces; its Saffire Pro 26 models are one of the best Interfaces available in the market and is guaranteed to rock the quality of your surroundings.
It provides crystal clear sound quality, perfect for large studio, at a very reasonable price. The Saffire Pro is even rack-mountable!
Its preamps use the latest AD/DA conversion technology and comes with a 5-segment LED metering for easy indication.
Features:
Bus-powered 18×8 Interface.
24 bit/96kHz recording quality ensures high quality sound for singers and musicians alike.
The Pro 26 is compatible with a thunderbird enabled PC and can be connected using a simple adapter.
Comes with 2 combination jacks.
18 inputs and 8 outpus, MIDI, ADAT and SPDIF expandability also offered.
Includes a comprehensive software bundle with software like Midnight Plug-in and Red 2 & 3 Suite.
"Bulletproof" reliability offered in terms of sturdiness.
>> Click here to check the current price <<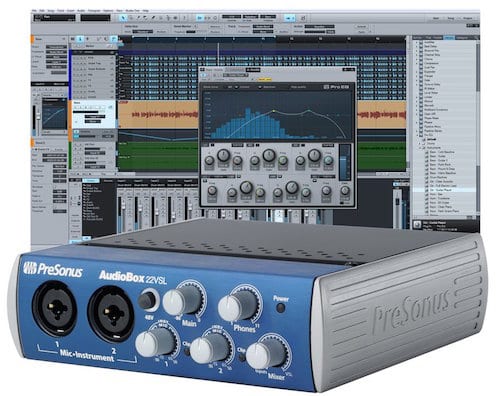 Presonus AudioBox 22VSL
The Presonus AudioBox is yet another popular option when it comes to audio interfaces under $500. It has some great features and delivers a perfect sound quality.
The included Presonus Virtual Studiolive Software makes tracking your every move extremely easy. Moreover, making modifications to your recordings in real time has never been so easy thanks to the extremely sophisticated yet well designed software that comes with the Interface.
Features:
Comes with 2 front-panel, dual-purpose input channels, MIDI in/out supported
1x USB 2.0 port makes portability as smooth as a breeze
The condenser mics are powered by 48V phantom power
A network of LEDs indicate current status of the Interface
24 bit/ 96kHz recording quality
A/D/A converts are of professional grade
a dream come true for a musician on a tight budget
Works on both Mac and Windows
Virtual Studio Live Software comes with a plethora of sub-programs that make tracking
recording, modifying and optimizing sounds as simple as a few clicks.
>> Click here to check the current price <<
Summary
The PresSonus AudioBox 22VSL is the winner as it is a truly cost savvy companion.
It is widely known that the technological world has exhausted its hardware resources and it's now up to the software to utilize the existing machine properly.
The AudioBox succeeds in doing so with the help of complex Virtual Studio Suite which will make the Audio Interface compatible in almost any atmosphere, whether it's a studio or a store-room.
So which one is the winner?
I have previously chosen the PreSonus audio interface because it packs great value for a reasonable price, making it a good choice for the average producer.
However, there is no one best audio interface. It all depends on what your needs are.
Feel free to drop a question down below describing what you need in an audio interface and I can help you find one. 
Thanks for reading!