|Top 5| What's The Best Thunderbolt Audio Interface For Mac?

A big problem that comes up when recording live instruments is latency. This becomes an even larger problem when recording midi instruments.
Most of today's interfaces connect to our computers through usb 2.0 or 3.0. Usb has remained the top choice for connecting all of our peripherals whether it be a mouse, keyboard, webcam, or midi controller.
So why should you even consider buying an audio interface that is LightningBolt compatible?
Simple. The answer is speed. When the LightningBolt connection is compared to usb 3.0(the fastest version of usb available today), the LightningBolt connection is more than 2x faster than usb.
Having a connection that is twice the speed of a usb connection will dramatically reduce the latency and therefore provide you a much more pleasant recording experience.
Although the LightningBolt connection is far from obsoleting usb, pro-audio companies are starting to take note of this fairly new technology and apply it towards their own products.
In this article, I'll be going over 5 of the best thunderbolt audio interfaces for Mac.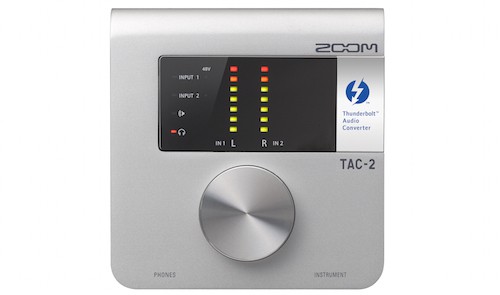 Zoom TAC-2
For around the same price as the Saffire pro, you can purchase the Zoom TAC-2. It has an extremely sleek design that will compliment your Mac. You'll notice a bright and readable LED vu meter next to a large and smooth-turning volume control.
One of the Zoom's reviews said that it wasn't compatible with the 2015 Macbook Pro. There's a good chance that by the time you have read this, the issue has been resolved. It may be worth further researching or even contacting the company to see if the compatibility issue has been fixed.
Sound Quality:
The Zoom TAC-2 has 24-bit 192kHz sound quality. This interface is completely powered off the ThunderBolt connection and doesn't require an AC adapter.
There are 2 combo mic/line input connectors and an input jack for instruments. The sound quality for the audio inputs is phenomenal.
There are 2 balanced TRS output jacks on the back of the Zoom TAC-2. You'll also find a headphone jack that has its own independent level control.
Software:
MixEFX software was included with the TAC-2. It gives control over some basic, but useful effects. You will get control over reverb, echo, a low-cut filter, and phase inversion.
You will of course have control over the sound's gain with this software. There's a nice auto-gain feature which will automatically adjust your gain in real time.

Resident Audio T4
Our next interface we'll be talking about is the Resident Audio T4. It is a very slim LightningBolt audio interface that is nice and portable.
Sound Quality:
The T4 is a 24 bit 96kHz audio interface. There are 4 combo XLR/¼-inch inputs. Each one of the inputs has its own gain control with a 3-color LED indicator.
Conveniently, there are 2 headphone outputs that have independent level control.
The Resident Audio T4 has phantom power. This is a requirement if you plan on recording through condenser microphones. There is also a midi-clock built into the T4.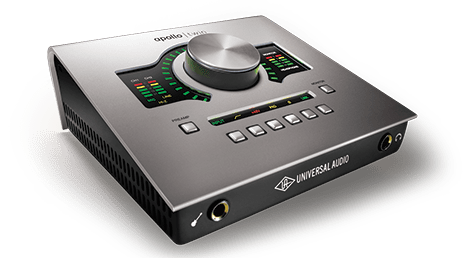 Universal Audio Apollo Twin
The first thing you'll notice about the Universal Audio Apollo Twin is its clean and intuitive design. The built quality is exceptional.
There are plenty of LED indicators on the top of the Apollo. This makes it easier than ever to keep an eye on your levels.
The Apollo Twin is one of the top interface's I'd recommend to a Mac user. It is possibly the best interface you get for a small studio.
Sound Quality:
The Universal Audio Apollo Twin outputs 24-bit audio at 192 kHz.
On the front of the Apollo, you'll get easy access to an instrument input and a headphone output.
There are 2 microphone inputs on the back. There is also a line out on the back of the interface.
Software:
As for software, you will get plenty of audio plugins to help you replicate a more analog-sounding sound. There are vintage compressors, EQs, reverbs, tape delays, and much more.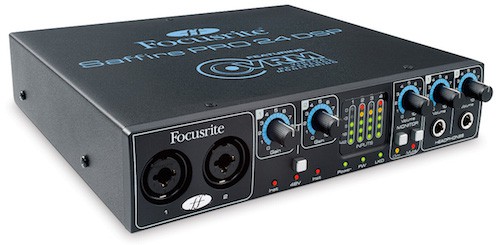 Focusrite Saffire Pro
Ok… Don't get mad at me.
The Focusrite Saffire Pro is a firewire interface, BUT can be a worthwhile mention if you are on a budget.
If you want to plug this interface into your Mac's ThunderBolt port, you can buy a FireWire-to-ThunderBolt adapter. Apple charges a whopping 30 bucks for one of these basic adapters. If you can find a cheaper adapter from a third-party, by all means, go for it!
Sound Quality:
The Focusrite Saffire Pro contains a lot of power for its compact size. As for sound quality, it outputs 24 bit audio at 96kHz. This is perfect for most home studios. Unless you are going to due some complex recordings with a TON of inputs, the Saffire will supply plenty of power.
Software:
For inputs and outputs, there are 8 inputs and 6 outputs. You'll have all of the necessary connection ports to plug in your instruments and microphones.
There seemed to be a lot of included software with the Saffire. If you don't own a single audio plugin, you'll have a vast collection after you buy the Saffire!
The Midnight, the Red 2, Red 3, and Xcite bundles are included with the Saffire Pro. Inside you'll find a ton of EQs, compressors, reverbs, delays, distortions, and other various audio effects.

MOTU 828x
If you take a lot of pride in your studio and want a truly professional setup, the MOTU 828x is the way to go!
If you are a beginner, or aren't planning on doing professional work, I'd recommend picking one of the other options on this list such as the Universal Audio Apollo Twin(highly recommended) or the Resident Audio T4(also very good).
Sound Quality:
The MOTU 828x is a 24-bit audio interface with the option of 44.1, 48, 88.2, 96, 176.4, or 192 kHz.
I dare you to run out of inputs on the MOTU 828x. There are 28 inputs and 30 outputs.
The MOTU 8828x supports both usb and ThunderBolt. It is worth noting that a usb connector is included, but you'll have to buy a ThunderBolt connector separately.
Build Quality:
The 828x has an extremely high build quality. The chassis is made out of a tough aluminum. This interface will have no trouble while traveling if you throw it in a nice soft-case.
Software:
You'll get AudioDesk 3 and CueMix FX with the MOTU 828x.
AudioDesk 3 is pretty much a DAW that is designed with the mixing engineer in mind. Feel free to use your own DAW instead if you aren't comfortable in theirs.
CueMix FX is a useful piece of software that will give you control over basic effects and parameters on the 828x.
Final Notes:
All of these audio interfaces are great picks!
Choosing the best ThunderBolt audio interface for you involves carefully considering your options and making a decision based on YOUR needs.