Focusrite Scarlett 18i8 Review – The Best Audio Interface Under $500?
The point of buying an audio interface is for recording microphones, guitars, drums, or any instrument you could possibly think of to your computer.
A lot of interfaces under $500 that I came across didn't support too many inputs. This can be a huge problem for anyone who plans on doing a lot of recording.
There was one interface I found that supported plenty of inputs while still costing under $500. The Focusrite Scarlett 18i8 is supposedly an interface that provides professional sound quality at a reasonable price.
In this review we'll be taking a more in-depth look at the Scarlett 18i8 to see if it's actually as good as advertised. If you have any questions by the end of this article, drop a comment down below!

This Review Will Cover:
What's Included?
Main Features
Inputs/Outputs
What Others Think About The Scarlett 18i8
Pros
Cons
What's Included?
With the Scarlett 18i8, you'll get a few instruction manuals, a power supply, a usb cable, a Loopmasters sample pack, and an assortment of software.
Included Software:
Ableton Live Lite
Scarlett Plugin Suite
Scarlett MixControl
Novation Bass Station software synthesizer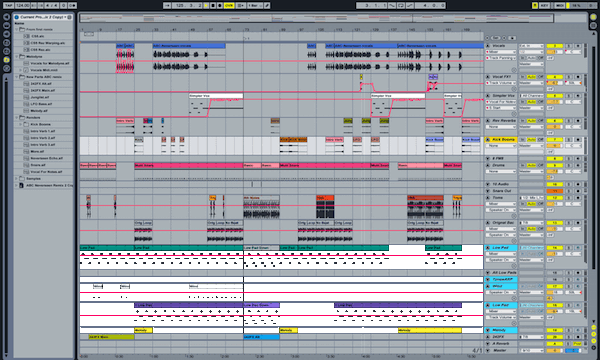 Ableton Live is a great DAW. The lite version is a bit restricted in features. It's basically a demo version of the full Ableton Live.
You'll still have enough features to play around and make basic tracks. Although Ableton Live Lite is a demo version, there is no time limit.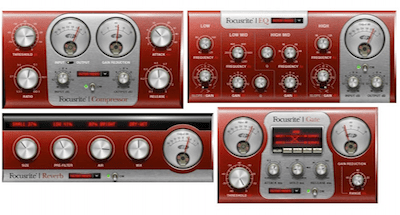 Scarlett Plugin Suite contains a compressor plugin, a gate plugin , an EQ plug, and a Reverb plugin.
Surprisingly, the plugins are high quality. You wouldn't normally expect that from free, included software. These plugins can be very handy tools for mixing your recordings.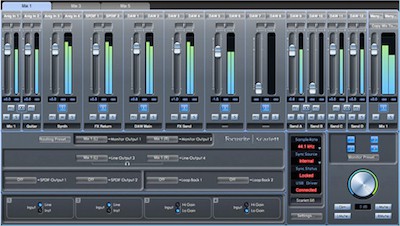 Scarlett MixControl is an interesting piece of software that can be used to control the output routing for the 18i8. The software can do a lot.

The Novation Bass Station software synthesizer is a VST synth that predictably emulates the popular Novation Bass Station. It's great for synthesizing phat analog-sounding patches with ease.
Main Features
The Scarlett 18i8 can connect to a Mac, a PC, or even an iPad. It's becoming more and more common nowadays for interfaces to become iOS compatible.
You can connect the 18i8 to an interface using Apple's Camera Connection Kit adapter. Once you have the adapter, all you have to do is plug the 18i8's USB into it and you're ready to go!
The Focusrite Scarlett 18i8 has a very sleek unibody design with a red housing. The build quality of this interface is very high. The whole thing is made out of metal!
A nice feature that I like about the Scarlett 18i8 is it's clipping light built into each gain knob.
It will light up green when the signal is safe to record, and red when the signal is clipping. You NEED to have this feature if you want to do any type of recording. There's nothing worse than going into a mix-down only to find out your previous recording were clipping.
The Scarlett's preamps are amazing! You'll notice straight out of the box that they produce a clean, flat sound. The amount of clarity through the Scarlett's amplification is phenomenal.
There are 4 preamps on the Scarlett 18i8. Each of them produce 60dB of gain. This was also quite surprising. The usual preamp gain I see on interfaces is 40dB and lower.
Just like most other modern interfaces, +48v of phantom power is supplied. The only thing I didn't like was that the phantom power is shared amongst the preamps. It would've been nice if each preamp had it's own source of phantom power.
As far as sound quality goes, the Focusrite Scarlett 18i8 is superb! You get a very desirable, flat sound from this interface. The interface outputs 24-bit sound with a 96kHz sample rate.
Inputs/Outputs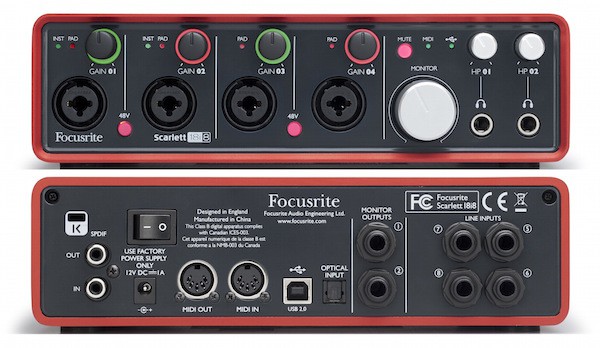 The Focusrite Scarlett 18i8 has an assortment of both analogue and digital inputs and outputs. There are 18 inputs and 8 outputs.
On the front, you'll find two headphones outputs. I liked the fact that Focusrite gave both outputs a dedicated gain knob.
You'll also find 4 XLR microphone/instrument inputs. These inputs are nicely accessible for quickly plugging and unplugging your gear.
The Scarlett gives you the option to have an ADAT connection. I don't personally use ADAT, but if you do, the ADAT connection can be very useful.
On the back of the interface you will find a midi input and output connection. The midi connections aren't the most accessible, but then again once you connect it you don't really need quick access to it.
There are also a good amount of line ins and outs on the Scarlett 18i8. You'll find 4 line inputs and 2 line outputs.
What Others Think About The Scarlett 18i8

Overall, there were extremely positive reviews on the Focusrite Scarlett 18i8.
In most reviews I have read, everyone seemed to mention the build quality of the Scarlett 18i8.
The 18i8 has a very sturdy build quality with a rugged metal casing. Even if you're taking this thing on the road, it will last you a long time.
I also noticed that people seemed to love the fact of how easy it is to set up the Scarlett 18i8.
All you have to do is install the drivers to your computer(takes about 1 minute) and you're set! If you are on a Mac, the process is even easier. No drivers are required.
The most important factor that people were talking about was the Scarlett's excellent sounding preamps.
The preamps have a very clean and smooth amplification that produces a very accurate and clear sound. There are plenty of inputs, with separate preamps, that allow you to record anything you desire.
Everyone seemed to agree that the Scarlett 18i8 supplies an amazing value for it's price.
In my opinion it is the best interface you can get for under $500. You get a plethora of inputs and a crystal-clear sound at a very reasonable price. What more could you ask for?
Pros
Accurate sound with great clarity
Very Affordable
Plenty of inputs
Cons
Each preamp shares phantom power. It would've been nice to have separate configurable phantom for each preamp. Not a huge issue.
Summary
All in all, this audio interface is perfect for any home studio. It provides a nice flat sound that is ideal for mixing.
If you are looking for an interface that has plenty of inputs to hook up all of your mics and instruments, the Focusrite Scarlett 18i8 is perfect.
Would you ever buy the Focusrite Scarlett 18i8?
Let me know in the comment section below!