What's The Best Amp Simulator? Your Top 5 Choices
With so many amp simulators available how do you know which one is best for you?
Let this roundup be your guide to finding the best amp simulator.
With amp sims, you always get what you pay for. So, paying top-dollar for a new amp simulator will pay off and give the best results (at least that's true with the selection of plugins I have hand-picked).
However, there are some amp simulators few and far between that are affordable and deliver near-perfect results comparable to any high-end amp simulator out there.
Don't hesitate to drop a comment down below if you are confused by something. I'd be happy to help out!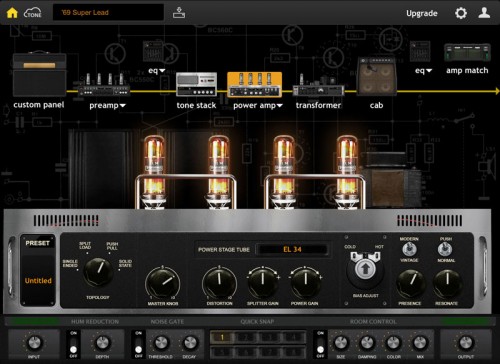 The Bias Amp Professional is known as the most accurate, thorough and versatile amp modeling software in the world equipped with 36 HD amp models included with the introductory release.
The unmatchable Amp Match Technology has the ability to capture any miked amp or recorded sound to replicate a near-perfect matched model.
What's even more interesting is that Bias Amp Professional enables you to share and download thousands of matched amp models by other guitarists on ToneCloud.
For those who love to mix and match, the Bias Amp Professional is just what you need for it comes with fully customizable preamps, power amps, tone stacks, cabinets, transformers, mic selection and placement.
The Bias Amp Professional is designed keeping the guitarist in mind – it actually works the way guitarists think.
You can tweak gain and overdrive, swap out transformers and tubes, modify the cabinet and mic position and even reshape the tone using various key stacks and two 8-band equalizers.
Priced at just $170, the Bias Amp Professional has got all that you need to get started and create music with a professional touch.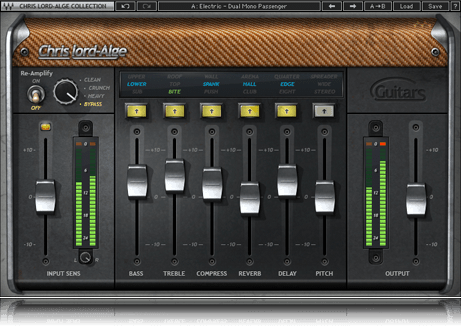 The CLA Guitars Amp Simulator is basically an epic guitar toolbox complete with all the necessary combinations that will help you deliver guitar sounds similar to bands from Green Day to Daughtry.
First of all, let me just say that the producer, Chris Lord Alge, is a mixing god. His are so trained to mix tracks flawlessly, it's not even funny. Waves teamed up with him to produce an amazing set of plugins. CLA Guitars is one of them.
The CLA Guitars amp simulator plug-in features 3 modes – clean, crunch and heavy with Re-amping and DI modes for each.
The 3 color coded presets represent 6 most important effects that deliver a perfect blend of bass, treble, reverb, compression, delay and doubling for that radio ready rock sound instantly.
If you're in search of a budget-friendly amp simulator with no compromise on quality, the CLA Guitars Amp Simulator created in alliance with Grammy Award winning mixing engineer Chris Lord-Alge comes offers great value for money at just $99.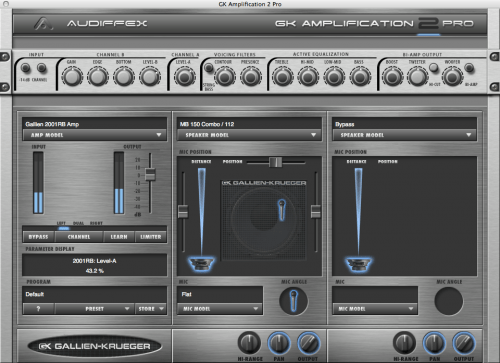 With exceptional sound quality and a wide array of innovative features, we present to you the all-new GK Amplification 2 Amp Simulator engineered to perfection in collaboration between Audified and Gallien-Krueger.
With over 60 presets for your inspiration, the GK Amplification 2 provides authentic sound with no beautification, unlike other competitor brands.
The GK Amplification 2 has good all that you need to create stereo quality sound – Gallien Kruger bass gear, 3 amp models, and 3 speaker models in 9 arrangements along with 8 microphone models.
Don't let tight budget constraints get in the way of creating great quality music – the GK Amplification 2 comes with a reasonable price tag of $79 only.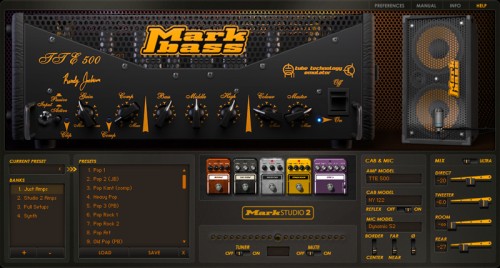 The world's smallest and most powerful bass amp Mark Studio 2 will never cease to impress you.
This exciting amp simulator is power packed with 6 Markbass heads, 9 Markbass cabinets and a rich pedal board that allows you to unleash your creativity to the max.
The Mark Studio 2 plug-in has been designed to especially to simulate the sound of Markbass amplification in any live situation or DAW application.
With full MIDI support and lowest possible CPU usage, the Mark Studio 2 is ideal for anyone who records on a PC and wants to improve the quality of bass during or after recording.
Priced at $83.40, the Mark Studio 2 amp simulator has been designed by the best Italian sound engineers and guarantees promising results, every time.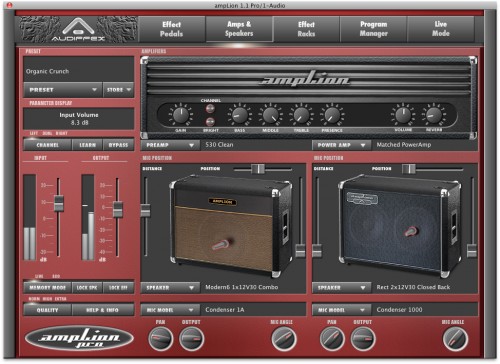 Offering ease of use, great value for money and a set of cool innovative features, the ampLion Pro amp simulator delivers ultra-precise simulation of 9 guitar preamps, 7 power amps, 12 speakers, 8 microphones and 30 effects.
Basically, the ampLion Pro amp simulator will transform your computer into an ultimate guitar stack that can be used in both, standalone and live mode.
What sets ampLion Pro apart from the rest of the crowd is its advanced track player that allows you to play along with your all-time favorite artist and learn their songs.
The speed control enables you to slow down or speed up the pace while the built-in recorder will ensure the safety of every new riff.
You can record dry, mixed or processed guitar sound with the track player.
If you're in search of a great new amp simulator for your DIY music projects under $100, the ampLion Pro amp simulator is just what you need.
Enjoy learning about the best amp simulator plugins?
If so, I'd appreciate it very much if you could share this article on social media. It takes 2 seconds and helps us out more than you could imagine. Thank you!
These are the 5 best Amp simulators you can buy even if you're on a budget with excellent sound quality and accuracy.