Best Bass VST Plugins: Your Top 5 Choices
Looking for some killer bass VST plugins?
You're lucky because there are a ton out there. Some are good and others are bad.
We'll be going over the top 5 choices. Each of the plugins on this list will without a doubt help you create powerful bass lines. Not only did I choose quality plugins, I choose quality plugins that are made by very reputable software companies.
Enjoy! Let me know if you have any questions in the comment section below!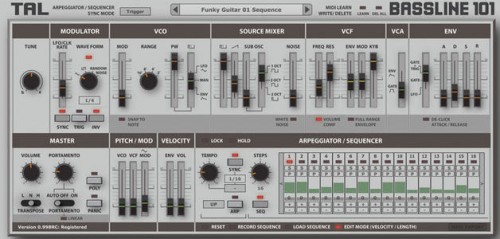 TAL BassLine-101
TAL-BassLine-101 is a monophonic easy to use bass synthesizer.
It produces smooth and authentic analogue sounds with a self-resonating zero feedback delay filter (24dB LP), powerful step sequencer, 6 voice poly modes and more than 300 presets.
Some of the features that make the TAL BassLine-101 a must-have plugin include the fact that it contains an Arpeggiator with switchable different sync modes (MIDI clock, host, etc.), along with a Sequencer MIDI export including drag and drop.
Furthermore, it also has a ground-breaking and awesome step sequencer with up to 96 steps and also offers a recording option.
Other than the gorgeous 300 presets, step sequencers and other cool features, the best part of the Tal-BassLine-101 is the fact that it stays true to the timbre and tone quality of 'bass' and the grit and boom that is characteristic of it.

Novation Bass Station
Bass Station by Novation is one of the coolest plugins out there, with features that most pure bass lovers will find exceptionally brilliant.
With its simple two oscillator one-track design, the Bass Station Plugin is your best choice for the classic ladder filter sound modeling of the 12/24 dB Low-pass filter.
It offers easy to access ADSR envelopes, which gives you a quick and direct access to what you're looking for. Another impressive feature of the plugin is the Oscillator Sync which can be used for complex, expressive timbres and exceptional tones, to produce great quality sounds.
Bass Station also comprises of easily routable LFOs which aid you in creating simple modulations. These modulations can directly regulate the harmonic content of the sound by pulse width modulation or filter cut-off for dynamic sound variations.
What is great about the Bass Station plugin that it contains all the singular 'quirks' of the original, and contains more than a 100 presets.
These are re-writable and are compatible in the way that Programs from the original Bass Station keyboard and rack can be uploaded and downloaded also.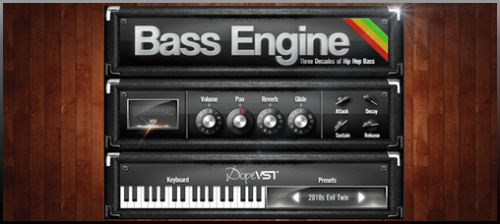 DopeVST Bass Engine
What is amazing about the Bass Engine by DopeVST is that it incorporates thirty years of hip hop bass and the kind of feel in the sound that era used to have. Furthermore, Bass Engine provides 100 presets representing each of the last three decades of the Hip Hop production.
It comes with 50 MIDI basslines, with different styles and tones so that the quality does not become repetitive.
The Bass Engine also has built in pitch, pan, volume and ADSR controls, and an analog style reverb. These basses include everything from jazzy upright bass to floor quaking 808's and everything in between.
Additionally, it contains an unchallenged assortment of the greatest hip hop bass instruments that are usable and adaptable.
The Bass Engine lets you produce sounds like clean vinyl cuts to dark, gritty hip-hop tones, providing you with crunch and precision.
In addition to that, it has an extremely low PC usage even though it has ultra-quick patch-loading capabilities.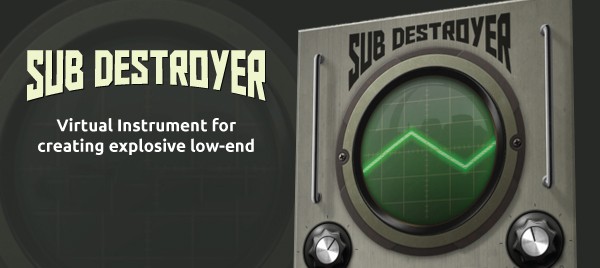 Joey Sturgis Tones SubDestroyer
Sub Destroyer by Joey Sturgis Tones is a plugin that adds to your existing, possibly weak, bass with its pitch perfecting MIDI and extended harmonic range.
This provides you with the capability to generate bass drops that are more apparent in the mix.
No longer do you have to open a synthesizer, program-in a sine wave, and tweak it to perfectly mix with your synth/upper-bass. This plugin does all the hard work for you effortlessly!
Furthermore, it can be used in pretty much any genre, but it really excells in bass-heavy EDM genres such as trap, dubstep, and glitch-hop.
Although electronic sounds possess the digital texture because of the way they are originally produced, they sometimes fall flat on the ear if they do not have the multi-contoured quality to them. This is where the SubDestroyer plugin excels. It allows the sound produced to have the heft that bass requires and the bite and frequency shift that is characteristic of EDM.
Sub Destroyer is a great plugin to have on your DAW if you are looking for a solid sub bass with immense quality.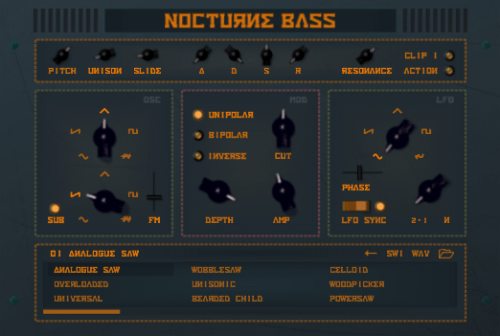 MoDSP Nocturne Bass
Nocturne Bass is another great analog synth to have on your DAW.
It is a dual oscillator in which each oscillator has five varying waveforms, complete with frequency modulation, and a sub-oscillator.
It also comprises of a unison mode and LFO controlled filter. It has a free LFO with 4 different waveforms and an unlimited waveform generator, or you can sync to host tempo.
It provides up to 32 voices that are true unison with stereo, and many different waveforms in order to help you in the production of pulsing and up-beat bass tracks.
Also, another feature that comes with its LFO is a modulated 3x oversampled low pass filter, including the feature of resonance control.
Did you enjoy learning about the best bass VST plugins?
If so, I'd appreciate it more than ever if you can share this blog post on social media. It only takes a few seconds and helps us help out more new and seasoned producers.
All of these plugins are amazing choices. Each one has its own unique features that set it apart from the crowd.
You'll find a ton of different uses for each one. Let me know which plugin was your favorite in the comment section below!
Thanks for reading!