Best Compressor VST Plugins: Your Top 5 Choices
A compressor can be a secret weapon for a music producer. Like magic, it can reduce the dynamics in a piece of audio when dynamics aren't needed.
Compressors are used for a variety of purposes. Most of the time they are applied subtly, but there are instances where heavy compression is used as an effect.
In this article, I'll be covering the top 5 best compressor VST plugins.
Feel free to ask any compression-related questions in the comment below. Enjoy!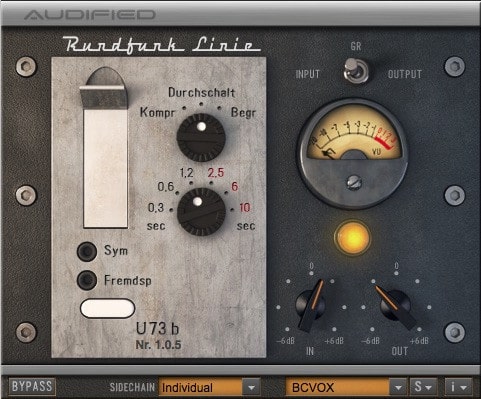 u73b Compressor
The u73b VST plugin (available on Plugin Boutique) is a digital recreation of that famous u73b hardware compressor.
From 1960 to 1980, u73b, the physical device was often used for mastering music. It is an all-tube vari-mu limiter/compressor with modifiable release time option.
The circuit is kept exactly as it was initially designed, besides the addition of input and output gain to assist with right tuning of the compression. The VST also contains a VU meter and a selection of side-chaining.
U73b is great for mastering bass, guitar, mixing drums, vocals and voice overs. The compressor`s panels are quite easy, but the result of this unique device is audible instantly the moment you turn it on.
Compressor/Limiter Switch is the higher U73b knob and it shifts between Limiter mode (Begr), Compressor mode (Kompr), and Bypass (Durchschalt).
The compressor mode has minor threshold setting and very mild increasing ratio, in comparison, the limiter mode delivers advanced threshold setting with higher ratio but still with a suave knee.
Release Time – the first three points deal fixed release time, the additional three positions provide variable program content reliant on the release time option.
IN regulates input gain before the compressor/limiter circuit
OUT adjusts output increase after the compressor/limiter circuit.
Sidechain picks the signal source used for monitoring the gain reduction.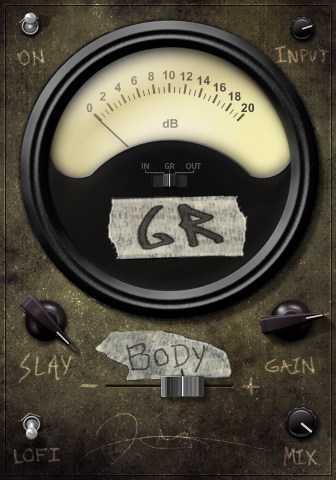 Gain Reduction Deluxe
Gain Reduction Deluxe is a vocal compressor plugin by producer Joey Sturgis.
From this plugin, you can acquire the significant Joey Sturgis vocal sound as heard on albums from artists like I See Stars, Asking Alexandria, We Came As Romans, Attack! Attack!, Of Mice & Men and from labels like Sumerian Records, Rise Records, and Fearless Records.
Gain Reduction Deluxe is a one-stop-shop for deep metal and rock vocals that are crunchy and gravely.
Jump start with a dense, dark, vibrant mic; hit a wild, clean preamp to record all the ambient features; attach GRD on the audio track and swiftly control dynamics, EQ, and the amount of grit—all in one plugin.
This plugin functions the needs of musicians, engineers, mixers, vocalists, and all audio production people equally. This compressor delivers you mix-set sounding vocals with little to no effort and that too, instantly.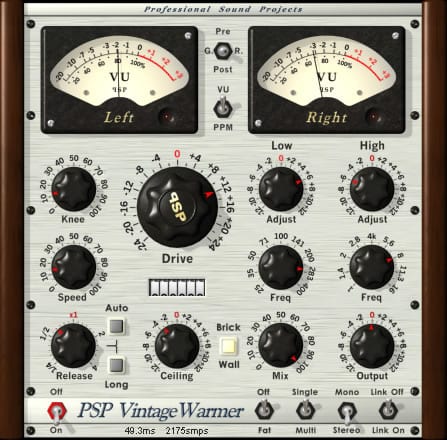 PSP Vintage Warmer 2
PSP VintageWarmer2 is a top notch quality digital recreation of an analog-style, a single- or multi-band compressor/limiter. It mixes warm, vibrant analog processing with an easy-to-use user interface, and offers a broad library of presets.
The plug-in processor is exceedingly flexible and can be used for both brick-wall limiting and soft-knee compression.
This brands it a vital tool for mastering and mixing engineers. Watchful attention has been paid to PSP Vintage Warmer's overload features with the processor being proficient at producing saturation effects characteristic of analog tape recorders.
PSP Vintage Warmer also includes professional PPM and VU metering together with precise overload indicators thus promising professional quality results.
PSP VintageWarmer2 version 2.5.0 installer comprises of 3 kinds of the plug-in:
PSP MicroWarmer which offers the same sound value as its big siblings, but with a basic single-band interface and low latency performance enhanced for use on individual tracks;
PSP VintageWarmer (LE) which is a direct successor of the original PSP VintageWarmer with its all assets such as low latency and resource usage;
PSP VintageWarmer2, the chief addition being the FAT double sampling mode for even more analog sounding programming.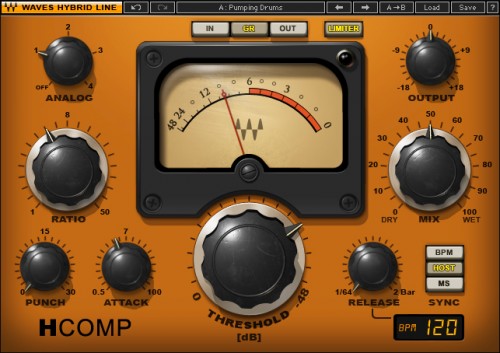 H-Comp Hybrid Compressor
H-Comp pools the modeled behavior of transistors, transformers, and tubes, together with the power and accuracy that only a plugin can offer.
The outcome is a compressor with abilities that engineers could only dream about before. H-Comp gives a whole new meaning to the idea of THD: Total Harmonic Distinction.
It provides an analog modeled release behavior with an exclusive transitory pass-through punch control. A special BPM-sync release function eases the routine. Analog character modes, clipper modes/output limiter and numerous features are contained within.
H-Comp also includes external sidechain sustenance, which is a facility that permits the compressors detector circuit to be organized by an external signal other than the one that is being compressed.
The 'control' signal and the signal being compressed are the two signals needed by the side chain compression. This allows us to be more inventive and create both useful technical results and also productive compression solutions.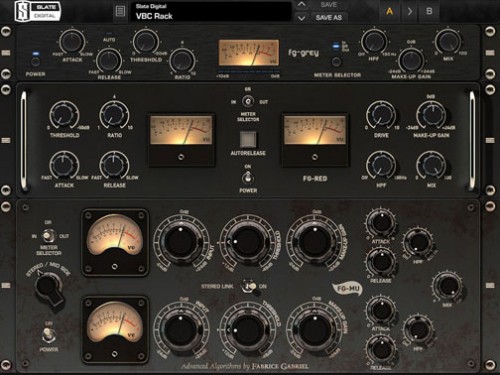 Slate Digital Virtual Buss Compressors
The VBCs are aimed to imitate three classic designs: the Focusrite's original Red 3 Stereo Compressor/Limiter, SSL 4000 Console Compressor, and the valve-based vari-mu of the Fairchild 670 and Manley Vari-Mu units.
The percentage of compressed signal and dry signal can be ordered by a mix knob, while more control can be extended by the variable high-pass filter existing in all of the compressors in the VBC bundle.
Each compressor can be used in sequences to add layers, and the series can be reorganized by dragging and dropping. Compressing a track with each layer doing a very slight amount of compression can sound delightful!
Even with zero gain reduction, all three compressing units provide some exciting effects on the input signal. The wonderful personality of the compression is seen and felt when you start compressing.
FG-Mu is just amazing across drum sub mixes, drum overheads, and overall mixes. The high-frequency sheen is complemented by a low frequency 'glue', and there's copious amount of flavor even at mild settings.
VBC presents everything you require to compress your sub mixes, master buss, and much more with real charm and analogue validity.
Enjoy the article? If so, please take the time to share it on social media.
All of these compressing units are great choices and offer a wide variety of features with a top-of-the-class signal processing.
You can chose the best one for you by marking out the features you require.
Thanks for reading!