Best Vocoder VST Plugins: Your Top 5 Choices
You can make robots talk. You can create basslines that can talk. And you can achieve all that when you start using vocoders in your productions.
To breathe some life into synths that were clearly made through a computer, we've put together an awesome list of five vocoder VST plugins to suit your needs.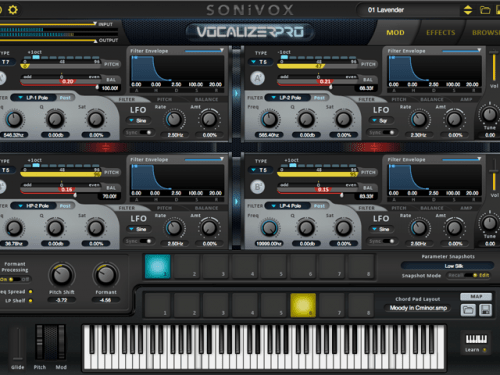 Vocalizer Pro
Vocalizer Pro is one of the best go-to instrument expansion tool because it is both an instrument and a music processor.
In ways you never would have deemed possible, it can modify, enhance, fortify, re-synthesize and harmonize any instrument or sound with an infinite amount of sound-sculpting possibilities.
It achieves an unbelievable performance control with two rows of pads that are MIDI-mappable. Multi-note chords for real-time playability are stored in the bottom row, while parameter setting snapshots are saved by the top row.
If you want to transform any audio source, any audio track or even a VI output in your DAW, into something truly musical and lush, this totally awesome MIDI controlled effect processor, Vocalizer Pro, is one of the best one you can get it done on.
It's unlike anything you would have ever heard before. But once it has entered your life, parting with it is going to be very difficult.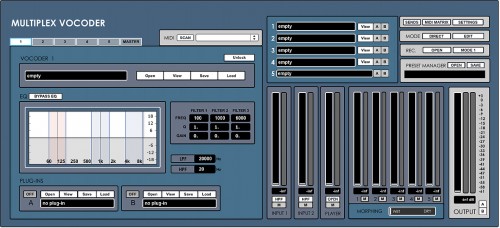 Multiplex Vocoder
This piece of software art is one of those things that you just can't have enough of and return to over and over. For game, film or TV production it provides multiple approaches to sound manipulation and creation. It's a fun tool designed to inspire your creative process.
Up to four third-party VST synth plugins can be loaded into this plugin and then used concurrently to achieve the vocoding effect.
It is really great that users can load their favorite synth plugins and use them with such ease within this software to produce the music that they want.
It also contains a 100 Hz switchable HP filter to syphon the audio input as well as a 3-band parametric equalizer for every instrument that you load. Moreover, it also fully supports MIDI automation.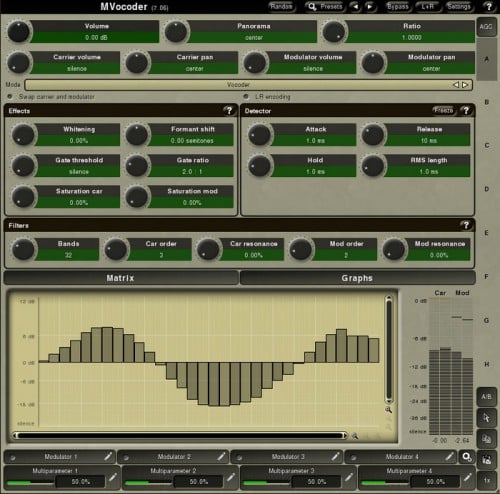 MVocoder
MVocoder is a proper analog filter based vocoder, and it comes with up to 100 bands, band matrix, morphing, resonance graphs, band distribution and other special vocoding modes. This plugin is really versatile and optimized to be user friendly for those who want to be truly creative.
An external side-chain is used in it instead of an integrated synth. This allows you to give it an input from any source and it can perform its magic on it. On top of this, you can also have as much as eight surround channels.
It features continuously adjustable oscillator shape, four global modulators, M/S, smart randomization, safety limiter, single channel, automatic gain compensation and up to 8 channels surround processing with adjustable 1-16x up-sampling.
MVocoder has an extremely advanced and easy-to-use user interface, in that you don't have to browse many menus to get to something you want to adjust, it's all there on the main interface.

Vocoder-II
TubeOhm Vocoder-II is a 17 band vocoder. It comes with a vocoder unit, effects unit with delay and chorus, one built-in synthesizer and a compressor.
Each of the 17 filters can be adjusted through a special user mode. External signals can also be processed for analysis and synthesis by this vocoder. It also makes it possible to produce ambient textures, polyphony chords and all kinds of good quality and different robot voices from a mono input.
It features an in-built 6 voice poly synthesizer, a robot mode to make everything sound robot-voiced, a mono/poly pitch detection mode and a compressor for analysis signal.
2 factory filter bank adjustments with an option for user-added filter bank adjustments provides with a lot of possibilities for filters.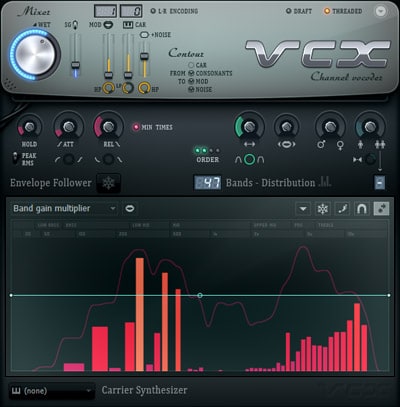 Vocodex
Vocodex is quite simply one of the best vocoders available on the market today.
From the makers of FL Studio comes an outright banger of a vocoder plugin. In a recent interview the mighty AEPH says when he makes his basslines in Native Instruments Massive, he often uses Vocodex on them since it gives a more flat or vocalized sounding bass.
In terms of features and functions, this is one of the most powerful plugin mentioned in this article. Plus, it enjoys an amazing reputation for the sound quality you get from it.
Key features include speech enhancement contouring, 100+ bands, a soundgoodizer that allows for a warm output and limiting, sidechain carrier and/or modulator input, noise reduction and voice doubling.
Enjoy learning about the best vocoder VST plugins?
Vocoders provide with the ability to transform and distort sound to make it sound like something else, and it's totally up to you how much transformation you require from your synth.
Each of these vocoders have a different spectrum of usability and possibilities, and each of them make a good choice. But you can narrow down the best vocoder for your specific needs by analyzing the above reviews.