Best Waves Plugins: Your Top 5 Choices
The biggest audio plugin has to be Waves Audio.
They have released too many extraordinary plugins to name. They have partnered up with many talented individuals to create extremely useful plugins that producers all around the world can take advantage of.
Whether you're an EDM, a rock producer, a metal producer, or just about any producer, there are definitely at least a few Waves plugins that you will love.
Whether this is your first, fifth, or twenty-fifth waves plugin, this list will break down for you the top 5 plugins by Waves available today.
Let me know what you think of this article in the comment section below.
Here are 5 best picks of Waves' plugins.
Enjoy!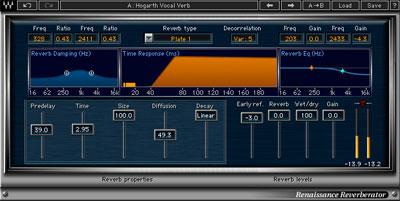 Renaissance Reverb
There are many features of the Renaissance Reverb that make it great.
One of them is that it offers dual band Equalizers and damping controls. It comes with innovative reverb tails and an exceptional reflection system.
These controls are brilliant as they provide you with the best sound quality and outstanding textural performance.
This Waves' plugin puts 12 impressive classic reverberation types in your chosen DAW. It can warm up your vocals or add a spark to your drums in an instant.
With the help of the Renaissance's iconic spring reverb, you can even create classic guitar tones, with the same sound value and timbre of actual strings.
Renaissance Reverb has simple controls that make production fast and easy and it comes with amazing graphic displays.
Compact in terms of overall sound, flexibility and usability, with simple but operative graphic Equalizers, Renaissance Reverb is boundless for proficiently fitting the sound into a busy mix without adding distortion or low-frequency mess.
One of its best qualities is the purity of sound it produces and aids you in creating.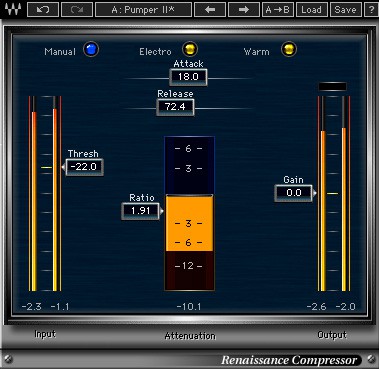 Renaissance Compressor
Another example of an excellent professional plugin that holds its own amongst some classy competition on the market is the Renaissance Compressor. The Renaissance Compressor is harmonious and comprehensive.
It has an exceptionally easy to use interface that is reliable and handy.
The Renaissance Compressor stands out with its ability to deliver classic compression and expansion utilizing technologies with C1 Parametric Compander and the legendary L1 Ultramaximizer.
Furthermore, another reason the Renaissance Compressor is a great plugin for your DAW is that it includes both vintage and modern Electro compression modes along with some smooth and warm low-frequency characteristics.
The Renaissance Compressor is a "must have" for your DAW, and is for anyone looking to produce quality sound and be able to add compression as subtle or noticeable as you want.

H-Delay (Hybrid Delay)
A favorite among many because of the huge amount of exciting features, H-Delay includes everything from the real old filtering effects to slap-back echo, and tempo-sync modulation.
Its super innate interface lets you get right on track with variable pitches and LoFi modes.
Hybrid Delay offers plugins up to 3500 ms delay time and an analog character along with infinite feedback support.
The LFO-controlled pitch modulation and Tap Pad make the delay time settings easier.  It also has fully dedicated MIDI support.
The interface is exceptionally user-friendly, quite literally, because if the large knobs as controls that make it simple to understand. Other than the interface, it helps you craft multiple quality sounds of different kinds and tastes, according to your own preference.
This ability to adapt to your needs and yet inspire your signature sound is what makes the Hybrid delay a must-have.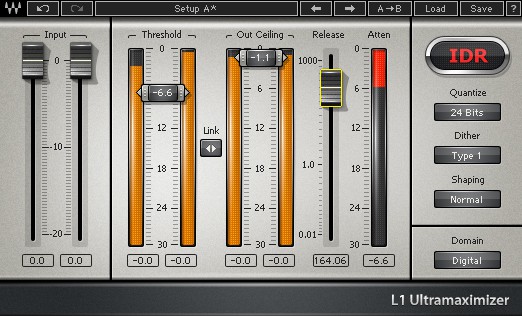 L1 Ultramaximizer
Smooth out your rough audio peaks with Waves' L1 Ultramaximizer.
It contains peak limiting, high-resolution re-quantization, and level maximization, all rolled into one powerful processor.
It can be used to keep track levels in check or for its special effects. With two components, the L1 and L2 Ultramaximizer, it is one of the best plugins to crank up your audio tracks to precision.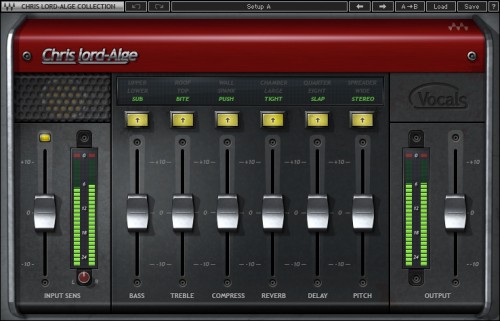 CLA Vocals
Waves CLA Vocals is an audio plugin that is intended to give a professional touch to your studio vocal mixes.
It features an innovative and user friendly interface that allows you to achieve amazing effects and sounds. CLA Vocals can be used to control bass eq, treble eq, compression, reverb, stereo control, and delay effects.
In the two Equalizers, bass and treble controlled by a low and high band.
The low band is used to tune the lower, sub and upper frequencies of the bass while the high band helps you adjust the bit, top and roof of the higher frequencies. These settings assist in shaping your vocals to stand out through a mix.
CLA has three different compression settings; Push, Spank and Wall. All three are great in taking the vocals to a whole new level in the mix.
Each reverb that CLA provide is incredibly remarkable. They make the sounds quite deluxe and can be adjusted with a fader.
All the best delays have been included in this great audio plugin to produce high quality sounds.
The Pitch settings include stereo, wide and spreader to enhance your vocals in the stereo spectrum.This section can really help you pull off a great vocal.
CLA Vocals combines synthesis for flexibility and samples for extra character. What is truly brilliant about this plugin program is that it is used and trusted by the audio engineer Chris Lord-Alge in his mixes. Alge has produced amazing tracks for great bands like GreenDay, Nickleback and U2.
Waves have undoubtedly produced plugins and software that are easy to use and extremely versatile to handle.
The wealth of products they offer to music lovers and producers often makes it hard to choose which one of them are the most suitable for your own DAW, and for the production of the kind of sound you would like.
We hope this list has aided you in your choice!