The Best Pipe Organ Plugins: We Count Down Your Top 5 Choices
I admit it. The pipe organ is not exactly the 'hippest' of instruments, so it is not an instrument that is emulated too often.
But current trends aside, the pipe organ does have some interesting qualities. Unlike a piano the pipe organ does not employ a mechanical action of striking a string to generate sound.
A pipe organ's sound is generated by a wind system that directs pressurized air through the organ's pipes. As a result, the notes do not decay naturally, as with the piano, which allows for the characteristic sustained sound associated with the pipe organ.
With a bit of thought you can add an element of history or the grandeur of a cathedral to your songs by harnessing the latent power of the pipe organ's multi-timbral sound.
I will explore four emulators (VST plugins) that can help you add an element of color, variation, and possibly a little majesty to your mix. If you're looking for some rich church organ VST plugins, you've come to the right place!
Make sure to check out our Best Orchestral Plugins and VST Plugin Master List guides for even more great choices!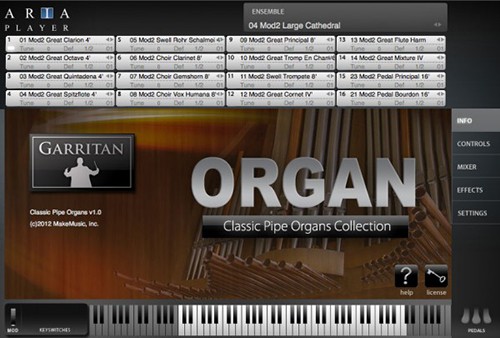 Garritan's Classsic Pipe Organs sound library offers a collection of 6 historic pipe organs with 75 different stop configurations.
Hosted on the high-performance ARIA player, you are able to manipulate the set of mixing options to combine up to 16 stop configurations from different organs and create some huge hybrid instrument sounds.
The ARIA player uses convolution reverb to create the ambiance and feeling of a small space, a cathedral or a concert hall – with extensive UVI performance and sound-shaping options.
Short of attending church, this is as realistic as it gets if you want to create something heavenly, and it supports 64-bit operation on both Mac and PC systems. The emulator gives you control of ambient elements of the original pipe organ, like chiff-noises, blower noises and tremolo, crescendo, swell and the like.
The instruments in this collection span 400 years of organ construction to emulate pipe organs from the Baroque, Classical, Renaissance, Romantic and modern eras, allowing you the flexibility to create lush romantic embellishments or something a little more post-modern.
Composers can use this collection to sketch organ arrangements quickly, but beginners and hobbyists will find value. Organ enthusiasts and music students can use it to enhance their learning process when practising or studying organ music.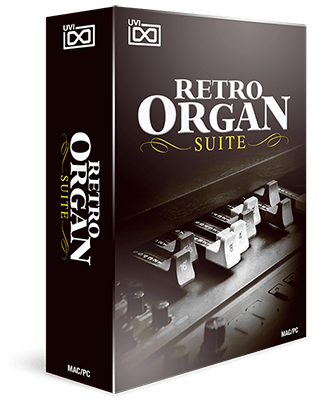 Retro Organ Suite sets out to capture the sound of the vintage tone-wheel organs and rotary speaker cabinets in their collection of vintage organs.
Hammer, Leslie and other vintage organs were recorded through both D.I boxes and an assortment of vintage guitar amps.  Retro Organ Suite has loads of presets and drawbars for a full range of sounds and styles.
They deliver a raw product that is versatile and intuitive enough to find the sound you need quickly to suite a variety of styles – from jazz to rock or gothic to pop. It uses a UVI player for impressive quality on the organ effects processor.
As a finishing touch you also have a bank of expression pedal sounds for added realism. Retro Organ Suite delivers The Essential Electronic Organ Collection derived from a 100 year legacy of electronic organ instruments dating back to the early 1900s.
Manufacturers initially designed and produced the electronic organs as low-cost alternatives to wind-driven pipe organs which were large and generally restricted to churches or town halls.
Initially finding favor and prominence in jazz ensembles, the electronic organ gained popularity in many genres of contemporary music of the mid-twentieth century. Emulates the look and feel of the original instruments and hardware.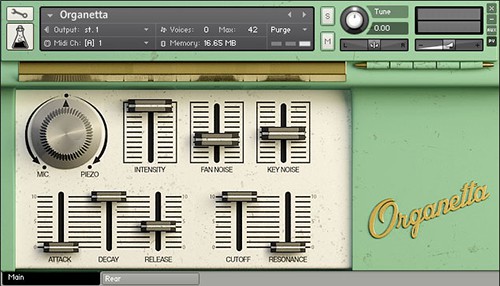 With Organetta, Audiothing sampled the unique sound of the portable little Hohner reed instrument made in the late 1950's.
What made this organ different (apart from its colour and size) was that it used an electric fan to blow the air into a set of brass reeds, producing a sound that is like a mix between an accordion and a melodica. Organetta has 6 available Kontakt instruments and an array of 144 high quality samples.
For added realism you can choose to omit the electric fan noises or the bank of key-stroke that simulate depressing the organ keys, so you have the choice between something dirty and raw as a real organ or something cleaner for a dance track.
The Organetta was sampled with two mics – a large diaphragm condenser mic and a piezo attached to the chassis of the instrument – to capture the essence of the little green field as accurately as possible. The Organetta wins in the looks department as well, with a slick interface that is reminiscent of the original german instrument.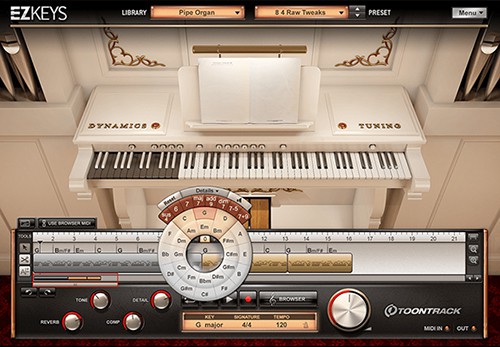 The Toontracks EZKeys series focuses on sounding as good as possible without complicating the creative process. Smart and intuitive – their Pipe Organ offering uses the same award-winning interface that will be familiar to users of their other products.
This virtual pipe organ emulates the sound of The Taby Kyrka pipe organ discovered in a Swedish church dating back to the thirteenth century. It comes with a selection of the 12 most common stop configurations.
With a massive MIDI performance library of individual chords, chord progressions and variations in different styles, this emulator provides lots of useful compositional aids for dissecting chords into component notes or as a reference. A helpful chord wheel of alternate chords and inversions and a 27 page music theory book are included. The transposition tools help to add a realistic feel to your performances and tracks. This pipe organ emulator is an ideal starting point for novice keyboard players, but more experienced songwriters will also find it useful.
Final notes
The music industry is always looking to the future for what is fresh and new.
We're all trying to find a unique sound that can elevate us above the madding crowd, but we tend to forget that often something new is created using familiar or neglected musical elements.
Adding only these four plugins to your repertoire will unlock a whole new world of possibilities in your song arrangements and compositions. With a bit of creativity and a little innovation, you can re-invent the pipe organ and update its iconic sound for the 21st century.
You may even spearhead the resurgence of the pipe organ in modern music.