Best Phono Preamps: The Ultimate Buyers Guide
Let's face it. A good preamp has the ability to make our music sound incredible.
And if you are amplifying a record player's signal with a phono preamp, look out! The warm, crisp sound will blow you away.
Without a phono preamp in your audio setup, you won't be able to fully experience your sound (you might not even be able to hear it).
So, what does a preamp do?
Simply put, a preamp converts a given audio signal (like a microphone signal or a turntable's phono signal) to line level.
This means the analog signal is amplified or attenuated (depending on the original audio signal, for example, microphone and instrument output signals are weak, so they need to be amplified) to a level in which it can be sent to another component (for example, a pair of active loudspeakers) and reproduced effectively and with high-fidelity sound.


Why you would need a preamp?
As explained in the text above, phono preamplifiers convert a phono signal to line level (i.e. A strong signal that you can actually hear coming out of your speakers).
This prepares the analog signal for further processing, in this case, to be sent into the input of an amplifier, which then sends the amplified signal to a pair of passive speakers.
There are also active speakers, which have a built-in amplifier; in that case the output of the phono preamp would be plugged directly into the pair of speakers.
A preamp also enhances the tone and increases gain. Vinyl recordings are specifically equalized in a way that gives more emphasis to the high frequencies and less emphasis to the low frequencies (known as RIAA equalization).
This gives the record a clearer and less distorted sound. However, this equalization must be reversed during playback in order to enhance the low frequencies and increase gain.
Well, fortunately this is also achieved by the phono preamp.
While it's true that some turntables have a built-in phono preamp, audio quality is usually poor; getting a separate phono preamp is a good idea since it will reduce noise, increase gain, and improve the overall sound immensely.
Should you get a tube preamp?
The debate among audiophiles on the pros and cons of tube or valve preamps vs solid state preamps is certainly a heated and rather subjective one.
Everyone has a different opinion in the subject, most times based personal preferences and not really backed up by facts.
You always hear the vague terms 'warmth', 'distortion' 'brightness' etc. to describe the sound of each type. However, there are some proven facts about each type's characteristics.
There are pros and cons for each of them. Let's have a look:
Tubes- Pros
Smooth clipping.

Not easily affected by voltage changes or overloads.

A wider dynamic range.
Tubes- Cons
Glass tubes can easily break and overheat.

Needs a lot of power to operate.

Tube amps can be quite expensive, at least more than transistors.
Solid state – Pros
Generally more affordable than tubes.

They don't overheat like tubes.

Don't need high voltages to work.

Lower component costs.

They are more physically resistant, so that makes them great for live usages and touring.
Solid state- Cons
Sharp clipping.

They tend to produce distortion at higher levels.

Transistors are prone to pick up radio interference and noise.

Maintenance is harder, due to the complex electrical rigging.
Before transistors, tubes were the only way to amplify audio.
When the solid state option was introduced, the demand for tubes decreased sharply.
In terms of reliability, price, and portability, transistors were preferred over tubes. However, the love for tube sound never really disappeared; lots of audiophiles and musicians then and now have always chosen tube sound over transistor sound.
MM and MC cartridges
The cartridge is the transducer that converts vibrational energy from the needle of the turntable riding the record into an electrical signal.
You can find two types of cartridges for turntables: moving magnet and moving coil.
Most phono preamps in this list can work with any of them, but it's a good idea to check the technical specifications of your turntable to make sure.
Moving magnet or MM cartridges are the most commonly used in turntables; moving coil or MC cartridges are more expensive and fragile but are preferred by audiophiles due of their (subjectively) better performance.
Most phono preamps will have either separate inputs or a switch to choose between MC or MM.

Non-Tube preamps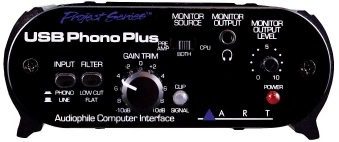 ART USB Phono Plus
The ART USB Phono Plus phono preamp is one of the most popular phono amps under $100 bucks, and it's easy to see why: it's well- built, with great durability and versatility; it can also work as an audio interface between analog and digital sources.
If you want to transfer your vinyl records to your computer, this preamp can do the job with amazing fidelity and quality. It's powered via USB so it's very practical and easy to use.
It also includes a gain control knob, a low cut filter to remove some of the turntable's noise, and a LED light which lights on when there is signal clipping.
You can also adjust the preamp's gain to match other devices without impedance issues. This highly flexible unit does much more than just working as a phono preamp, and it's a great deal for what you're paying.
Pro-Ject Audio – Phono Box
The Phono Box USB V phono preamp is perfect for both hi-fi audio systems and turntables. It can also be used for line-level recording directly into your computer, with level control included.
It doesn't matter if your cartridge is MM or MC, the Phono Box USB V will work perfectly with either of them. For this purpose, it includes a switch on the back, so you can easily set your preamp to match the type of cartridge (MC cartridges produce a weaker analog signal so they need more amplification).
You can also select between phono/ line inputs in the front panel.
The box is small so it's very practical and you can put it anywhere near your source. The Phono Box USB V may not be a 'budget' phono preamp, but features like the switch for MM or Mc cartridges, high quality audio conversion and low S/N ratio makes it worth the investment.

Rolls VP29 Phono Preamp
This phono preamp is probably the best one you can get for $50 bucks. It's very simple and easy to use, but very effective. It's a compact box so it wouldn't occupy much space on your actual rig.
While it not may be the preamp of choice for many audiophiles, the VP29 certainly gets the job done effectively and with little or no hums or noises; audio quality is pristine and you can crank your speakers up and you will hear no distortion.  
It includes dual RCA stereo line level inputs apart from the standard phono input, a 1/8 jack input and a ground terminal connection, so I would say this is a very flexible unit too, especially for the low cost.

Emotiva Audio XPS-1 Phono Preamp
It's hard to find phono preamps that preserve the original sound of the analog record with such precision as the XPS-1 phono preamp by Emotiva Audio does. Sound quality even from old vinyl records is amazing: great tonal balance, punchy tone and low noise (even for low-output cartridges).
Not only both MM and MC cartridges are supported by this super-flexible unit; you can set the load impedance on the MC input; there are built-in switches for selecting different input impedances to best match your MC cartridge. This makes sure you get the best sound for each specific type of cartridge.
The extremely low distortion and signal to noise ratio is achieved by the highly regulated AC supply and individual switching supplies within the preamp. You would expect a high price for a unit as flexible and powerful as this one, but the XPS-1 is actually very affordable; you get all that punch and clarity for about $150 bucks, not bad at all.

Project Phono Box RS
Probably the most flexible non-tube preamp on this list (which is quite something, since several of the phono preamps reviewed in this list do much more than just converting a signal to line level), the Project Phono Box RS is tastefully designed, it's a simple looking but well-built unit; featuring dual mono balanced circuitry for minimum rumble, XLR and RCA inputs and outputs, adjustable input capacitance and impedance adjustment.
You can also choose between fixed gain and variable gain settings, not to mention the Phono Box's capability of supporting both MM and MC cartridges. As you would expect, all these adjustable parameters translate in excellent, high-quality sound for almost any type of phono cartridge; you can even select between RIAA or DECCA equalization for optimal performance.
It really doesn't get more flexible than this! There's nothing like listening to your favorite vinyl records with amazing detail and punch, and without spending big money on the purchase.

Tube Preamps

Nobsound NS-01P
The design of the internal circuitry of the Nobsound NS-01P Tube Preamp is based on the famous Maratz 7 vintage amplifiers, featuring high quality components; a 12AX7 voltage amplifier, ALPS27 potentiometer, WIMA high voltage capacitor and DAN1 connect cathode to enable low output resistance, making the sound of this tube preamp pristine, smooth and with a warm tube color.

The materials used in the elaboration of this tube preamp are first class; including a high grade aluminum alloy body and gold plated pin tube seats. If what you're after is a vintage but hi-fi sound, this is definitely one of the top performing tube preamps in the market.

Tube amps tend to be way more expensive than solid state amps, but the NS-01P is certainly economical for what you're getting: impressive audio quality with a smooth tube sound, and top notch components (an important feature in terms of durability).


Budgie Tube Phono Preamp
The Budgie Tube Phono Preamp by parks audio delivers excellent analog sound with detailed soundscape, low internal noise, and no distortion during playback even at high pressure levels (which can be problematic for other tube preamps due to overheating), making this preamp a favorite of many audiophiles and tube enthusiasts.
Using a passive RIAA equalization and 16 adjustable resistances, the tone of the output signal of any turntable is hugely improved.
This unit doesn't support moving coil cartridges (MC), however, you can purchase a step up transformer (also manufactured by Budgie) if you would want to hook it up to a MC phono preamp. The only problem is that the SUT costs nearly as much as the preamp itself.
I wouldn't say this this preamp is in the 'budget' price range, however it performs just as better (or perhaps even better) than other tube preamps which cost twice as much.

Pro-Ject Audio Tube Box S Phono Preamplifier
This excellent tube phono preamp by Pro-Ject Audio performs beautifully, with transparency and detail and a lush vacuum tube sound. Just like it's solid state counterpart, the Tube Box S preamplifier is an incredibly flexible unit; you get three adjustable gain levels, RIAA equalization, dual mono configuration and quality vacuum tubes (12Ax7).
It also features switchable impedance to best match your cartridge's capacitance and reduce hums and noises. The unit is wonderfully built, and the preamp's compact size makes it easy to fit almost anywhere near your source. With this preamp you get hi-fi sound and tube sound without spending too much.



Little Bear Tube RIAA MM
This tube phono preamp by Douk Audio is definitely designed for audio connoisseurs; the quality of the sound is greatly influenced on the correct setting of its components, and the design is anything but simple; you even have to screw the parts together after opening the package.
However, this interesting looking preamp delivers a great analog sound with precision and potency, although many users recommend replacing the factory tubes for better performance.
Just like most tube preamps, this unit doesn't support MC cartridges, but MM users will be pleased by the high quality sound this preamp offers. One minor problem with the Little Bear Phono Preamp has to do with quality control; many buyers have experienced deep disappointment after assembling the unit and finding it doesn't work or performs poorly.
It seems quality is not consistent in all pieces, so getting a faulty one might be a matter of luck. Then again, this preamp requires some prior experience with audio and electronics, and the quality of the performance often depends on how well it is assembled and set.

YAQIN MS23B
The MS-23B is a Tube Phono Stage for MM cartridge or high output MI (Moving Iron) cartridge. With extreme detail and no coloration, this preamp delivers tight and deep lows, rich mids and smooth highs, making it a favorite among audiophiles all over the world.
It is quite flexible for a tube preamp, featuring RIAA equalization, 0.5 V stereo outputs and DC power supply for minimum noise and hums.

It's a very well built unit, featuring top notch components enclosed a high quality aluminum chassis, for extra durability. Just as with the Little Bear preamp, users often recommend changing the stock tubes to improve the performance of the unit.
Some audiophiles even like to experiment with different tubes to obtain diverse sounds and determine which ones they like the most. But after all, it's a matter of personal taste.
Final Notes
Buying the right phono preamp can be somewhat confusing, especially for music enthusiasts with little or no knowledge on the technical aspects of each type of preamp. There are hundreds of different turntables and each one has unique characteristics; learning them can be quite useful.
All the phono preamps on this list are high quality and perform extremely well, but one might work better with your turntable than other. Knowing things like the type of cartridge your turntable uses, the turntable's output impedance and whether or not it has a built-in amplifier will make a huge impact on your choice. Reading some reviews and watching videos on a specific model will make the process way easier. Hopefully this list was useful as well!