Linux Music Production: Start Making Music Today!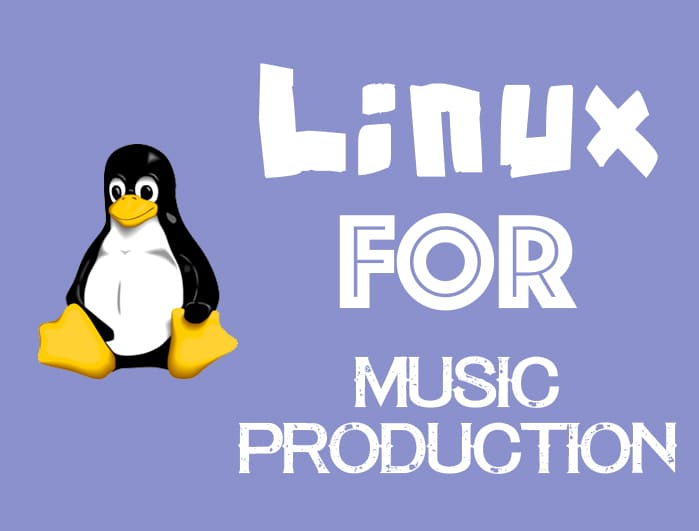 Maybe Linux is your operating system of choice.
There's nothing wrong with that! Linux has a ton of upsides that other operating systems fail to implement.
BUT is it possible to make music on a Linux computer?
I think so.
You might run into a few challenges getting started, but if you hate using other operating systems, the reward is well worth it.
In this article, I'll be giving you a brief introduction into producing music on a Linux operating system.
Let me know what you think in the comment section below!
Should you bother with Linux Distros?
The biggest advantage of Linux distros is that they offer more stability and tend to be more secure than non-Linux operating systems.
Your only problem would be compatibility.
This issue has always been around with Linux. However, there seems to be more and more DAWs coming out for Linux. We'll be going over a few in this article.
Best software to use
To produce music on a computer, you'll obviously need some sort of software to get the job done. A digital audio workstation (DAW) is just what you need.
Here are my favorite DAWs for Linux: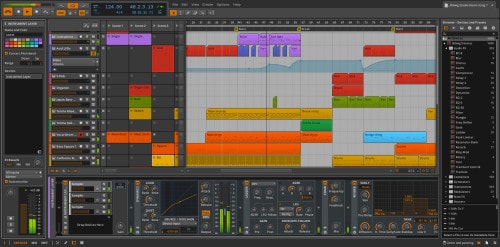 Bitwig
Bitwig is automatically going to be my #1 recommendation. My primary operating system is Mac OS X and I still use Bitwig.
Bitwig works on Mac OS X, Windows, and Linux. In my opinion it is the best DAW on all platforms. It is especially the best DAW for Linux.
Before using Bitwig, I used a piece of software called Ableton Live. Bitwig has a similar feel to it and even has a live performance mode as well.
No matter what genre you produce, Bitwig will be a perfect choice. You have the option to use VST plugins, you can add your sample folder to the interface for easy access, and you can even record live tracks from your real instruments or microphones.
Another reason I like Bitwig is how fast it is. I thought Ableton was the speediest DAW when I used to use it, but that all changed when I tried out Bitwig. It was clear that the developers were putting a big consideration into workflow and ease-of-use.
There is nothing that Bitwig can't do that other DAWs can.

Ardour
Before Bitwig came around, Ardour was the way to go.
It is still a very capable DAW that offers a ton of great features.
Ardour's features are all available for free. To keep the software alive, they also have a premium version (which only costs $1 a month) and it allows you to get updates as well as a few other bonuses.
A ton of quality VST instruments and effects are included.
I did like the feature that Ardour supports Windows VST plugins right out of the box. Keep in mind that it uses a not 100% stable wrapper to do so and Windows VST crashes are not a rare occurrence.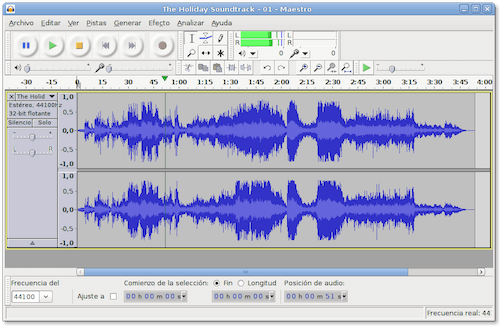 Audacity
A popular piece of software that has been around for a long time is Audacity.
Audacity has been a popular choice for audio-editing on Windows, Mac and Linux. Podcasters, radio shows, and music producers all have at least heard of Audacity.
Oh yeah, I almost forgot. It is 100% free.
Surprisingly, I wouldn't recommend Audacity for 9/10 producers. The reason I am including it in this article is because a lot of people like Audacity for its simplicity.
If you are going to be recording midi sequences, using VST effects/instruments, and doing heavy audio-manipulation, I wouldn't recommend Audacity.
Audacity works great if the bulk part of a song that you produce consists of real recordings. Audacity does an excellent job at recording real-world sounds on multipel tracks.
Audio Plugins
Most popular VST plugins aren't supported for Linux. That's just a sad fact that you'll have to face.
On a brighter side, there are places to find free Linux VSTs. There are even ways to get Windows VSTs to work on Linux.
The first website I want to talk about is Linux-VST.com. (EDIT: For some reason, Linux-VST is down. I'm not sure if it will ever go back up. Check out Linux-Sound.org as an alternative.) It is a site that contains a ton of great resources on Linux music production.
You'll find DAW recommendations (which seem slightly outdated in my opinion). You'll even find links to free VST plugins and even Linux plugin developers.
The next site I'd like to talk about is Linux-Sound.org. On this page, you'll find links to plenty of different Linux-supported plugins. There is also information you would find valuable if you were a plugin developer.
Lastly, I'd like to talk about DSSI-VST. If you have some non-Linux-supported plugins in mind that you feel you MUST have, this is going to be your best option.
DSSI will allow you to run Windows VST plugins in your Linux DAW. It is completely free and is well worth your time.
With DSSI, the sky is the limit. There are an endless supply of Windows VSTs, including free ones, that allow you to do things that simply wouldn't be possible with stock instruments.
Summary
So there you have it!
I hope you have learned a thing or two about music production on a Linux operating system.
Do me a favor and share this article on Twitter, Facebook, or even Google+ if you found this information of use.