DJ Mixer Pro Review: Can This Software Even Compete?
To say that there is no shortage of mixing software on the market right now would be understatement. With the number of people transitioning from hobbyist DJs to professional DJs, the demand-supply gap is there to be met.
But can the same be said for quality mixing software? We have one on our hands right now apparently and I'm dying to take it for a test drive. DJMixer Pro, here we come.
Installation and First Impression
Installing DJMixer Pro, by DJMixerSoft, was a breeze. No ads or unwanted software came bundled with it. As soon as you fire it up, it prompts you to load some music tracks. You are presented with four decks and an overall slick interface.
I used the Windows version of DJMixer Pro and it was simply too smooth for words; the Mac version ought to be even better.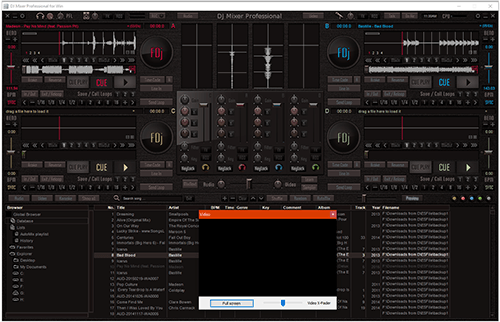 Each deck is adorned by its own virtual vinyl disc which can be rotated and 'scratched'. The console in the center offers volume control and a three-knob equalizer for each deck along with gain-control and KeyLocks. Now this KeyLock is a very interesting feature that DJMixer provides as it can change the speed of the song currently in deck WITHOUT modifying the pitch. Sure, it requires a noticeable amount of processing time if the track is 'heavy' but this feature is a godsend.
Each deck also has two wave displays, which show the sound wave as the track is being played, one in detail and the other just giving an overall view of the whole track. Both of them, of course, are interactive with their own seek cursors.
A beat-controller, precise to two decimal places is also a standard on all decks. This definitely helps with those pesky out-of-sync tunes DJs often encounter with less powerful beat-controllers. There is a sync button on all four decks that can match the BPM of a track in one deck with the tracks in others, leaving you free to concentrate on your music rather than doing math.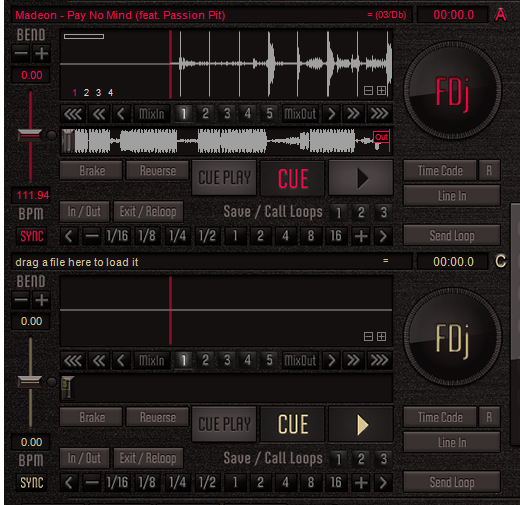 The Mixing Experience
There are a set number of cue points to which the user can instantly navigate using the Cue Play button. The standard reverse and looping options are present exactly where one would expect them to be.
While the manual mixing and fading is all quite good, it is the automatic mixing features that really surprise you with their fairly accurate detection of nice cue points to allow smooth transition from track to track.
In addition to the automatic audio mixing, DJMixer shows how keen it is to cover all bases in the form of the video mixer. The video mixer gives us the ability to flawlessly merge music videos and even other video clips to accompany our mixed tracks.
One feature that was so good it actually took us by surprise: the browsing system. DJMixer Pro has an unbelievingly comprehensive browsing system that also includes infinite lists among other things. If you are importing music from a local or a network drive, the mixing program keeps going deeper and deeper from the root of the target and scan all descendent folders for music.

If you want to use iTunes instead of music stored on your filesystem, you have an option to help you do that too.
I chose two tracks that I'm really in love with right no to mix: Bastille's bass-heavy Bad Blood and Madeon's synth-pop dream Pay No Mind. Now I'm no mixing guru but I can definitely tell when a mix sounds great and when it sucks. You have to believe me when I say that the automix feature produced a surprisingly great-sounding mix with surprisingly smooth crossfading and transitions from one song to the next.
When it comes to MIDI controllers, support is for 3rd party controllers is not comprehensive but it is steadily growing, with each new version of the program adding support for around 10 controllers. Pioneer's DDJ series of instruments are ones of the latest ones for which support was added to DJMixer Pro.
DJMixer also supports third-party VST plugins for audio effects. A sampler is included so that you can utilize short audio clips and play them at specific points in the mix.

One Big Drawback
The main arena in which DJMixer Pro falls behind is the list of audio formats it supports. The number of formats supported is just too few. Other mixing programs have arrays of supported format and this makes DJMixer looks fairly bad, to be honest.
Conclusion: Did you enjoy our review of DJ Mixer Pro?
If so, please share it on social media to show your support! ?
All of this takes nothing away from the fact that mixing music is no child's play. It is not easy and you can easily get drowned in the wave of technical terms that you'll encounter when first starting out. If you are only starting out then DJMixer Pro might not be the ideal mixing software for you. That being said, if you're willing to overcome the steep learning curve, then you're welcome to do so by all means.
DJMixer Pro is available for both Mac and Windows and let's face it: Linux, the only other consumer operating system talked about on the same scale, isn't exactly popular for music making or any other form of artistry, now is it? Macs, on the other hand, are famous as the system of choice for all kinds of artists.
Priced at $160, DJMixer is slightly on the expensive side but still very much a good deal from every angle.