ZealSound HDE-300 Review: Great Design, Decent Sound!
Wooden headphones are a new trend that many companies are taking a crack at. Consumers love to stand out with headphones that combine modern engineering with an organic wooden-feel; and who can argue! They look fantastic!
The ZealSound HDE-300 is an incredibly affordable option that will run you around $20. But does the sound match its beautiful aesthetics?
We'll find out in this review!
What's Included?
Instruction manual
Warranty card
3 pairs of different-sized ear cups (small, medium or large)
Headphone clip
Protective carrying pouch
(Obviously) The headphones themselves
For a $20 pair of headphones, a lot of attention to detail is provided. The instruction manual is straight forward and provides useful tips for maintaining the life of your headphones.
The print is large enough to read clearly even if you don't have the best vision. Unlike many other headphones in a similar price range, the instructions are simply written in fluent English.
I highly recommend experimenting with the different-sized ear cups included. Believe it or not, they make a huge difference with not only your comfort but also with the perceived sound you hear.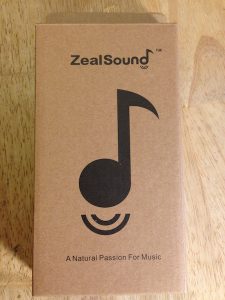 First Impression:
Unboxing the ZealSound headphones
The environmentally friendly packaging really fit the theme of wooden headphones quite well.
It's refreshing to buy inexpensive headphones that don't come in that annoying-to-open plastic packaging that we all hate. It really makes you feel like you are receiving a product that far exceeds the value you paid for.
My first impression of these headphones was great for how easy it was to actually unbox. ZealSound gives you exactly what you paid for without any hassle.
The Overall Sound Quality
The sound quality was an interesting aspect of these headphones. On the first few days I noticed that the high frequencies were slightly harsh. I had a bit of trouble getting comfortable with how these headphones sat in my ears, but you get used to them after a few days.
A great positive I noticed was how smooth the low frequencies were. If you're a bass-head or enjoy EDM/Hip-Hop, you'll fall in love with how clear the bass is.
2 weeks go by since I have received these headphones and I am fully used to them. Once you get used to how the HDE-300 sounds, these headphones become fantastic.
If you're looking for an affordable pair of headphones that you can wear every day and will last a while, the HDE-300 is a great option! Plus, the 1-year warranty will protect you from having to buy a new pair of headphones if these break.
The Build Quality
Nothing I can complain about with the build quality!
The wood looks high quality and polished. Nothing is loose and you can tell that the design of these headphones was clearly thought over.
What I like about these headphones:
Great low-end
There is a nice and wide soundstage (Your music sound BIG)
Beautiful design and strong build quality
Eco-friendly!
Generous warranty
What I don't like about these headphones:
The high end could sound a bit less-harsh
The ear-cups sometimes slide inward, which is easy to fix, but somewhat annoying
Final Verdict:
Looking for a pair of wooden headphones for $20 that have good sound quality? Do you like listening to music while running and want a pair of headphones that won't pop out?
Thank you for reading! Share this article on social media to show your friends the next pair of headphones you're getting!