What are the Best Acoustic Guitars for the Money? Our Ultimate Buyers' Guide
Ask any professional guitarist, 'what makes a great acoustic guitar?' and they'll tell you one thing for sure: the combination of high quality woods and immaculate construction.
In this article, we will discuss all of the top acoustic guitars according to different consumer price ranges. Let this roundup be your guide to selecting the perfect acoustic guitar to suit your needs with price ranges starting from $100 to $1000.
Also, make sure to check out our Ultimate Guide to Guitar Lessons Guide. Tons of great tips in there too.
Under $1,000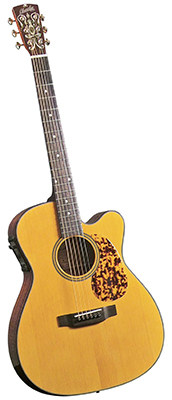 The BR-143CE comes with a solid Sitka spruce top with scalloped braces for a crisp tone and clean articulation.
The best part about this acoustic-electric guitar by Blueridge is its size – you can wrap your arms around its small body to focus more on playing. The abalone inlay and intricate pearl work on the guitar's headstock, fingerboard and marquetry center strip on the back give the Blueridge BR-143CE a truly one of a kind artistic touch.
If you're in search of an electric acoustic guitar reminiscent of fine American guitars built before the WWII era, the Blueridge-143CE is the one for you.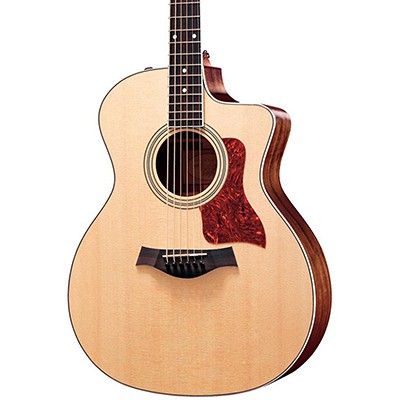 With an outstanding gloss finish that loves stage lights, the Taylor 214-CE is based on Bob Taylor's first guitar to be built with new design elements from scratch.
The Taylor 214-CE was made to celebrate the 20th anniversary of Taylor Guitars. Today, it has become one of the most popular Taylor body shapes. The key feature of this guitar is its narrow waist that brings about a subtle treble boost which in turn, creates crisp definition throughout the guitar's range. This also makes the Taylor 214-CE ideal for seated players for it has a more lap-friendly profile.
Looking for an acoustic electric guitar with an extra sleek look and chrome hardware? Try out the all-new Taylor 214-CE Grand Auditorium Acoustic Electric Guitar today.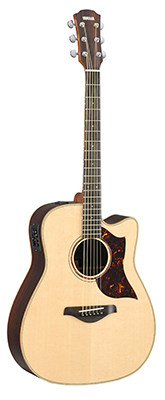 Specially designed for performance-oriented guitarists, the Yahama A3R Dreadnought Cutaway Acoustic-Electric Guitar is a reliable workhorse that feels, looks and sounds amazing in all applications.
Made of superior quality choice materials including mahogany, rosewood, ebony and solid Sitka spruce top, the Yahama A3R is the perfect high-end acoustic electric guitar with superb playability, durable body and the cutting edge SRT pickup.
The all-new Studio Response Technology (SRT) introduced by Yamaha focuses on bringing back the natural, ambient sound characteristic to an acoustic guitar.
It uses a sound modeling technique that uses data acquired through extensive analysis of 4 primary acoustic elements that sound modeling technique that uses data acquired through extensive analysis of 4 acoustic elements that are lost from standard pickup systems.
With SRT, you can replicate the same, original tone that until now was only producible by professional recording engineers in the finest studios in the world.
Best Acoustic Guitars under $500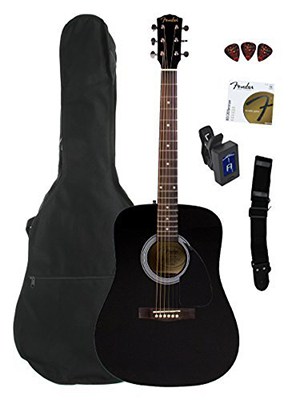 The Fender Squier Dreadnought Acoustic Guitar is not just affordable – it is value for money. The FA-100 Fender Acoustic Guitar comes with an exclusive 6mm padded gig bag containing everything you need to play the instrument like a pro guitarist including the exclusive Fender headstock, pickguard shape bridge, dot position inlays and forward mounted strap button.
The dreadnought body shape with basswood back, top and sides make this guitar durable and trendy all at the same time. With exceptional sound quality and rich tones, the Fender Squier Dreadnought Acoustic Guitar is reliable and ideal for new learners.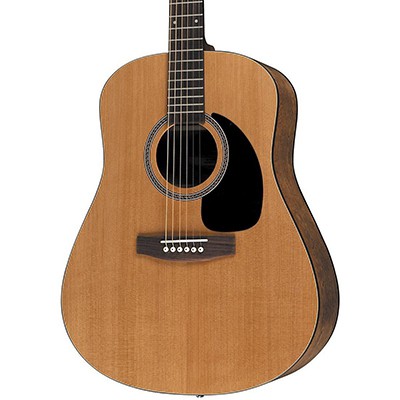 The Seagull S6 is a high-end guitar made in North America.
Made of premium woods, this acoustic guitar is perfect for learners as well as everyday use. The well-built, durable Seagull S6 is not only aesthetically appealing but also delivers a great sound – far more than its money's worth.
What makes Seagull S6 an excellent choice? Well, for starters, not many guitar manufacturers identify themselves as 'eco-friendly', but Seagull does. This is perhaps, one of the very few guitar manufacturing companies that make an effort to contain deforestation and acquire their wood from other local alternative sources.
The Seagull S6 Original Acoustic Guitar's sound quality may not pair up to that of Gibson Les Paul, Taylor or Martin Guitars but it comes very close to any of these and that too, at a fraction of their usual premium prices.
So if you're in search of a durable acoustic guitar that never fails to deliver within your $500 budget, the Seagull S6 is a great choice.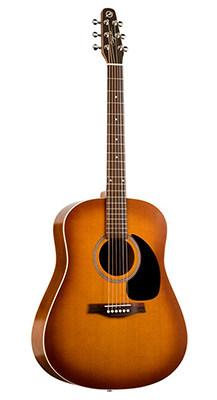 The Seagull Entourage Rustic Guitar makes a solid impression sonically and visually.
Made of firm pressure-tested cedar wood and a wild cherry double bound body, this 6-string rustic guitar will make an excellent new addition to your guitar family.
The Seagull Entourage Rustic Guitar employs EPM Quantum I electronics that aid the amplifying process and incorporate a built-in three-band EQ circuit and tuner.
Also, the C-shape and the slender neck with a 1.72" nut width makes the player feel at ease while playing.
The Seagull Entourage Rustic Guitar is just what you need if you're looking for an acoustic guitar that's easy to use and equipped with all the sophisticated features such as the digital chromatic tuner with LED display for superior performance.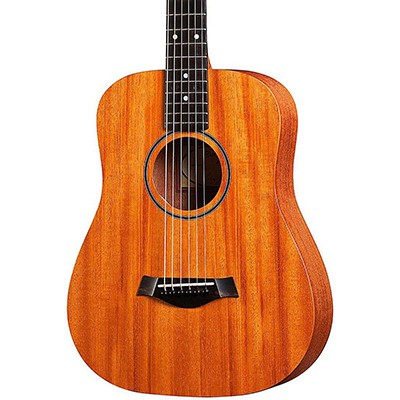 Designed primarily for guitarists on the go and children learning how to play the guitar, the Baby Taylor BT2 Acoustic Guitar is one of the sturdiest and traditional models in the small guitars category.
Even though smaller guitars are more fragile than their full-size counterparts, the Baby Taylor BT2 stand out of the crowd with its laminated sides and back that provide durability to the instrument.
Professional guitarists usually avoid laminates it affects the guitar's sound quality and feels, in this case, it makes perfect sense since this acoustic guitar is meant to be used as a children's guitar or travel guitar.
For a small guitar, the Baby Taylor BT2 Mahogany sounds big. It has a bold tone that clearly projects every single note, chord, and arpeggio.
The laminate works surprisingly well for this little guitar as it gives a slight boost to the bass and a more evened out mid. This results in notes that resonate longer and richer, more powerful chords.
Acoustic Guitars under $200

With the Epiphone DR-100 Dreadnought Acoustic Guitar, you get more for the hard-earned money than you'd expect.
Sporting a select solid spruce top with mahogany back and sides, the Epiphone DR-100's tone will improve when the wood begins to age with time. The DR-100 boasts superb playability thanks to its appropriately thick profile and slim tapered neck shape.
What's even more surprising about this acoustic guitar is that it may be priced like a guitar for beginners, but it has got a vibrant tone and smooth feel that you'll never want to give up. From pro guitarists to beginners, everyone can appreciate this 6-string acoustic guitar by Epiphone for its excellent performance, tone, and playability.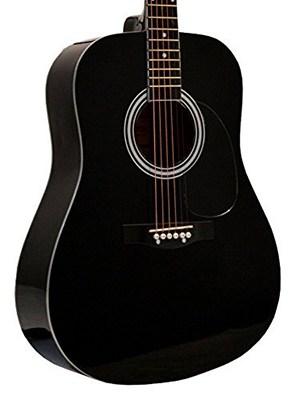 For around 60ish bucks, you can pick up this no-name brand guitar. It's not amazing, but it's great for beginners.
This 41" inch full-size steel string dreadnought acoustic guitar is an exquisite example of superior craftsmanship. Made of Calcutta fretboard with dot inlay and built to professional specifications, this steel string acoustic guitar delivers a crisp, quality sound. Whether you are a beginner or professional guitarist, this handcrafted steel string dreadnought acoustic guitar is affordable and reliable.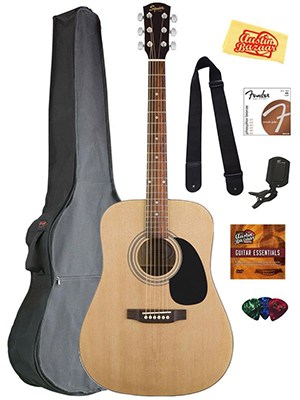 The Fender Squier Acoustic Guitar is one of Fender's most popular guitar models till date. Not only is it up for grabs at an unbelievable price, but it has also got everything you need to get started with this 6-string guitar.
This BEAUTIFUL dreadnought acoustic guitar sports a laminated spruce top with laminated Agathis back and sides along with a rosewood bridge and fretboard and die cast tuners.
The new and improved SA-100 Squier Bundle also comes with an electronic tuner that keeps you in tune from song to song while the gig bag will protect your guitar from wear and tear on the go.
Keeping affordability and functionality in mind, the Fender Squier Dreadnought Acoustic Guitar Bundle is a great pick for beginners and pros.
Acoustic Guitars under $100

If you're looking for an excellent acoustic guitar that delivers a well-balanced sound and can compete neck to neck with other expensive models, the Jasmine S34C is worth a try.
Featuring a solid spruce top and advanced X Bracing with a smooth satin finish, this acoustic guitar produces a rich sound that comes second to none.
The Jasmine S34C has the 'Advanced X Bracing system' which puts the braces closer to the sound hole that adds more details to the notes and improves definition. Also, the S34C's scalloped design makes it lighter that lets the top vibrate more freely, resulting in a crisper sound.
Easy on the pocket and durable, the Jasmine S34C NEX Acoustic Guitar is ideal for experts and well as beginners.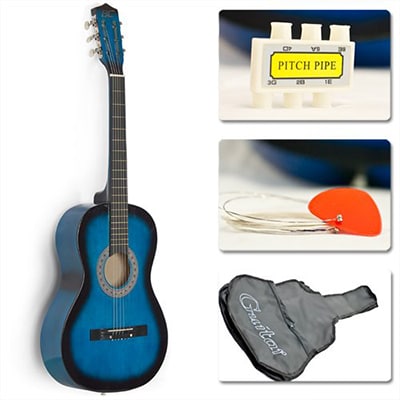 Sporting a glossy blue finish, this 38" acoustic guitar is a must-have for teens learning how to play the guitar. This guitar is durable and can withstand wear and tear; thanks to its solid wood construction. That's not all – this student guitar starter pack also includes a shoulder strap, tuner, carrying bag and an extra set of strings.
If you're a learner looking for an acoustic guitar starter pack within your budget, this 38" Blue Student Acoustic Guitar Starter Pack is durable, easy to use and includes everything that you need to get going.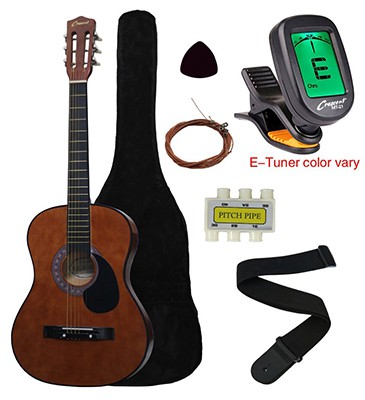 This complete 38" inch acoustic guitar set by Crescent Guitars is ideal for beginners. The striking dark coffee theme appeals to the eye and gives this acoustic guitar a truly one of a kind look.
The solid wood construction with durable geared tuning and linden binding enhances the performance of the guitar. When it comes to sound quality, the Crescent MG38-CF is a great performer – it never fails to deliver a crisp, vibrant tone.
The best part yet, this full-size acoustic guitar comes with a plethora of accessories including guitar pick, pick guard, carrying strap, pitch pipe tuner, extra strings and a padded gig bag.
If you're looking for a guitar starter-package that's not only sturdy but also fits your budget, the Crescent MG38-CF Acoustic Guitar Starter Package is worth having a look at.
Acoustic Guitar FAQs
Here are answers to some of the frequently asked questions that most people have in mind when buying a new guitar.
What are some fun songs to learn on the acoustic guitar?
There are so many fun songs that you can play once you learn how to play the acoustic guitar. Here we have a list of songs that are easy to play. Click on the links below to view the full tutorial.
Hotel California – The Eagles
Blackbird – Paul McCartney
Heart of Gold – Neil Young
Brown Eyed Girl – Van Morrison
All Along The Watchtower – Bob Dylan
What software/courses can help you learn to play the guitar?
Jamorama offers comprehensive online guitar lessons with expert tutor and professional guitarist Mark McKenzie. The complete course library includes hundreds of lessons that you can choose from along with added features such as mobile learning, HD video tutorials, expert instructions, etc. The reason why Jamorama.com is highly recommended for learners is that enables you to learn what you want, at your own pace.
The reason why Jamorama.com is highly recommended for beginners is that enables you to learn what you want, at your own pace.
What are the best free resources for learning guitar?
We have handpicked some of the finest websites and YouTube channels that you can follow in order to learn how to play the guitar step by step.
How Do I Tune An Acoustic Guitar?
Your acoustic guitar will work wonderfully once you have tuned it properly. For beginners, it is important to first develop the ear to get going. First of all, memorize the EADgbe rule that includes all open strings, 'E' being the thickest string and 'e' being the thinnest string.
Here, above, we have an excellent video tutorial that will help you tune your acoustic guitar accurately.
Final Notes
Now that you are aware of all the different guitars you can buy under $1000 and free video tutorials that you can follow, pick one that suits your budget and most importantly, serves your purpose – whether you're looking for an acoustic guitar to learn, travel, practice or play professionally.