iRig Keys Pro Review: Best Keyboard Controller for All Devices
The abilities of mobile technology — smart phones, tablets and the like — have not only progressed, they've leapfrogged from genre to genre. Who, amongst those of us old enough to remember rotary dial phones, ever imagined taking a photo with one?
Recorded music was also once unthinkable, at least at any sort of professional quality. Yet, pro audio is no longer bound by recording studio walls.
You can capture ideas easily when inspired, with few tech compromises, unlike the portable cassette players of old. Your earliest demo track can sound good enough for the final mix.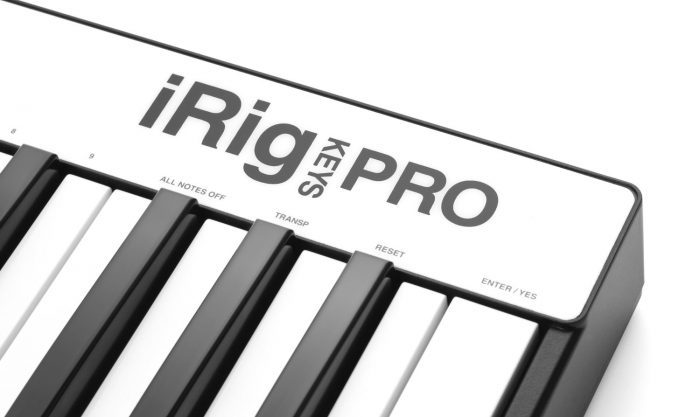 IK Multimedia
It wasn't enough that a phone or tablet could simply record at serious quality levels. Voices and instruments need other tools to interface with the recorder.
This is where IK Multimedia came in. Celebrating 20 years in the digital music world in 2016, the company embraced the non-standard recording opportunities offered by mobile technology.
While IK had accomplished much prior, it was in 2010 that aggressive support for iOS devices started in earnest. The iRig guitar interface permits an axe slinger to plug into an iOS device, be it iPhone, iPod or iPad.
This expanded the capabilities that existed within the devices, which were touch and keyboard-based. Yet, playing keyboards on a touch screen is hardly the tactile wonderland presented by a piano, for example.
Along came IK's iRig Keys.
Keyboard Interface for Mobile Devices
The idea was natural. Create a portable piano-style keyboard that connects to iOS products to give back some glory to those of us who really want to feel "Chopsticks" as we play it. For what it was worth, iRig Keys was a step in the right direction. However, it was a baby step.
A year after the introduction of the first keyboard, IK released the iRig Keys Pro. Full size keys! Those of us with fat fingers and poor technique now had a champion.
The Keys Pro model gives 37 velocity-sensitive keys in a package that remains compact, if not truly portable. It is, however, quite impressive, particularly at its under-$200 price point.
IK Multimedia iRig Keys Pro Specifications
The Keys Pro is not the only portable keyboard out there, but it's among the best, particularly at for those on a budget. It's not simply an iOS add-on. It supports Android too, as well as USB to Mac or PC.
Power to the Keys Pro is through a bus, so whatever you connect to, that device supplies the juice for the keyboard.
Connection is simple. Simply choose the cable that connects to your device. Lightning, OTG and USB cables come with the Keys Pro purchase. There is an optional 30-pin connector available for older iOS devices. However, the devices may limit what apps work with the Keys Pro.
One of my few complaints with the Keys Pro package is that the supplied cables are ridiculously short.
With connectors on the left end of the keyboard, a left-handed player may not notice an issue. Someone as painfully right-handed as me, though, will find the connected device on the wrong side for useful manipulation.
Controls on the Keys Pro are basic, but they are all you need for most applications. As with many controller keyboards, the piano keys serve double duty, accessing various programming parameters as well as typical performance duties.
The top edge of the Keys Pro has one rotary knob and five push buttons, as well as a collection of LEDs, indicating statuses.
The knob looks after volume and some data changes. It's not a continuous rotary control, so you do lose volume position when you make data changes. Annoying, perhaps, but not a deal-breaker by any means.
To the right of the knob, two LEDs indicate mobile device or USB connection, confirming device handshakes. As an effective plug-and-play device, I haven't experienced an issue with any connection not immediately confirmed by LED.
The SET button has four LEDs to its right. They indicate which of the four saved setups is active. The setups are user-configured.
The next pair of buttons are the OCTAVE up and down selectors. Pressing both selects EDIT mode. The final pair, PROG, use up and down buttons to change program selections within apps.
Self-centering Pitch wheel and variable Modulation wheel take their places at the left side of the keys, typically located for performance use.
Finally, there's a ¼-inch jack for a sustain or expression pedal.
The biggest omission, in my opinion, is the lack of a slot along the top to support a smartphone or tablet. While it's probably not a huge deal from a practical standpoint, there is a ton of space right off the controls, just begging for such a slot. I mean, this keyboard is made for phones and tablets. Is it not logical to support them physically as well as platform?
The Keys Pro in Use
IK Multimedia isn't kidding when they say plug-and-play. Even in this day and age, when we expect P&P devices to do just that, there's something slick about the way the Keys Pro instantly configures. No need to select devices or change settings, you can start playing.
Anyone looking for weighted keys in an under $200 device will be slightly disappointed. The keys here are typically spring-weighted synth keys. Though the keys themselves feel very light — the entire keyboard weighs only 3.5 lbs. — the springs are sturdy and the feel is positive.
Keys have a little bit of a resistive feel. That is, the last bit of pressure before the key bottoms out is increased. It makes velocity-sensitive playing more intuitive and natural. While certainly not piano-weighted, not all keyboardists are piano players.
This may not be the best keyboard for entering beats because of that. I don't consider that a strike against the Keys Pro, not with the plethora of pads available. Even a tablet's touchscreen is a good beat-entry system.
While 37 keys is just enough to play with both hands, it is enough. Octave changes require only simple button touches. Florid keyboardists may be frustrated, but as a portable keyboard with full-size keys, it's enough. Let them carry their own Rhodes 88.
Final Notes
There is an intangible feel to the Keys Pro. It is plastic, but it doesn't feel plastic. It's light, but it doesn't feel lightweight. While I wouldn't send the Keys Pro out to handle a major tour, I also would not need to cordon off a safe zone for it.
This is a device that sits happily on a cluttered desktop and delivers the basics and even some of the intermediates of keyboard controller duties.
For those in the market for a portable keyboard controller that supports iOS, Android, PC and Mac, add the IK Multimedia iRig Keys Pro to your shopping list.