Counting Down The Best Cheap Microphones For Everyone
Sound has been part and parcel of our lives as human beings from years long passed.
We depend on it for the most basic form of communication. It is the basis of language. It is a source for adaptability and a survival tactic. With advances in technology, quality has been placed on a pedestal of sorts with regards to sound. We appreciate clear and quality sound especially when it comes to music. This is a fact; and if you want to get serious with your craft, upgrading to a quality microphone is essential.
With the introduction of faster internet and the increased use of YouTube around the world and a wide acceptance of Podcasts, both as a marketing tool and source of entertainment and information, the need for even higher quality sound rose.
The growing demand for beginner-friendly microphones fueled he development of USB microphones. This was a great inclusion in to the audio market which was initially saturated with the expensive XLR microphone setup.
No matter what your budget, there is a suitable microphone for you!

USB vs XLR
The USB microphone was created to ensure that anybody could start recording audio with the least effort. They are incredibly accessible and can be purchased almost anywhere.
This sort of microphone is best suited for anyone who want to spend the least money possible on their microphone.
The XLR microphone is highly recommended if you're considering to record audio at a professional level. This is because the audio quality from an XLR microphone is incredibly superior compared to a USB microphone.
As a consequence, an XLR setup is generally expensive when compared to a USB microphone.
With XLR, you don't only need the microphone itself, but you also need an audio interface to amplify and process the signal.
XLR allows for easy equipment upgrades while upgrades involving USB microphones would mean buying an entirely new USB microphone as it comes in one unit and not various components as seen in the case of the XLR.
The XLR is made up of the microphone, the XLR cable, and the audio interface. These are connected together before being used to record. These parts can be upgraded with ease.
Make sure to check out my USB vs XLR article for further information.
---
Microphones for recording vocals as a musician
Here are our top 5 picks of cheap microphones that work great for recording singing in a studio.
Enjoy!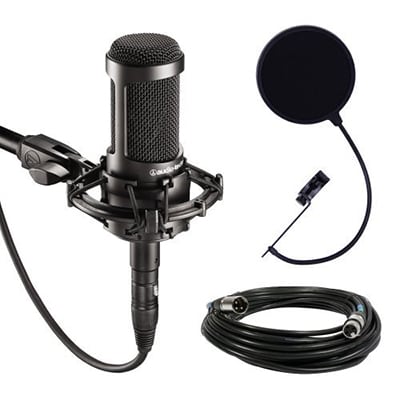 Microphone type: XLR
A cardioid polar pattern has been used on this XLR microphone.
This ensures that sound is only captured from the desired source and not from the rear or sides. A large diaphragm is included to ensure that sound remains natural and smooth with very low noise. A 10-foot XLR cable is included to ensure that you can easily connect your XLR microphone to the audio interface or mixer.
A plop filter is included to help eliminate any annoying plosives from recordings. This makes the audio cleaning process much easier.
To ensure that you are able to clean your XLR microphone without leaving scratches, a microfiber cloth is provided.

Microphone type: XLR
This microphone is currently used as the benchmark for price to performance when it comes to studio condenser XLR microphones. It is recommended for home studio and project uses.
The range provided by this microphone is exceptional making it king when it comes to versatility. The diaphragm is custom engineered to ensure that it is lightweight. This provides the diaphragm with an extended response to frequency and superior response to transience.
It incorporates a cardioid polar pattern to help focus only on the source and not on any sound from the rear or sides. This makes the Technica AT2020 perfect for sound isolation among other things.
Microphones for voice commentaries
Here are some microphones that work great for both Youtubers and amateur podcasters alike.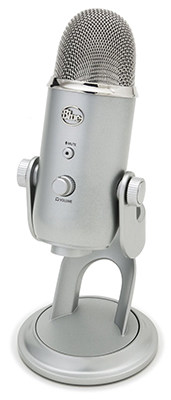 Microphone type: USB
Packed with a proprietary tri-capsule array, the Yeti can be used to record in many situations. It is one of a few microphones that come with a number of pattern selections including:
Bidirectional
Stereo
Omnidirectional
Cardioid
These ensure that audio isolation is achieved depending on the sources desired by the user. This makes the Yeti to be very versatile in terms of usage.
The Yeti has a zero latency headphone output with a mute button and a cutting edge gain-control feature. This microphone is also great for recording musical instruments, interviews, vocals, conference calls, and field recordings and concerts.
It is a plug-and-play microphone meaning that you do not need to install any additional software so as to make full use of it.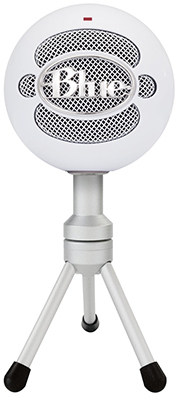 Microphone type: USB
This microphone fits into a very special class of microphones that is readily recommended for use with Apple's Facetime, Skype, and Google's very own Hangouts.
It ships with a stand and USB cable to further cement its plug and play status. No additional drivers are needed to be installed before use. It is almost perfect for adding narration to home movies, recording vocals, and creating podcasts.
Microphones for Podcasting
Podcasting has been a growing movement in the world of audio. Several services have risen with Apple's very own iTunes creating a category specifically for this form of audio creation and dissemination.
The purpose of podcasting ranges from entertainment to purely providing information on various things. Microphones that podcasters can use are USB based and include:
This section covers microphones for serious podcasters.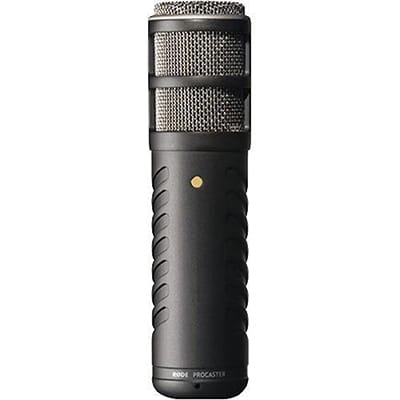 Microphone type: XLR
The Procaster is a dynamic microphone made to deliver professional broadcast quality audio at all times. The polar pattern used on this microphone is tight and made to provide a unique voice frequency response. It features an internal shock mounting to eliminate any noise that comes from handling the microphone.
An internal pop filter is included to reduce any plosives that may be picked while recording sound.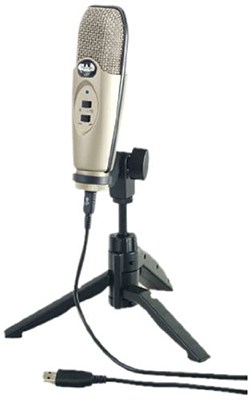 Microphone type: USB
This microphone uses a cardioid pattern to isolate the desired source of sound and eliminate sounds from the rear and sides. It comes with bass reduction to help remove room noises. A 10 decibel overload protection switch removes audio distortions that may arise from loud sound sources near the microphone. This is great for live recordings at events.
It is compatible with Mac and Windows without the need for installing any software. This makes the microphone a plug-and-play option for podcasters looking to hit the road running.
Final Notes
Whether you are a novice podcaster or a professional sound engineer, give your audio recordings a breath of life by using either one of these microphones and your listener's ears will thank you for it.