|Top 5| What's The Best Mic For Rap Vocals
A bad microphone can easily ruin any rap/hip-hop track.
I don't care how good your skills are. If you are using a $20 headset to record your tunes, your vocals aren't going to come out clear and nobody's going to fully appreciate your tracks.
I recommend purchasing an XLR microphone.
They are just all-around better options than usb mics. Refer to my XLR vs USB microphone article to find the differences.
All of the mics on this list will be XLR.
This list is made up of the top 5 vocal microphones. I made sure to cover products of all different price ranges.
So let's find out what the best mic for rap vocals is!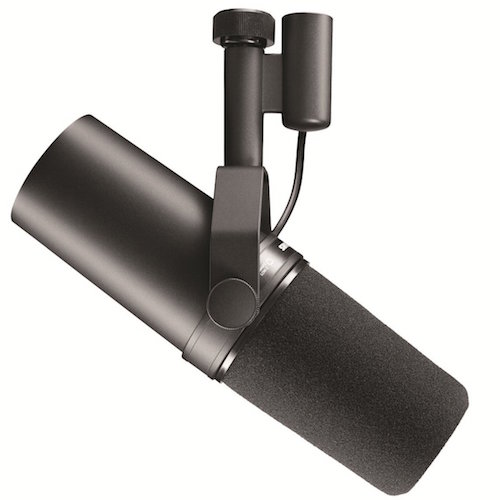 Shure SM7B
First on the list is the classic Shure SM7B.
If you are looking for a flat, clean-sounding microphone that is capable of recording very natural vocals, the SM7B is a great mic to choose.
Features:
A great feature of the SM7B is the bass-rolloff and the mid-range boost. These easy-to-access knobs make adjusting your sound quick and easy.
A detachable windscreen is included when you purchase the SM7B. You can get some interesting results using the windscreen for up-close vocals without worrying about loud breathe sounds.
Quality:
The sound quality of this microphone is phenomenal!
There is an internal air suspension that gets rid of any annoying subtleties caused by mechanical noise.
The build quality of the SM7B is also quite high. Its made out of a solid structure that will last you a long time.
Overall, the Shure SM7B produces amazingly warm vocals. The SM7B is used among many well-known producers and is an industry standard when it comes to microphones.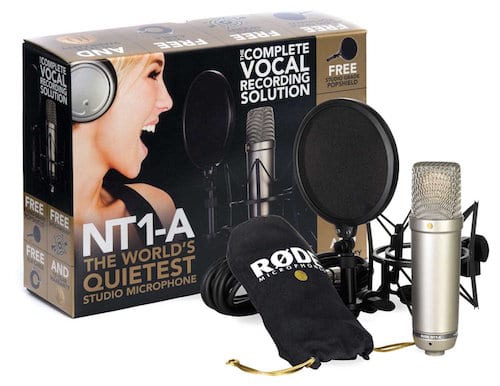 Rode NT1A
Another amazing microphone is the Rode NT1A. It is a large, 1-inch capsule mic with a gold-plated diaphragm.
Features:
There is a nice and low self noise on the NT1A.
The dynamic range of this microphone is very wide. The NT1A will pick up EVERYTHING. That's why it's important to have decent acoustic treatment.
With the NT1A, you'll also get an SM6 shock mount, pop filter, and a dust cover.
What I like about this microphone is that it offers so much value for a pretty affordable price tag.
The type of sound you can get from the NT1A is warm, clear, and crisp.
Overall, if you are looking for an amazing microphone that is capable of insanely high quality recordings, look no further than the Rode NT1A.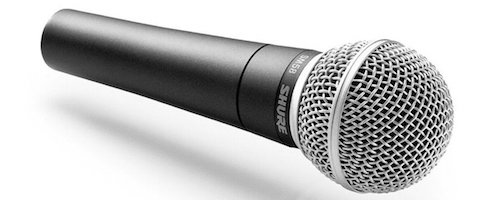 Shure SM58
Another popular Shure microphone is the SM88. It's an overall great dynamic microphone both for performing and recording.
Features:
First off, this mic is pretty cheap! It will cost you less than $100 to pick up one of these.
This mic works well recording just about anything, but it was designed for vocals.
You'll find a rolloff knob on the SM58 to get rid of any unwanted frequencies.
Quality:
The SM58 has a great frequency response tailored for vocals. It has a bright mid range that sounds clean and crisp.
The build quality is very solid. It has a rugged construction with a shock-mount system. There is a steel mesh grill that protects the mic.
This microphone will last you many, many years.
Overall, if you are looking for a quality microphone, the Shure SM58 is your definite answer.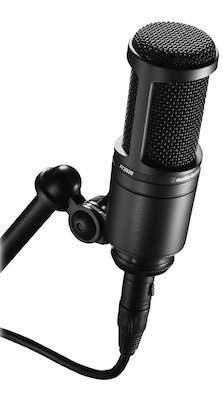 Audio-Technica AT2020
For $100, you can pickup an Audio-Technica AT2020. It's an amazing sounding microphone that won't break your budget.
Features:
The AT2020 is an awesome mic! It uses the traditional cardioid polar pattern to reduce sounds from the side of the mic and the rear of the mic. This will minimize background noise.
Quality:
The sound quality of this mic is very good! At times, you will forget that this mic only costs $100.
The build quality is another strong suit of the AT2020. Its made out of a tough construction that doesn't feel cheap at all. It will survive many years whether you are bringing the mic on the road, or are keeping it in a studio.
Overall, if you only have $100 to spend, the Audio-Technica AT2020 is a superb choice.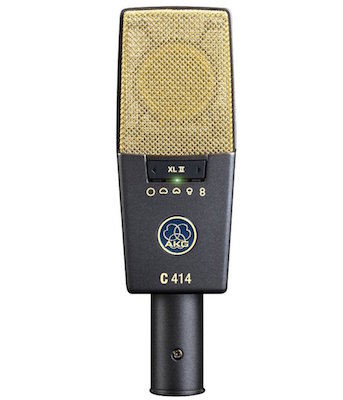 AKG Pro Audio C414
Last on the list is the AKG Pro Audio C414.
This microphone is nice and upfront. For lead vocals and instruments, this mic is perfect!
Features:
The C414 has 9 selectable polar patterns. You get advanced attenuation control from -6db all the way to -18db.
You'll find 3 different bass cutoff filters.
There is also a dedicated LED indicator that will light up when your recording is clipping.
Quality:
The AKG Pro Audio C414 has a great sound quality. You get a lot of control over your sound and even have presence booster which will boost the higher frequencies.
The build quality is solid. I like the design with the gold grill. A very rugged carrying case is also included for safe storage of the microphone.
Overall, if you are looking for the ultimate vocal microphone, you can't go wrong with the AKG Pro Audio C414.
Summary
I hope you have enjoyed this article. Let me know in the comment section below if you agree/disagree with my choices. I'd love to hear!
If I had to choose a favorite microphone out of all of the choices, it would be the Shure SM7B. It doesn't cost as much as the AKG, but supplies an amazing sound quality.
Whether you are just beginning or are an expert, the SM7B performs at a professional level. Its affordable price is a bonus.
For more quality music production knowledge, signup for our mailing list down below.