Arturia MiniLab Review – 25 Keys Of Awesomeness!
First Glance
The Minilab is great midi controller for anyone. Whether you are a beginner just getting into music production, or an expert who is looking for a new toy to add to your collection, the Minilab has many unique features that can potentially improve your productions.
With this controller's sleek, almost Moog-like, design, the Minilab will fit perfectly into any studio. The controller also comes with great software that allows you to create new synth patches or modify pre-made ones.
"Combined with the Analog Lab software, you get a real hybrid synthesizer that comes with a collection of 5000 sounds from the Modular V, CS-80V, Mini V, Arp 2600V, Jupiter 8V, Prophet V, Oberheim SEM V, and Wurlitzer V."
A Ton Of Features?
When you first look at the Arturia MiniLab you will notice the 16 full-size rotary encoders.
You can assign these knobs through midi, but these are also used to control the Analog Lab software(we'll talk about that later).
The MiniLab has 8 drum pads which are great for creating beats or even doing live performance.
This synth will work with Mac or PC, but you can also use this with an iPad. It works by connecting through the camera connection kit.
What's Included?
With the Minilab, you will get a quick-start manual, a usb cable, and the Analog Lab software unlock code.
The Arturia MiniLab is 100% powered by USB. No power cables are required.
The Software: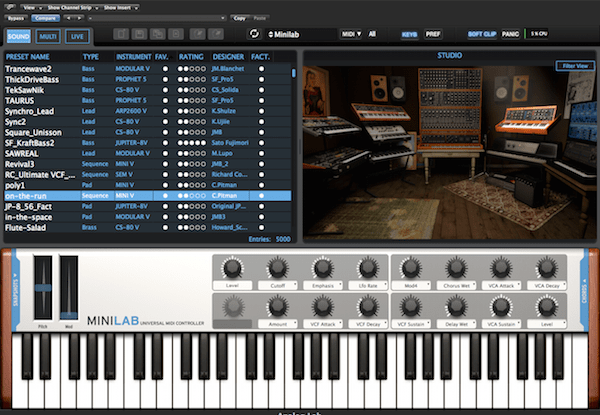 So let's talk about the software. The MiniLab comes with a software called Analog Lab.
This program works either standalone or VST. I personally would use the VST version because obviously since it is opened in a DAW, it will give you a lot of more freedom. The software allows you to edit different synth patches or make your own.
My favorite feature is that you can put different patches on top of each other. This can make for some interesting sounds and even saves you some CPU. Instead of having two tracks with 2 separate instruments doing the same thing, you can just have one.
The Design:
I love the design of the MiniLab. Arturia did a great job at putting together a midi controller that both looks and performs great.
The side of this controller has a beautiful wood grain design. The build quality is great especially for the price.
The pitch and mod wheels aren't actually wheels. They are sensitive touch strips. This was an interesting feature and it works just as good, if not better, than analog wheels.
Why You Might Consider Picking One Up
The software that comes with this will help you get your ideas out faster. This is very important to me. Even if you would like to use a different virtual synthesizer instead of their software, Analog Lab will still be worth using because of how great they made the workflow.
Whether you are a newbie or a seasoned veteran, The MiniLab has amazing features that could benefit your creativity and productivity in the studio immensely!
Would you ever buy the MiniLab?
Let us know in the comment section below!