What's The Best MIDI Sequencer: We Go Over Your Top 5 Picks
Using a MIDI sequencer is a great way to get both melodic and percussive inspiration.
Sequencers have been an innovative component to the music industry for over a decade.
Now with MIDI becoming a standard, you have a ton of great choices when it comes to equipment that can interact with your DAW.
This article covers our top 5 choices.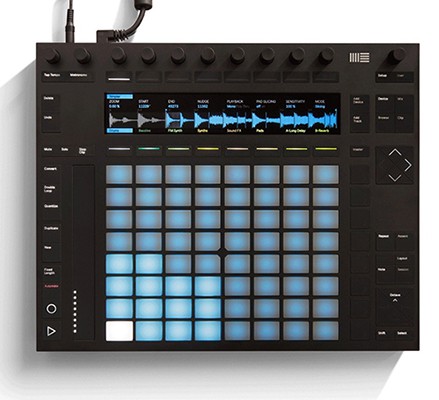 Ableton Push 2
Price: $799.00
Ableton is already a hot brand in the market, known for its high quality musical products. Ableton Push 2 is one of the best sequencers in the market and has features like:
Hardware instrument for hands-on playability,
New sampling workflows, slice, play, etc.
Play or step sequence beats, notes, chords, etc.
Large multi-color display,
8 touch sensitive encoders for controlling mixer,
Ableton Push & Live may be the most popular products in the market right now related to MIDI and synthetic musical instruments.
Together they can deliver the best of both worlds and give you unprecedented amount of power in terms of recording & creativity.
The Push can help you put your thoughts down into notes through your fingertips whereas Live accurately records these and turns them into tracks for processing.
You'll be able to quickly browse, preview and load anything from your library of sounds and get to work without any hassle, taking your EDM game to a whole new level.

ARTURIA Beatstep Controller Sequencer
Price: $79.06
This is another great MIDI sequencer and comes with features like:
Ultimate control over your productions,
Widespread support for any DAW,
Playability with all kinds of drum software,
Sequence analog & software synthesizers,
Enhance your live performances
Many producers have given this MIDI sequencer the title of chameleon controller for its ability to merge within the environment & settings it's placed in. This is a compact, rugged and feature-full sequencer, perfect for music producers used to the road.
Arturia's BeatStep will give you complete freedom of usability; what may be considered a 16-step analog sequencer, the BeatStep comes with MIDI drum machines, analog synths and keyboards, all ready to be busted open.
The handling capability of this sequencer is superb and you won't ever face a problem or glitch working with it.
On top of all this, the sequencer comes with USB and CV/GATE connectivity so that the portability factor isn't taken out of the equation even once.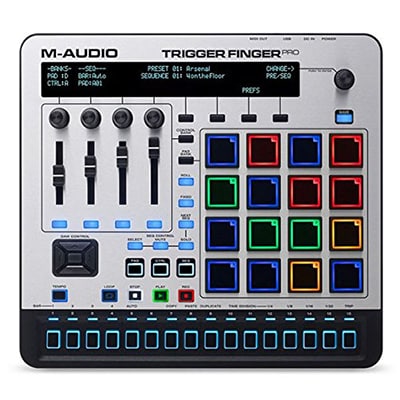 M-Audio Trigger Finger Pro USB Controller
Price: $344.9
One of the most advanced MIDI sequencer to be built, the M-Audio Trigger Finger Pro comes with features like:
Includes the M-Audio Arsenal,
8+ GB of instruments, one-shots and loops,
16 ultra-responsive pads with illuminated RGB feedback,
Customizable backlit controls with instant audio mapping,
High-resolution display lets you focus on the music more than anything else,
This is a fully locked & loaded pad controller that comes with a standalone step sequencer, 16 velocity sensitive pads, 4 assignable pads and a plethora of other controls to give you complete freedom while producing your music tracks.
A total of 4 pad banks and control banks work in conjunction to expand the capability of dynamic triggering & production. The sequencer also supports Mackie Controller & HUI for greater DAW integration. The 64 step sequencer in itself is a well of power and lets users quickly assemble grooves & melodies on the go.
The sequencer has too many features to fit in a review but the best ones have been mentioned.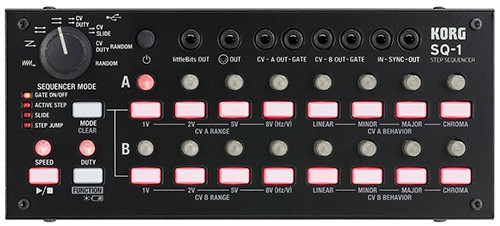 Korg SQ-1 Step Sequencer
Price: $99.99
This may be the cheapest of all MIDI sequencers in the market but don't get any negative impressions off it since it is a great choice for anyone new to the whole concept. Its biggest & most important feature lies in its simplicity as it gives you complete control over its capabilities within moments. You'll be able to learn it as you explore its features and in no time will you be familiar with the whole interface.
The sequencer comes with 2×8 steps, a large selection of I/O and a number of modes for ease of usability. As a whole, it is compact, sturdy and can easily bear the brunt of transportation from studio to live concerts and vice versa. The iconic SQ-10 step sequencer gives you remarkable control over the modular synth as well as analog ones.
Lastly, you'll have trusted name of Korg by your side to assure you that the product you're buying has undergone rigorous testing routines, before it became widespread in the market.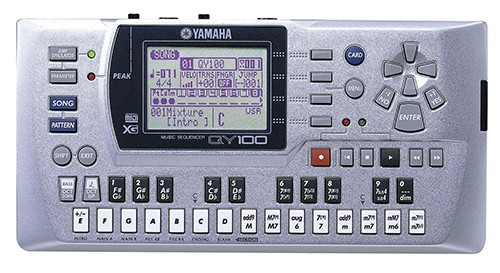 Yamaha QY100 Music Sequencer
Price: $279.99
How can one miss Yamaha in a race among music instruments, be it a synth, sequencer or any other related item. This sequencer has features like:
Amp simulator for killer guitar tone,
Advanced 8-track accompaniment sequencer,
16 track linear sequencer,
A superb selection of 547 super-sounding voices,
SmarkMedia memory card data storage
This sequencer is ideal for a guitarist, singer or any other instrumentalist looking for accurate notes and the highest of qualities. The QY100 comes with an inbuilt Amp simulator and brings the characteristics of a range of amplifiers right under the palm of your hand. The guitar setups are out of this world and not for even a second will you suspect an artificial instrument producing such a sound.
Final Notes:
I hope you enjoyed learning about these 5 awesome MIDI sequencers. All of these sequencers are great options no matter what skill level you are.
Please mention any concerns or queries in the comments section below.