Music Maker WordPress Theme Review: Is This Theme Worth Your Money?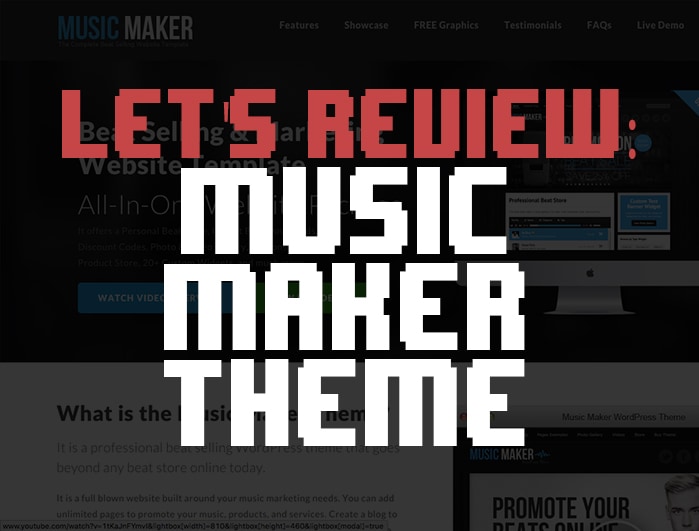 Product Name: Music Maker Theme
Our Rating: 9/10
Short Review: Sell beats, blog, and view sales graph all in one beautiful, affordable WordPress theme. This theme is my #1 recommendation for musicians wanting to create a website to sell music.
Where to Purchase: MusicMakerTheme.com
Introduction: Can Selling Music Be Simplified?
It's becoming easier and easier to sell your music online.
You'll find an endless amount of tools that will help you set up a professional website for a small price in as little as a day.
For creating websites, I prefer WordPress. Both professional web developers with years of coding experience and complete non-techies who barely know how to use Facebook love WordPress. It's a perfect mesh between endless possibilities and ease of use.
The problem with WordPress is that in order to sell your music on it, you'll need a few different plugins, a specially designed theme, and you'll probably need either coding knowledge or some extra money to hire a freelance developer to tweak and personalize the styling of your site.
The Music Maker Theme is a WordPress theme that takes all of the stress and complications out of selling music beats, music licenses, sample packs, and pretty much any type of digital products.
I haven't seen too many solid reviews online talking about the different features of the theme and if it's worth it or not, so I thought I'd take a shot at that.
Let me know if you have any questions about the theme in the comment section below. Feel free to share a link to your Music Maker Theme website in the comments as well!
Enjoy!
Here's what you'll learn from this article:
Why You Would Even Consider Buying a Theme
Features
Installing The Music Maker Theme
A Basic Tutorial On Getting Traffic To Your New Website: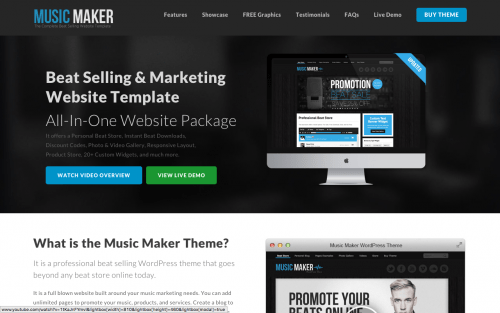 Why You Would Even Consider Buying a Theme
Before we get into all of the bells and whistles of this theme, let's first discuss why you should even buy a theme in the first place.
The easiest answer is frequent updates, support, and higher quality. Don't get me wrong. free themes are great to
Don't get me wrong! free themes are great to start out with and you'll find some pretty decent looking free themes as well.
The dark side of free themes is that developers tend to abandon them, they put less effort into making a theme that looks amazing on all devices, and they can even become incompatible with future WordPress updates after their developers lose interest in maintaining the specific free theme.
If you're starting any sort of website that you plan on making money from, it's more than reasonable to invest a small amount of money into a paid theme.
All of the WordPress themes I have bought seems to have really nice support that is happy to help me with any issue I run into. However, I have had countless experiences where I would try to contact a company with free themes and they would never get back.
Understand how paid themes can be important?
One of the most attractive parts about starting an online business is that you don't need big startup capital to get going. Less than $100 is all you need. Buying a theme is not a big deal (Music Maker Theme starts at only $37) and will pay off big time later when you don't have to switch themes.
Now it's time to talk more about Music Maker Theme. Let's go!
Features
There are 2 different versions of this plugin. One of them includes lifetime updates and the other one has updates for only 1 year. The difference in price is only $20, so I would go with the lifetime version if I was ready to commit.
The two versions are Standard License and Premium License. As you can probably guess, the lifetime updates are included in the Premium version. Standard costs $37 and Premium costs $57.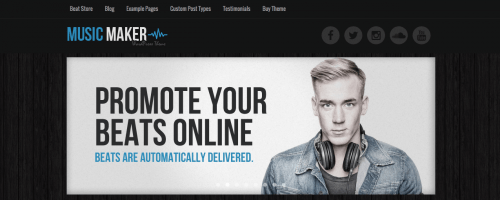 Without having to install any sort of plugins, you are ready to go.
My favorite feature of this theme is the fact that everything is built-in.
Social media buttons are built-in, the e-shop is built-in, and there's even sales analytics to help you track your progress.
The theme is mobile-friendly. Google loves sites that are designed to work with mobile devices, so this is a big plus.
You don't even have to charge money for your music. Similar to the "free download" button on Soundcloud, you can set certain songs to be available for free download.
There's more tweakability to the shop than you think. You can have products with multiple prices if you want. This is good for having different licensing options. You can even set a quantity for available downloads. This is a good idea if you are selling all the rights of a song and only want one person to buy it.
Built-in shopping cart and advanced buying features:
You can have shoppers add different beats to their cart so that they can checkout and purchase multiple products from you.
The four different options for selling music are:
For Sale – Add beats to sell.
Free Beat Downloads – Give out free tagged beats to market your sound.
Sold Beats – Show purchased beats.
Non-Priced Beats – Add beats with no price to negotiate pricing.
You can even generate discount codes and put items on sale! This becomes extremely useful. Imagine on Cyber Monday creating a special 50% off deal, you promote the heck out of it, and you generate 10x your normal sales. Not utilizing this awesome feature is leaving money on the table.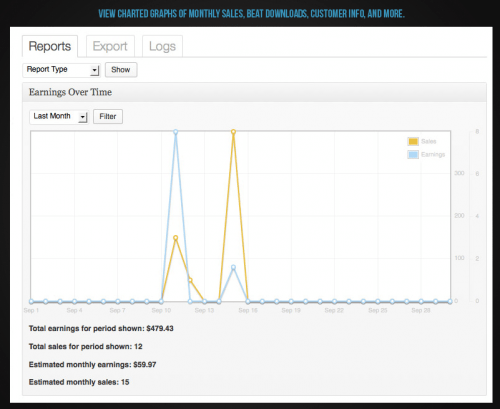 Built-in Analytics are extremely useful!
Analytics is important for any kind of business, online or not.
There's a really nice and easy to read analytics tool included in the Music Maker Theme.
It will show you sales data over a predefined period of time.
I can't stress enough how important analytics are. Knowing if your sales are improving will give you a sign of what is working and what isn't working.
Installing Music Maker Theme
The video above goes over how to install Music Maker Theme.
If you know the basics of WordPress, it's pretty straightforward. Just upload the WordPress theme and you're good to go!
If you have never used WordPress, the tutorial above is still simple enough to get you going without any confusion.
At the end of the video, he recommends to update your permalinks. This basically just refreshes the types of urls to work with all of the new features of the Music Maker Theme. You can find the permalink settings under Settings>>Permalinks in WordPress.
That's the basics of setting up your Music Maker Theme. After that configuration is quite simple. Music Maker Theme even provides you with plenty of getting started videos upon purchase.
A Basic Tutorial On Getting Traffic To Your New Website:
So you have a website.
You bought the Music Maker Theme.
You have uploaded some sick music and are ready to start selling it.
Now what?
Something that stumps a lot of beginners is not knowing where to get traffic from. You need traffic to get sales.
Surprisingly, you don't need boatloads of traffic.
What you actually need is traffic that is targeted towards the type of people that would interested in buying your beats. 100 clicks of targeted traffic can very well make you more sales than 1,000 clicks of untargeted traffic.
Where to get traffic:
Social media:
Everyone starts with social media because it is easy to get started, good content gets virally spread, and it is free.
Some of the top social networks include:
Facebook
Twitter
Soundcloud
Instagram
Pinterest
Reddit
Periscope
Of course some will work better than others. My recommendation is to pick one or two and focus on them. Putting too many eggs in too many baskets can get overwhelming and will provide you with nothing more than mediocre results.
Search Engines:
SEO (Search Engine Optimization) is my favorite way to bring traffic to blogs. Music Maker Theme allows you to blog normally just like any other wordpress theme.
Basically, you can write blog posts and try to get them ranked in Google for certain terms. Some ideas would be to make helpful tutorials, interviews, and maybe even some blog posts walking through the story behind a song you made.
This is definitely a long term game and will take a while to see results from. However, when you're finally ranking for some good keywords, you are getting free traffic whether you're working or not.
There's a lot more to say about SEO and I highly recommend you look into it.
Forum Marketing:
Forum marketing is highly overlooked in terms of getting traffic. There are thousands of music production and music industry forums you can get involved on.
Pretty much every forum allows you to create a signature (kind of like an email signature) where you are allowed to put promotional links.
Forum marketing involves consistantly helping people in a forum and providing useful information.
The good thing about forum marketing is you get traffic instantly, yet the traffic continues to build up overtime. Not every forum post (thread) will get lost into oblivion. Some will get ranked in Google and your link will be visible to anyone who lands on that page.
Guest Posting:
The last free traffic source I am going to be mentioning is guest posting. This is basically where you contact an already established blog and ask to write content for it.
An example of this being effective is if you ask to write content for a rapper blog and create an article titled something like "How To Mix Rap Vocals With a Beat". Then at the end of the article, you can say something "The beats used in this tutorial are from YourWebsite.com. Use the code 'SickBeats' to get 10% off your next beat purchase".
Where To Purchase Music Maker Theme:
To purchase Music Maker Theme, visit the Music Maker Theme's website.
Enjoy this article??
If so, I'd appreciate it more than ever if you'd share it on social media.
It only takes 2 clicks and helps us out tremendously.
Thank you!