Akai MPK249 Review – The Best Midi Keyboard?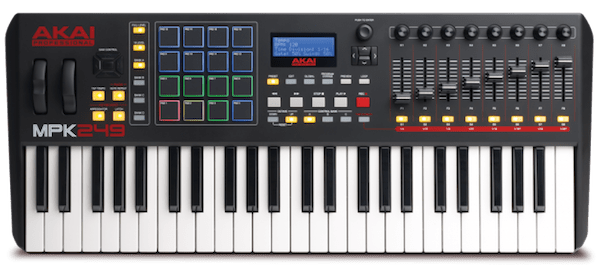 Keyboard Name: Akai MPK249
Price: $400
Rating: 10/10 stars
Where To Buy: Amazon.com
The MPK249 is an all-in-one midi controller/keyboard/drum-pad. Akai packed the MPK with a ton of awesome features that any producer can appreciate.
I was a big fan of the original MPK49. The MPK249 solves all of the issues that the original model had.
The most noticeable change is the huge design revamp. The MPK249 now looks a whole lot sleeker. Akai also upgraded the pads from being a 3×4 grid to a 4×4 grid. This is great because now you'll have 16 pads per bank instead of just 12.
So what else is different? In this review we'll take a closer look at the MPK249 to find out if this keyboard is any good.
What's Included?
With the MPK249, you'll get a quick-start manual, a user guide, a usb cable, a power adapter, and a few pieces of useful freebie software.
The software you get is Ableton Live Lite, Hybrid 3, and Sonivox Twist 2.0. Ableton Live is a DAW while Hybrid and Sonivox are software synths.
I use Ableton Live for music production and I love it. The lite version of Ableton is just like the full version except it takes out a few instruments and limits the amount of tracks you can have. Ableton is an excellent DAW.
Hybrid 3 and Sonivox Twist 2.0 are software synths. I like Hybrid's sound the best. It emulates classic synths and can be used to create very warm sounding patches. I'm not going to go too in-depth into it. You can read AudioMag's full review of it here.
You can find the quick-start manual and user-guide on Akai's website.
Main Features
The MPK249 has 49 keys, 16 pads, 8 faders, and 8 rotary knobs.
The keys are velocity sensitive and semi-weighted
There is an arpeggiator that can be configured with swing to add a nice groove.
Setting the MPK249 is very simple and practically plug-and-play
Build Quality
What stands out from the Akai MPK249 and other midi keyboards in a similar price-range is the build quality. The MPK249 makes other keyboards feel like toys.
The encoders are very sturdy, the pitch wheel feels nice, and the faders are very smooth.
The pads seem to have a nice mpc-style feel to them. They are a huge upgrade from the pads on the previous MPK.
This keyboard will last you for many years. Akai knows what to do when it comes to build quality.
Midi-Mappable Controls
There are 8 assignable knobs and 8 faders. Like I said earlier, they are all very smooth to turn.
The MPK249 also has play, pause, and record buttons for controlling your DAW. It's always a good thing to be able to use your midi controllers more and your mouse less.
Drum Pads With Color Changing LEDs
There are 16 pads on the MPK249.
My favorite part of the MPK is the ability to change the color of each pad. This is an awesome feature!
You get 4 banks of pads that can quickly be switched with the bank controls. Each bank of pads can be assigned different colors.
All of the pads are velocity sensitive. You have the option to turn off the velocity sensitivity with the 'Full Level' button.
49 Pressure Sensitive Keys
With the MPK249 you get 49 velocity sensitive keys. The keys are full-size and semi-weighted.
Surprisingly the keys have aftertouch.
All of the keys have a good feel. If you are a pianist, you can still create fairly realistic piano music without it sounding computerized.
Setting Up The Akai MPK249
Setting up the MPK249 is effortless. Everything is plug-and-play.
Ableton Live Lite just requires very basic configuration. Configuring the software is easy. Here is a great guide to do so.
Inputs/Outputs
This keyboard has standard inputs and outputs. There are midi in and out ports, a USB port, a power adapter port, and pedal inputs.
You get 2 different types of pedal inputs on the MPK249. There is a sustain pedal and an expression pedal input.
Final Notes
The MPK249 is now my favorite midi keyboard…
You get a lot of features in one device. A drum pad, faders, knobs, and keys. What more could you want?
The MPK49 can appeal to a large audience of producers from beginners to experts. The possibilities with this keyboard are endless. You aren't just limited to keeping the MPK in your studio. It also works great for live performances.
Overall I gave this controller a 10/10 because Akai did an amazing job at creating a keyboard that satisfies everyone's needs. They listened to the feedback from the MPK49 and improved all of it's flaws.
Well done Akai!
Check Out The MPK249 On Amazon!