Akai MPX8 Review

Product Name: Akai MPX8
Rating: 8/10
Price: $99
Where To Buy: zZounds.com(Free Shipping) OR Amazon.com
Akai MPX8: A Multi-Purpose Sampler
I am a big supporter of ways to make music on the go. When inspiration strikes, you have to record your idea in some way shape or form.
While the MPX8 isn't battery powered, it is a nice compact sampler that has many features that make this device a great value for the cost.
Whether you're producing music or are looking for a sampler to spice up your live performance, the MPX8 has very intuitive features that will do just that.
What Will This Review Cover?
In this review, I'll be going over everything you need to know about the MPX8 from the features to the pros and cons.
Let's begin!
What's Included?
With the MPX8 you will also get a USB cable, a power adapter, a user manual, and a 3.5mm to midi adapter.
The MPX8 can be powered by either USB or the power adapter. You don't have to connect both of them at the same time.
The 3.5mm to midi adapter might seem like a strange thing to include. It isn't. Since the MPX8 is so compact, they couldn't fit a standard midi plug. Having a 3.5mm port instead saves a lot of space.
Software?
You get two main pieces of software with the MPX8. You will get a sample kit editor and a special sample pack for the MPX8.
The sample kit editor software isn't anything special. It does it''s job. You can change samples for each of the pads and edit presets with it.
You get two different sample packs with the MPX8 that have various loops and percussive sounds.
All of the software and sample packs are available on Akai's download page.
Main Features
The Akai MPX8 has 8 velocity sensitive pads. Surprisingly each pad has aftertouch control as well.
When you first turn on the MPX8, it will have 25 preloaded sounds. These sounds are just mean't to get you started. You will definitely want to consider adding your own custom sounds later.
If you want to import your own sounds, you would insert either an SD or SDHC card.
The memory of this sampler is pretty good! There is 30 mb of internal ram which equates to about 5 minutes of mono samples(2.5-3 minutes of stereo samples).
You can use the MPX8 as a regular midi controller if you want. It has the ability to output midi notes. You can also send midi to this device by connecting external instruments.
Inputs/Outputs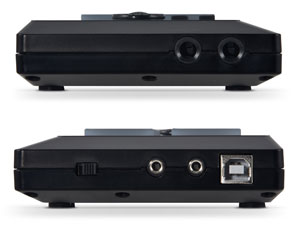 The ports on the MPX8 are 2 balanced 1/4 inch outputs, a usb connector, a midi input, a midi output, and a 3.5 mm headphone input.
Ease Of Use
You'll find it pretty easy to get started with the MPX8. there are few controls to master.
The way to navigate throughout the menus would be to use the scroll wheel. The scroll wheel also allows you to adjust sound parameters as well.
Pros
Allows you to play without a computer
has aftertouch
compact
Affordable price
Cons
Where To Buy: zZounds.com(Free Shipping) OR Amazon.com
---
Any questions? Feel free to leave a comment down below and I will respond ASAP.