Akai XR20 Review: A Hip-Hop Focused Drum Machine that Delivers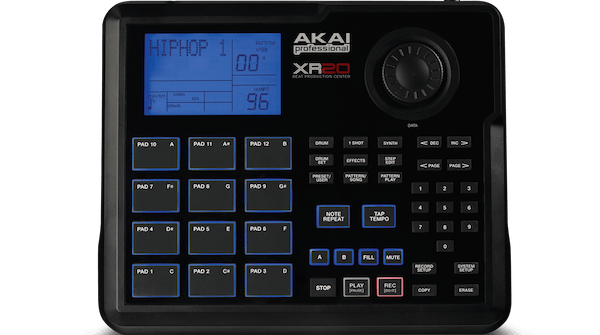 The Akai XR20 is a drum pad with a goal of combining simplicity with quality. Although you can make beats for various genres, The XR20's target demographic is hip hop and R&B producers.
For an affordable price, you get a drum machine packed with a plethora features. While the XR20 is designed for studio use, it also excels in live performance.
In this review we'll be taking a closer look at everything the Akai XR20 has to offer. If you have any questions after reading this article, feel free to drop a comment down below.
Topics Covered In This Review:
What's Included?
Main Features
Inputs/Outputs
What Others Think About The Akai XR20
Pros
Cons
What's Included?
Standard instruction manuals
Power supply
Akai decided to keep everything simple. The only thing you get with the XR20 are a few manuals and a power supply.
The main quick-start manual is explained simply and clearly. You most likely will never have to refer to the manuals. Setting up the XR20 is a breeze!
Main Features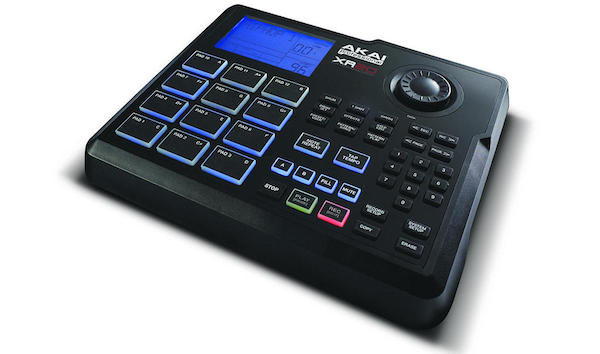 Let's start out by talking about the portability of the XR20. This drum machine can run on 6 AA batteries. Whenever using battery-powered studio equipment, I always recommend rechargeable AA batteries. It saves you money in the long run(Plus it's much more convenient).
Of course, if you don't want to feed the XR20 batteries, you can always use the included wall adapter. I really appreciate Akai's decision to make the XR20 able to be battery-powered. There's nothing better than having the ability to make a beat anywhere you go.
As far as sounds go, the XR20 comes packed with them! There are over 700 samples packed into this drum machine. This gives you a variety of sounds to make very unique beats.
There are 99 kit presets and 99 user patterns. Akai did a great job at triggering my OCD by including 99 of each preset… Why couldn't they add 1 more measly preset and pattern to make it an even 100! Anyway, the included presets are very nice. Each of them represent a slightly different style.
Y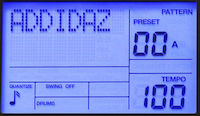 ou'll notice that the display is nice and bright. It is backlit, making for easy visibility when you're working at night. The LCD screen has a good size to it. There's nothing worse than having a screen that is too small to read.
Working in the dark with an XR20 is an awesome experience! All of the 12 pads glow a nice and bright blue color.
You are NOT limited to only drum samples. While the drum machine mode is very versatile for creating drum beats and rhythms, there is also a synth section that allows you to create your own melodies, chord progressions, or bass-lines.
Having this feature opens up a whole new dimension to beat production. You have to remember that this machine is designed for making full songs. You can do a whole lot more with the XR20 than creating short loops.
There is even a pattern mode that allows you to trigger different drum samples in time. I found this feature quite interesting. In my opinion, this would be most useful for live performances.
Another cool feature on the XR20 is the A-B function. once you load up a pattern, there is an A part, a B part, and a Fill part.
The A and B parts use the same drum kit, but has a slight pattern variation. You can smoothly transition between the A and B parts in time. The Fill button usually is loaded with some type of snare roll or drum fill. It comes in handy when you want to break out of a section in an interesting way.
I thought it was nice that Akai decided to put a microphone input on the XR20. I can't see this being too useful for studio use(since it's a 1/4 inch input), but for live performances it can be great for communicating with the crowd.
The only gripe I have with the XR20 is that there is no SD or memory card slot to load in your own samples. The only way to use your own samples is to plug the drum machine into a computer and then use the XR20 as a midi controller. It's a good thing that there are a crap ton of sounds included or this would be a much bigger issue.
Inputs/Outputs

Ins:
1/4 mic input
two foot pedal inputs to control the start/stop and the tap function
midi input
Outs:
1/4 inch stereo output
1/4 inch aux output
1/4 inch headphone output
midi output
What Others Think About The Akai XR20

The reviews I have read on the Akai XR20 were all extremely positive.
A big part of the XR20 that producers loved was the vast amount of samples. There are plenty of sounds to browse through. Just like I mentioned earlier, the sounds that come on the XR20 are very desirable to hip-hop or R&B producers. I noticed that the kick drum samples are punchy and the snares are powerful. This is important because the kicks and snares are the driving force to a song.
There was a common trend in the reviews saying how easy it was to set up and get started with the XR20. It's a very straightforward drum machine that any beginner can get the hang of. That doesn't mean that the XR20 is reserved for newbies only! Producers from many different skill-levels will never be limited with this drum machine.
Some reviews opened the idea up to me that the XR20 is also awesome for creating backing tracks. If you like recording instruments and want to create your own beats underneath, the XR20 will do a great job.
People loved the fact that the XR20 excels both in the studio and for live performances. With it's vast amount of sounds, easy navigation, and intuitive features, you can do very interesting performances with the XR20.
Who doesn't like portable studio equipment? All you need is an XR20 and a pair of headphones to make beats anywhere you go. Keep in mind that the headphone input is 1/4 inch. This might mean that you will have to by a headphone adapter. The battery life is pretty good considering how powerful the XR20 is. You can easily make beats for days running on the 6 AA batteries.
Pros
Easy to use
A TON of high quality sounds
An affordable price
Cons
You can't assign your own sounds without connecting this drum pad to a computer
Summary
Overall, the Akai XR20 is great for anyone who is looking for a quality drum machine packed with features and samples.
If you are a hip-hop producer, this machine is a must-have! You'll be able to create beats whenever inspiration strikes. This is very important when making music because no matter how great of an idea you come up with, you can always forget it.
Would you ever purchase the Akai XR20?
Let me know in the comment section below!