Allen & Heath XONE K2 Review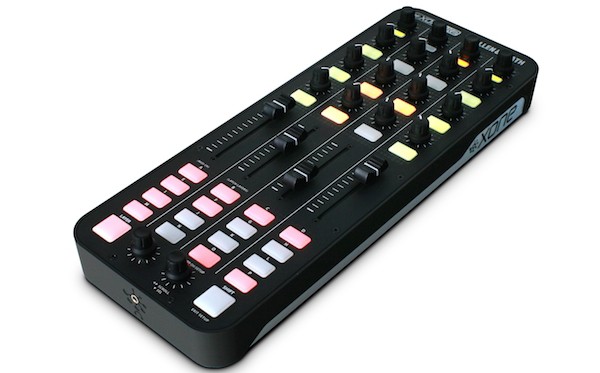 The XONE K2 is Available On Amazon
Allen & Heath described the Xone K2 as:
"A controller that manages to provide everything a DJ needs in one small box, it works with a range of software and is completely customisable to keep the tweakers and tinkerers well and truly busy."
---
At first I had my doubts about this controller. For $300, there better be something that separates this mixer from the rest.
In this review I will go over the reasons that I think the Xone K2 is one of the best midi mixers you could get. I will talk about what makes this controller unique as well as go over the Xone's pros and cons.
Features
The Xone K2 outputs 24 bit sound with a sample rate of either 44.1kHz or 48 kHz. The quality of this mixer's sound is enough to differentiate it from the crowd. There are only a few mixers in the K2's price range that'll sound as good as this.
There are 12 analog and 6 rotary encoders. All of these are able to be mapped to your liking.
The K2 comes with a padded case. It is very durable and will protect your K2 when bringing it to gigs.
The build quality of the Xone K2 is VERY high. You can tell that Allen & Heath put a lot of effort into designing and building a quality controller.
Where This Controller Shines
What I love about the K2 is that it is completely USB powered. There's nothing I hate more than having to deal with a ton of wires. Wall adapters are especially a pain! With the K2, all you have to do is plug it's USB adapter into the computer and your set!
It is also very easy to map the midi controls. Once you plug in the K2, make sure it's midi is activated in your DAW and you are ready to start mapping. I use Ableton Live which makes the task of midi mapping even easier.
The Xone K2 wasn't designed for one specific DAW. It will work flawlessly know matter what software you use. A big competitor of the Xone K2 is the Traktor X1. The problem with the X1 is that it is designed for Traktor. While it could still be used with other DAWs, it was made to work perfectly for Traktor's features. The Xone K2 is very flexible with it's midi mapping which is a big upside for this controller.
Inputs and outputs
The Xone K2 has a stereo RCA output on the back and a 3.5 in. headphone jack on the front. Having two outputs is extremely useful for DJing. Although the 3.5 in. headphone jack is meant for monitoring, you can change the output to whatever you like.
Pros
Compact
Well Built
Great feeling faders and knobs
Superb audio quality
Easy to midi map
Cons
Doesn't have a crossfader
---
As of now, the Allen & Heath Xone K2 is my favorite midi mixer. It is easy to setup and compact enough to fit into your setup.
The one con I added was that it doesn't have a crossfader. The absence of a crossfader was a bit of a disappointment, but the advantages of this controller outweighed the disadvantages.
This mixer would work great for DJs and live performers. If you are looking for a reliable, high-quality midi mixer, the K2 might be your answer!
---
Make sure to checkout the XONE K2 on Amazon.