5 Of The Best Desktop PCs For Music Production
Audio dropouts, sound glitches, and a frozen screen are all common occurrences when producing music on a slow computer.
An under-performing PC can completely suck all of the fun out of making music.
The first spec of a PC to look at is the RAM.
If your computer has anything less than 4GB, you're going to have major performance issues when producing music.
The next spec of a PC that can be causing you problems is the CPU.
The 3 most popular CPUs nowadays are the Intel i3, i5, and i7 processors. Some people prefer AMD processors instead, but in my experience, Intel CPUs are the best.
Another PC spec that is known to slow down your computer is the hard drive.
A slow hard drive will take much longer to load files on programs. This causes your DAW to take a much longer time to load. It is recommended to use a solid state hard drive.
They are faster, but dramatically more expensive. Some PCs have 2 hard drives built in: A small solid-state(4GB-100GB drive), and a large normal hard drive(1000GB+).
If you're looking for both laptop and desktop computers, check out our ultimate best computer for musicians article.
How Much Do You Have To Spend?
The cost of the average computer has gone down over the years. It is now more affordable than ever to buy a PC.
If you are looking for an exact number, typically desktop computers under $300 will struggle with music production. Although computers are relatively cheap, there is still a whole "you get what you pay for" aspect.
The desktop PCs on this list start as low as $390 and go as high as $2300.
Why You Might Consider A PC Over A Mac
There are a number of reasons you might consider a PC over a Mac.
The first reason I want to touch on is that parts are much cheaper to upgrade. With Macs, you have to order parts directly from Apple. While this is a good thing in a quality-control sort of way, Apple also has the power to jack up the prices.
Another reason you might consider a PC instead is that not all software/audio-plugins are supported on a Mac. This is a huge deal-breaker for many. Windows is the most supported operating system simply because it has the largest user-base.
Lastly, you might want a PC instead of a Mac because of the affordability. A common expression in the PC world is that you can get double the specs of a Mac for half the price on a PC. If you already prefer using Windows over OSX, then this is a no-brainer.
Should You Buy A Laptop Or Desktop Computer?
Choosing between a laptop or a desktop can be a huge decision if you're on a budget.
A laptop is slightly more expensive, but is also more portable. You'll have a much tougher time lugging a desktop(with monitors and cables) around than you would with a less-than-10-pound laptop.
The advantage of a desktop is that you can get more power for much cheaper.
A desktop is also more upgradable. You have many more options when upgrading hard drives, displays, video cards, and sound cards on a desktop.
An all-in-one desktop can be a great option considering that you take time to research and make sure it would perform well for music production. If you couldn't guess, an all-in-one desktop doesn't require you to buy, or plug in, and external monitor. It is a complete unit.
What's The Best PC For Music Production?
In this article, I'll be going over 5 of the best PCs for music production. If you have any questions about the computers on this list, don't hesitate to drop a comment down below.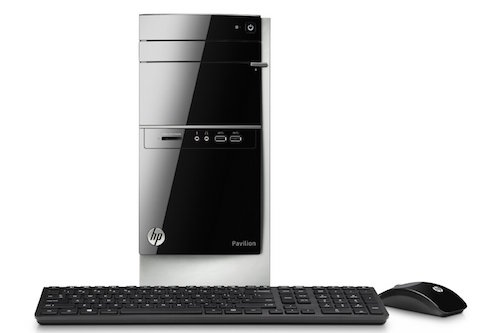 We'll start out this list with the HP Pavilion 500.
Out of the box, it comes preloaded with 4GB of ram. You can upgrade it all the way to 16GB if you want to. As for processing power, the Pavilion has an Intel i5 processor. The i5 processor will give you plenty of power.
As for hard drive space, you get 500GB. As your software collection grows, you might want to upgrade this.
The HP Pavilion 500 supports multiple monitors. It's worth noting that there is no HDMI port. If you were planning on connecting this computer to a TV, this might not be the best option for you.
For less than $400, you get a whole lot of bang for your buck. The design of this PC's case is simple and clean. There are a load of great features that make the Pavilion $500 well worth its small price.
There are plenty of usb ports for connecting your midi controllers and interfaces. In total, you get 8 usb ports.
An awesome feature of the HP Pavilion 500 is that it has built-in wifi. If you don't want to go through the hassle of running an ethernet cable to your studio, you can simply connect to wifi without any wires or adapters.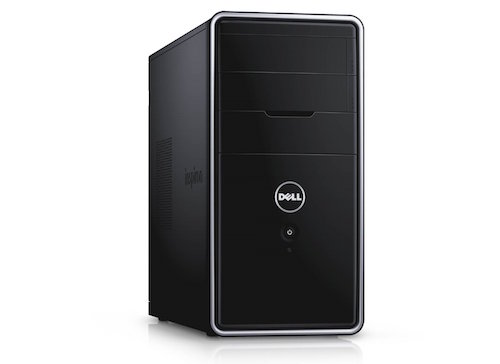 For a little bit more, you can get twice the specs of the HP Pavilion 500.
The Inspiron has a quite minimalistic design. It is simple and compact.
Underneath the Inspiron is a powerhouse. You 8GB of RAM. This is more than enough to run Ableton, Fl Studio, Logic, Reaper, or Cubase with ease.
The hard drive also follows the trend of doubling the specs of the HP Pavilion. You'll get a 1TB(1024 GB) hard drive.
You'll also get many different input ports for displays. It was nice to see an HDMI port on the Inspiron.
The one spec of the Inspiron 3000 that bummed me out was its Intel core i3 processor. Thankfully, the i3 processor doesn't affect the speed too much. Upgrading the Inspiron to an i5, or even an i7, processor would be a great option to consider in the future.
There are 6 usb ports on the Inspiron. This is still plenty of ports to connect all of your usb and midi peripherals without any issues.
The next PC on this list is the CybertronPC Borg-Q GM4213A. While that may not be the sexiest product name, this computer is definitely a notable one.
The first thing you'll notice about the CybertronPC is its wild case design. Its no secret that this PC was initially intended for gamers. That doesn't mean that producers can't benefit from it!
The case isn't pimped out solely for aesthetic purposes. Its design keeps it well ventilated. Even during high-cpu tasks, this monster will stay cool.
I must mention that the CybertronPC looks AWESOME in the dark. It has bright blue LEDs that completely light-up the computer's innards.
Right out of the box, you'll notice how screaming-fast this PC is. The CybertronPC is a quad-core powerhouse.
It has 8GB of RAM. If you plan on upgrading the RAM, it'll support up to 32GB.
The CybertronPC comes with a large 1TB hard drive. This will give you plenty of space to store all of your loops, samples, and software. With a 1TB hard drive, it becomes very hard to run out of space.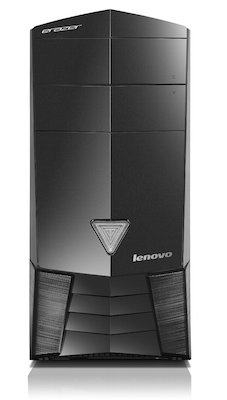 What a surprise. Another gaming computer on this list? The reason why gaming computers work exceptionally well for music production is because they are designed to run high-cpu tasks smoothly while consumer PCs are designed to do simple tasks, such as web-browsing or email, fast.
Since we are producing music and not gaming(unless you are a gamer), we won't be needing the biggest and baddest video cards. This allows us to buy a high-performing PC for cheap.
The Lenovo Erazer X315 has a very futuristic-looking design. I liked how sleek the Erazer looked. Its design isn't too distracting and will fit nicely into any studio.
The Erazer comes packed with 12GB of ram. I can confidently say that this computer will run any DAW flawlessly. You should be able to have hundreds of tracks in a single project without running into audio glitches.
Unlike the other computers on this list, the Erazer has an AMD processor. It uses an AMD ATI Radeon R9. It performs just as well, if not better, than the Intel processors.
There are two hard drives in the Erazer X315. First off, you get a large 2TB hard drive. On this hard drive, it'd be smart to store all of your media files.
There is also an 8GB solid-state drive. This is where you'd be best keeping system files and your most commonly used software.
You'll find 6 usb ports on the Erazer. A feature I liked is that the usb ports have what's called an 'always-on charging' feature. This means that even when your computer is off, you can still charge your phone and get power from the usb ports.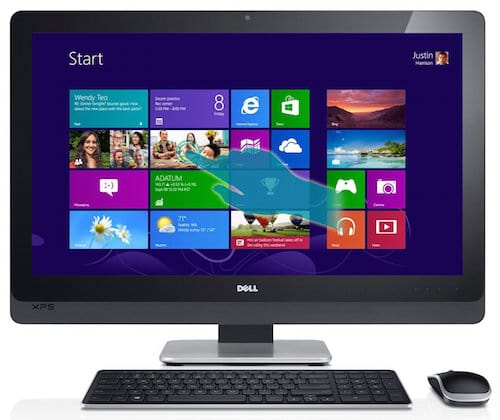 Dell XPS (27-Inch Touchscreen Version)
The final computer on this list is a Dell XPS. There are many variations of the Dell XPS. The one I'm talking about is the 27 inch all-in-one model.
If you are a Mac fan, you'll instantly notice that the XPS has an iMac-like design. Dell did a phenomenal job at designing this computer. The build quality is exceptional and the design is very sleek.
The Dell XPS has a large 27 inch screen. Its display is brightly backlit. The XPS produces a very crisp and vibrant image.
The CPU on the Dell XPS is an Intel i7 processor. The i7 is Intel's top CPU that they have available. Its screaming fast and a must-have for anyone doing highly intensive CPU tasks.
You get 16GB of ram. Multitasking is extremely smooth on the Dell XPS. Any task you through at this computer will be done very fast and efficiently.
There are two hard drives on the Dell XPS: A 2 TB normal hard drive and a 32 GB solid-state hard drive. With this kind of space, it will be nearly impossible to run out.
You'll find 6 usb ports on the Dell XPS. For most users, this is plenty.
If you thought the XPS didn't already have enough features, it also has a touchscreen. The touchscreen is nice and responsive. When running Windows 8(included), the touchscreen comes in handy for quickly switching between applications.
Final Notes:
All of these computers will perform exceptionally for producing music. Get what works best for your budget.
Thank you for reading!