Best Laptop For Music Production: Your Top 5 Choices (UPDATED 2017)
Anyone who has ever produced music on a slow computer knows one thing: Producing music on an under-performing computer sucks! So, what's the best laptop for music production?
Constant audio drop-outs, sound glitches, software crashes, computer freezes…The list could go on! Manipulating audio and creating huge chains of effects and instruments tends to use a lot of CPU. This doesn't mean that you HAVE to spend a load of money on your music production laptop, it just means that you shouldn't settle for some cut-rate option.
A lot of consumer-grade laptops that are released today aren't meant our needs. They are meant for people who only use computers for simple tasks such as emailing and web-browsing. This can be an issue when searching for a high-performing laptop.
But what's the best laptop for music production?
In this list, I have compiled 5 great options that I believe to be the best laptops for music production. In general, this list is ordered from price, lowest to highest(with the exception of the Macbook Pro at the end).
So let's begin!
You might also enjoy: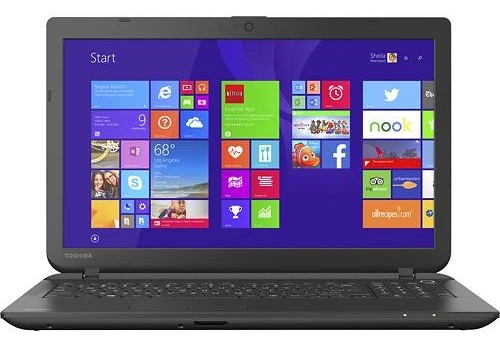 Toshiba Satellite
The first laptop I choose to put on this list is the Toshiba Satellite. If you are looking for a great performing entry-level laptop, the Toshiba Satellite will provide a whole lot of bang for you buck.
It has a Quad Core AMD a6 processor. While this might sound super fancy and high-performing, it is honestly not the greatest for high-CPU tasks. For a beginner, it will, however, provide enough power for making great music without spending a whole lot of money.
The screen is 17 inches. This gives you a nice and large display that will come in handy when producing. You don't want the screen you produce on to be to small. Laptop screens from 13 to 17 inches are ideal. Anything under that tends to be way too miniscule.
If you want to hook your Toshiba Satellite up to an even larger display, you can use either its HDMI or VGA connector. This is also handy if you want to setup your laptop as a multi-screen display.
The great part about this laptop is that it costs under $500. Compared to other laptops in its price-range, it gives you a whole lot of power for what you pay.
I do like the fact that Toshiba supplies you with a very large 1 TB hard drive. When producing music hard drive space becomes crucial. Running out of space sucks! I recently wrote an article about the best guitar VST plugins and some plugins on that list took up over 20 GB! If you weren't aware, 1TB is equal to 1000 GB, so you won't be running out of space anytime soon.
As for memory, the Satellite has 4GB of ram. 4GB is the standard for most laptops in the Satellite's price-range. Anything under 4GB of ram usually performs too poorly for producing music.
Overall, this laptop is an excellent option for most beginners just getting started.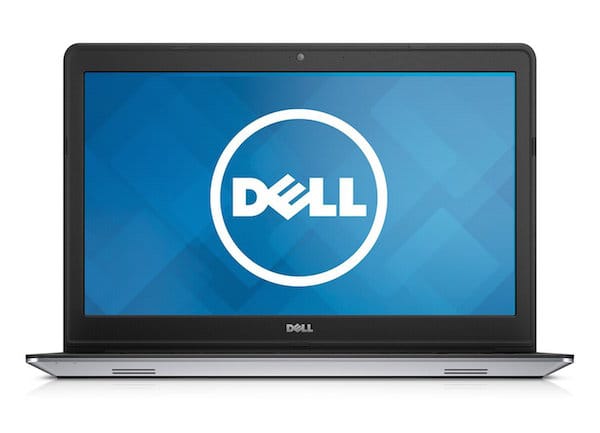 Dell Inspiron 15 i15547-5003sLV
The next Laptop we'll be talking about is the Dell Inspiron 15 i15547-5003sLV. As an Apple user, one of my biggest complaints about Windows-based computers is that their product names are so large and un-memorable!
The dell Inspiron 15 is a great laptop with a fast processor, a large hard drive, and a whole lot of ram! For most producers, this bad boy will provide more than enough power for your production sessions.
Just like the Satellite, this laptop features a 1TB hard drive. I wouldn't recommend producing on a laptop with a hard drive under 200GB ESPECIALLY if you use a lot of software, plugins, and samples.
As for speed, the Dell Inspiron is quite fast. It has an Intel Core i5 processor as well as 8GB of ram. This is a huge improvement over the Toshiba Satellite's specs. And believe me, you'll notice the difference!
The screen of the Inspiron is 15.6 inches. Don't be discouraged that the screen is a bit smaller than the Satellite. It is a smaller, BUT more importantly is more crisp. With a 15 inch laptop you'll never complain about screen size. I'm writing this post on a 13.3 inch Macbook Pro and screen size is not an issue.
An interesting feature of the Dell Inspiron is that it has a touch screen display which is meant to function in congruency with Windows 8. While you might not use the touch-screen function all of the time, it might be interesting to incorporate it into live performances.
On Amazon, the average review score is 4.5 stars. That is super high considering that a lot of inexperienced laptop users usually complain about minute problems that are easily fixed if they would've spent two minutes googling their problem.
Overall, you'll find this laptop to be a wonderful buy that will cost under $600.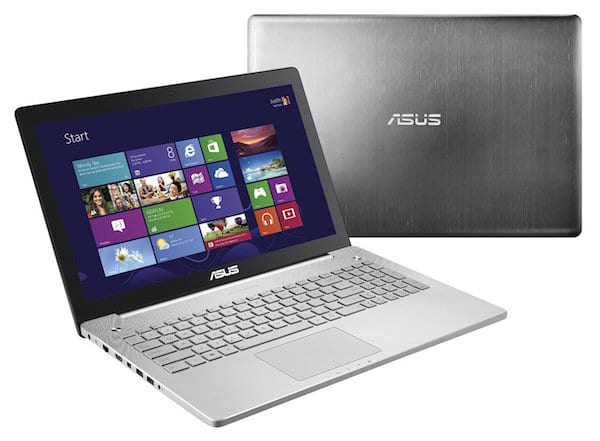 ASUS N550JK-DS71T
The next laptop we'll be talking about is the Asus N550JK-DS71T. Once again, the problem of long, un-memorable names persists with this laptop.
The Asus N550JK is a great laptop that provides super fast speed and a lot of storage space for a price under $1000.
Speed is never an issue with this laptop.. It has a super fast Intel Core i7 Processor and 8GB of ram. Boot time is very fast and you should be able to do a lot of heavy audio-work without any drop-outs, freezes, or crashes.
Like the other laptops we have talked about so far, the Asus has a large 1 TB hard drive. I've already gone over the importance of having a large hard drive when producing music, so I won't touch on that again.
The video card on the Asus is very powerful! It provides 2 GB of video ram. If you are a gamer, you'll have no trouble playing you favorite games on this laptop.
There is a webcam on this laptop that is as high-res as a lot of camcorders. It provides 720p video. If you are a producer, this might be an irrelevant feature, but I thought I'd mention it anyway.
As for USB ports, you'll find 3 of them. They are all high-speed USB 3.0 ports. It is nice to see that USB 2.0 is slowly getting phased out of the equation.
The Asus has a high build quality. It is made out of a strong aluminum body and looks very sleek!
The Asus also has a nice and responsive touch screen. If you are in the market for a touchscreen laptop, this could be another reason to choose this laptop.
I was a bit surprised that this laptop includes a mini-subwoofer. It might seem like a bit of a novel idea, but the sub actually produces a pretty good bass response. This comes in handy for rough-mixing on the go!
Overall, this laptop is amazing. It has a reasonable price under $1000 and will provide a compact, sleek, and extremely powerful laptop for music production.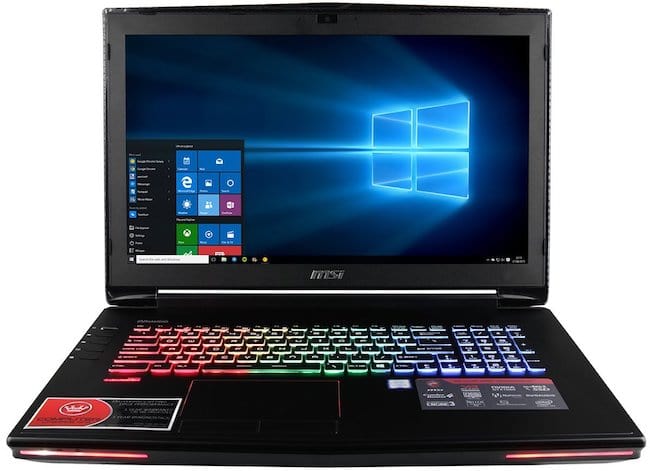 MSI Dominator
Update: The GT72VR is the new version of the GT70
Last year we included the GT70 in our list of best laptops for music production. Now, MSI released the GT72VR to replace it. Below, I updated the previous information, updated for the new laptop, the GT72VR.
The MSI Dominator has specs that put the other laptops on this list to shame.
First of all, this laptop has an Intel i7 quad-core processor. This seems to be the norm for high-performing PCs.
Next, it has 32 GB of ram! Most desktop computers don't even provide this much memory! You could just imagine how smooth it would be to run your favorite DAW on this laptop.
This laptop is gamer-friendly. It has a 3GB video card. The GT72VR has a massive 6GB video card.  This is far above the standard of most other laptop video cards.
For hard drive space, the MSI GT70 Dominator has 500 GB of SSD space. Before you get discouraged, remember that this is a solid-state hard drive. This means that doing tasks such as loading software, booting up your computer, and transferring files will be 10x faster. 500 GB is still more than enough space for you to store all of your files. I rather have a 500GB SSD drive than a 1TB normal hard drive any day. The GT72VR has three different models. You can either get this laptop with a 1TB or 2TB hard drive. That is awesome for music production!
There are 5 USB ports on the MSI GT70. There are 6 USB ports on the GT72VR! If you plan on plugging in many different MIDI controllers and sound cards, the Dominator has you covered.
Overall, if you are a Windows user who is looking for the fastest laptop possible and you want to keep your budget under $2000, this laptop is a great pick. (Actually it has better specs than MacBook Pros that cost twice as much!)
The GT72VR Dominator which has even better specs than the previous model is insane! If you're a gamer, as well as a producer, this laptop is a godsend and is even made to handle Virtual Reality gaming. Use the links below to check it out. Cheers!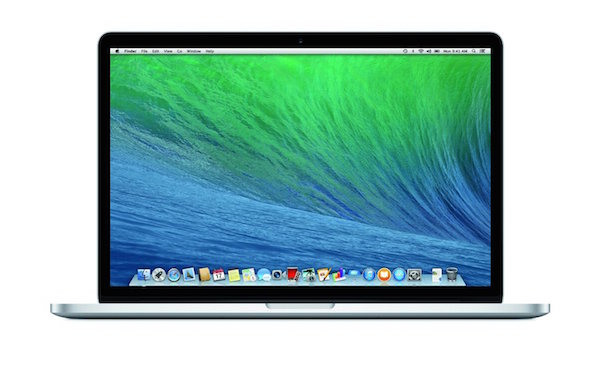 Macbook Pro
Update: Should you get the new Touch Bar MacBook?
I'm personally not a fan of the brand new Macbook Pro. They removed USB ports for god sake! Also, it is much more expensive than the previous model. For that reason, I still recommend the previous model.
The last laptop I'll be talking about is the Macbook Pro. If you are a die-hard Windows fan and are completely against Macs, don't think that you NEED a Mac to produce music. Whether you choose a Mac or PC is a complete personal preference.
Many producers choose Macbooks because of their speed, reliability, build quality, and intuitive operating system. In my opinion Macbooks are a perfect option for music production.
There are a few different models of the Macbook Pro, but we'll be referring to their top-of-the-line 15.4" Intel i7 model. You don't need the most expensive model necessarily. The "entry-level" 13.3-inch Macbook would work fine for producing music.
The Macbook Pro comes with an Intel i7 Quad-Core processor. It is also packed with 16GB of ram.
The high-res screen is a big selling point of the Macbook Pro. It offers what Apple calls a Retina display. In laymen's terms, everything you look at on your Mac will be crystal clear.
As of all Macs, the MacBook Pro has an extremely high build quality. It is made out an aluminum unibody and is surprisingly light. It weighs only 4.46 pounds.
If you are a Mac user and want a powerful machine to produce music anywhere you go, the 15.4-inch Macbook model would be your most suitable choice.
To recap, here are the best laptops for music production:
Toshiba Satellite
Dell Inspiron 15 i15547-5003sLV
ASUS N550JK-DS71T
MSI Dominator GT70
Macbook Pro
I hope this article helped you find the best laptop for music production!
If so, please share this article on social media and drop your comments down below. Thank you!
All of these laptops are great choices for music production!
Whether you choose Mac or PC is completely up to you. If you are on a budget, but want very high specs and are willing to sacrifice the beautiful design and high build quality of Macs, you might want to consider a PC.
For anyone that wants to get into recording music, laptop recording is just as good as using a desktop. The portability is a huge asset.
If you'd like more information on setting up a home studio and becoming a better producer, consider signing up for my email list down below!