Best Mic Preamp Under $500: Your Top Choices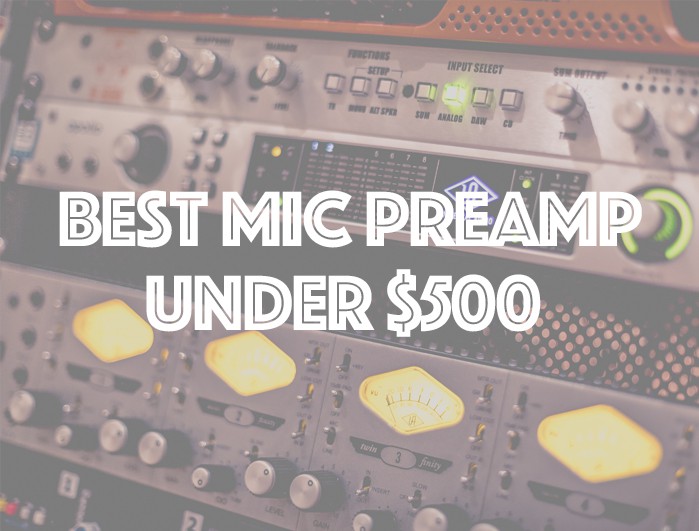 In the search for a mic preamp?
That's exactly what I thought.
Many beginners make the decision to turn to microphone preamplifiers because their current setup (connecting the mic directly to an audio interface) isn't sufficing.
Whether you are a beginner, or are a seasoned veteran looking for a preamp under $500, I have found the top 5 choices available.
Enjoy!

The first microphone we'll be talking about is the Warm Audio WA12. It costs a bit under $500, making it the highest-end preamp on this list.
If you're simply in the search of the best microphone preamp and don't mind investing a bit more money into your studio, the WA12 is well worth the price.
Amplification:
Some people think that the only thing mic preamps do is raise the volume. Unfortunately, that is what a lot of lower-end preamps do.
With those lower-end preamps, you'll notice that the signal entering the amp sounds nearly identical to when it exits.
Most likely, you are looking for a preamp that will do much more than that. If that is the case, you'll love the WA12.
It will improve and shape your signal in marvelous ways that the lower-end preamps couldn't do in a million years.
In essence, the amplification of the WA12 is clean and is more than capable of improving your signal.
Sound Quality
You'll be very surprised to know how much a microphone preamp can improve your mixes.
With a bit of practice, the WA12 will add a professional touch to any vocals you record.
You can't get a better preamp for this price. This bad boy easily competes with $1000+ preamps. The amount of quality invested in the WA12 is substantial!
Overall, if you are looking for the best mic preamp under $500, here is your answer!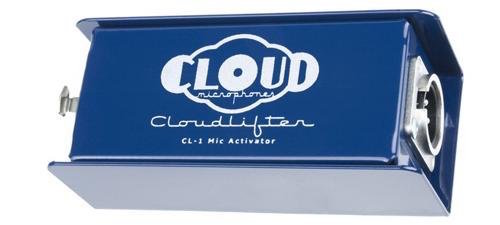 If you're looking for an affordable microphone preamp that can compete with much higher-end preamps, the Cloudlifter CL-1 is definitely worth looking into.
Compatible mics:
This preamp will work with pretty much all batter, power supply, and tube driven microphones.
You'll find the most use out of this preamp if you are using dynamic or ribbon microphones. It is still possible to use other kinds of mics. All passive microphones will work.
Amplification:
The Cloudlifter CL-1 provides +25dB. This gives you a great, clean boost to your signal for a reasonable price.
All of the reviewers over at Amazon were predictably happy with how well the Cloudlifter CL-1 performs.
This preamp does exactly as advertised, plus it's extremely easy to set up! Just plug it in and you're done. You have to deal with tweaking settings to perfection or anything like that.
Overall, if you're looking for a great mic preamp for a reasonable price, check out the Cloudlifter CL-1. It's a very impressive piece of gear!

The Presonus Tubepre is the most affordable preamp on this list. It costs only $130 and has some awesome features that make it stand out.
Sound Quality
You'd be surprised how good this preamp sounds.
A great part about the Tubepre is how configurable it is. You get great control over your sound.
You are able to dial exactly how much, or how little of your signal you want to pass through the tube. There are many other useful controls such as the 80hz high-pass filter and the tube-drive kong.
I'm a big fan of the drive behind this preamp. Whether you go light on the drive, or if you really crank it, you'll still manage to get a nice pleasant sound out of the preamp.
Tube preamps are usually a bit noisy. That's not the case with this unit! It is nearly silent!
Build Quality
This preamp is compact. The size of the Tubepre is a huge surprise when you hear how powerful it is.
The unit is built solid and will last you a long time.
Overall, if you're on a budget yet don't want to sacrifice quality to get a lower price, the PreSonus Tubepre has your name on it!

ART makes some wonderful preamps! There Pro MPAII model is no exception.
Configurability
It is a 2-channel microphone preamplifier that will work wonders on your vocals.
You can configure this preamp to work in either dual mono or stereo. Mid/side control is also supported.
Sound Quality
You'll be impressed by hearing what this mic preamp can do. It has a full sound that give your recordings a whole new dimension.
It's quite surprising to see this preamp being sold for $300. The sound quality is just so off the charts for its price-range.
One Amazon review even said "If someone sold it for (and I mean this literally) 10 times the price they'd make money because it sounds so good".
The sound quality is amazing. This preamp gives you a nice detailed sound that is complimented by the warm tubes.
Overall, the ART Pro MPAII is yet another great choice for anyone in the need of a quality microphone preamplifier.

Here's another affordable microphone preamp:
For only $200, you can buy yourself a DBX 286s.
This is a studio quality microphone preamp with a channel-strip processor.
Sound Quality
This mic preamp supplies a unique clarity. It uses the classic-sounding dbx compression to add a special touch to your sound.
You'll even find a De-Esser built-in to get reduce the amount of annoying high frequency distortion.
Like I mentioned, this is not just a preamp. It is also a channel strip.
The DBX 286s has 4 different processors that can be used on their own or in combination.
The point of these channel strips is to simplify your setup. Why set up your vocals and instruments through a mixer? The channel strip feature of this preamp will make your workflow a lot simpler.
Silence!
This preamp has insanely low noise. If you have a decent microphone, you can pretty much kiss that annoying hissing noise in the background goodbye!
Indicators
I always like LED indicators in pro-audio gear. The DBX 286s has plenty of status LEDs for easy reference and metering.
Well worth the money?
I'd say so! This preamp is affordable and is capable of a lot. Beginners would especially find a lot of uses for it because of how feature-packed it is.
Overall, the DBX 286s provides a whole lot of value for a reasonable price. Do pick this product up if you are in the search for a preamp that will perform well and is feature-packed.
Final Notes
Those were my top 5 choices.
Let me know which unit on this list you thought deserves to be labeled the best mic preamp under $500 in the comment section below!