Best Tube Phono Preamp: Your Top 5 Choices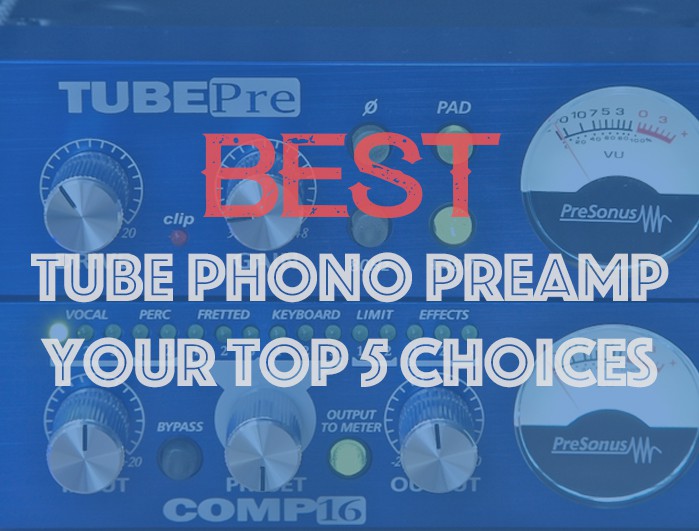 The best way to enjoy a classic LP is through a nice & warm, tube preamp.
The combination of the smooth sound of a vinyl record combined with tube amplification is a wondrous combination!
A lot of audiophiles-in-training can get intimidated on which preamp to purchase.
Of course, you should consider the classic phrase "you get what you pay for". If you find a <$40 preamp, it isn't unlikely for the audio quality/amplification to be poor.
This doesn't mean that you have to spend over $500! In fact, all of the tube amplifiers I have included on this list are under $500.
I have sifted through all of the popular buying options and have pulled 5 gems that you should definitely check out.
Do leave a comment down below on which tube phonopreamp is your favorite. I'm interested to know!
Enjoy!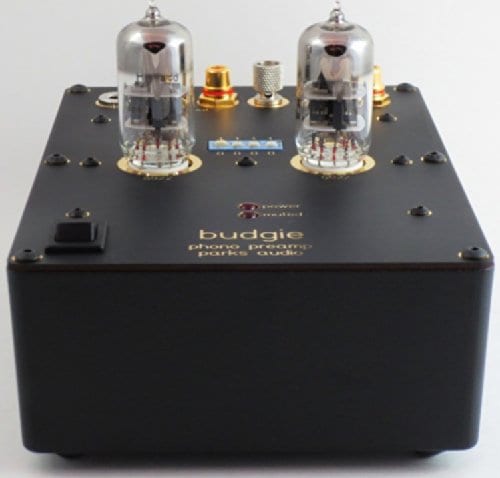 First on our list is one of my favorite tube preamps.
The Budgie Tube Phono Preamp is an excellent choice that packs a hell of a lot of quality for a reasonable price.
Sound Quality
For about $400, Budgie provides you with a preamp that has an all vacuum tube audio path.
You get 38dB of amplification.
A slightly technical advantage of the Budgie Tube Preamp is that there are no op amps used. Most other preamps in the Budgie's price range use op amps.
Let's talk about the low-end.
Most people, whether they listen to blues, rock, techno, pop, or anything in-between, will agree that they couldn't live without the driving low-end in music.
Who could blame them? The majority of the energy is packed into the lows.
I'm pleased to tell you that the Budgie preamp has plenty of bass. If anything, you'll have to dial it back a bit. This is amazing considering that most preamps in a similar price range as the Budgie are lacking of deep lows.
Warranty
A reassuring part of buying a Budgie preamp is that a 2-year warranty is included free of charge.
I don't know about you, but when I have major issues with my audio gear, it usually happens before the 2-year mark of owning it.
It's awesome that a 2-year warranty is supplied!
Overall, I hope by now that you realized I am a big fan of Budgie's Tube Phono Preamp. If you can, invest the reasonable $400 into this preamp and you'll thank me later.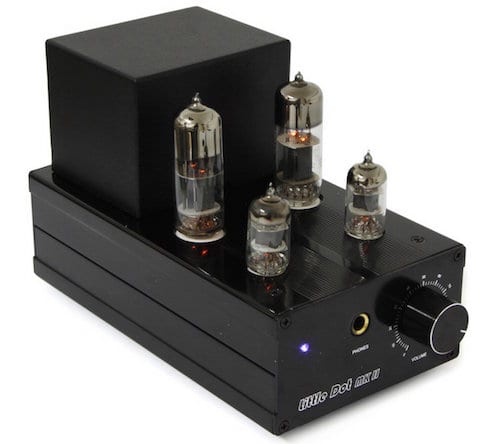 For half the price of the Budgie Tube Phono Preamp, you can get a device that will send gorgeous warm signals to any of your headphones.
If you're looking for a reliable preamp for headphones, my first answer will be the Little Dot MK2.
The stock tubes
Sometimes, preamp companies supply trash tubes. Luckily the Little Dot MK2 doesn't have this problem.
The stock tubes are wonderful!
Right out of the box they sound great! It normally takes about 30-50 hours of listening to fully break in the tubes, but the Little Dot MK 2 sounds good right off the bat.
Sound Quality
This probably won't be any surprise to you, but the sound quality is amazing! I already told you that the tubes sound nice right out of the box.
The frequency response of this preamp is from 20Hz all the way up to 50,000Hz.
Most headphones will work out fine with the MK2. Just for your assurance, the recommended impedance is anywhere in between 32 and 600 ohms.
Warranty
Gotta love warranties! If your gear breaks from average use, why should you have to pay for a company's manufacturing mistakes?
Most quality preamps I have seen supply very generous warranties. For example, the Little Dot MK2 comes with a 1-year warranty.
Build Quality
This compact device is built quite solidly. It weighs around 2.5kg (5.5 lbs).
You can't really beat the quality for its price. This preamp will last you many years of use and will never fail to impress you.
Overall, if you're looking for a killer headphone preamp with great quality tubes included, give the Little Dot MK2 a try! No matter what music you listen to, I guarantee this preamp will make it sound 10x better.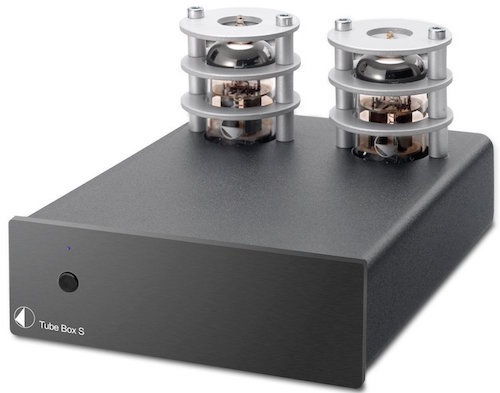 Pro-Ject is a very innovative audio company I've been a fan of for quite a while.
For $450, the Tube Box S is a quality preamp option you might want to consider.
Sound Quality
The best part about the Tube Box S is its sound quality. It does a great job at providing the lush vacuum tube sound that we all know and love.
The sonic detail is very impressive. Even straight out of the box, the included tubes sound wonderful.
Build Quality
A great part about this preamp is that it still manages to be a compact device. It will fit in just about any vinyl setup you throw it and has a sleek, flat-black design
Overall, if you're looking for a superb tube preamp, check out the Pro-Ject Adio Tube Box S to see if it will fit your needs. The Tube Box S and Budgie Tube Phono Preamp are my two favorite preamps in the $400-$450 range. Both of them supply a wonderful high quality sound.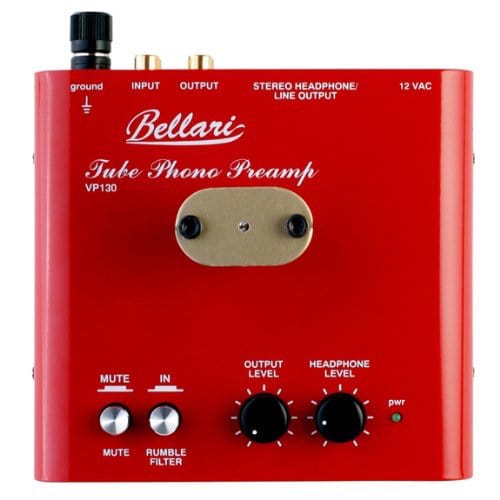 For $275, the Ballari VP130 remains a super affordable preamp that packs a ton of quality.
Who is the VP130 for?
The Bellari VP130 is meant to be a headphone preamp. If you're looking for some warm headphone amplification for less than $300, here is your answer!
Sound Quality
The VP130 sounds amazing!
This preamp will bring your LPs back to life! The amplification is nice and clean. You'll get an exceptional sound quality from the included vacuum tubes.
My ONE gripe
Nobody's perfect right? I guess the same rule applies to the Bellari VP130 as well.
As some reviewers noted, the included power supply isn't up-to-par. It gets quite hot, has a slightly noticeable low hum to it.
This isn't too big of an issue. You can buy another power supply for a low price. Better safe than sorry! HERE is a compatible AC adapter to use with this preamp.
Overall, the VP130 is an amazing tube phono preamp! Just make sure to buy a better power supply for it and you'll be golden!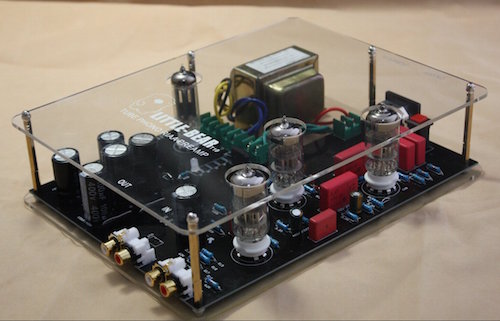 Last on the list is the Little Bear Tube RIAA MM.
This preamp is a sub-$150 preamp that provides a surprisingly high sound quality.
Sound Quality
Like I said, the Little Bear Preamp sounds great! It has a frequency response of 20Hz to 20,000Hz. The output impedance is 200 ohms.
This preamp is a valve phono preamplifier. It provides a nice warm and clear tone that will make your records sound phenominal!
Assembly?
Don't worry. Assembling this preamp is not difficult.
The Little Bear isn't fully assembled and you are required to assemble the panel on the PCB board and the wire transformer also has to be secured to the PCB board.
This isn't that hard to do. Screws are included to make this job nice and easy.
Overall, if you are looking for a quality preamp the Little Bear will supply exactly that for an affordable price.
Summary
So there you have it!
Those were my top 5 picks.
Let me know what you thought the best tube phono preamp is in the comment section below!