Dance Music Manual by Rick Snoman Book Review
Book Name: Dance Music Manual
Author: Rick Snoman
Price: $8-$20
Our Rating: 8.5/10
Short Review: Great book overall. Just be prepared to get technical!
Where to purchase: Amazon.com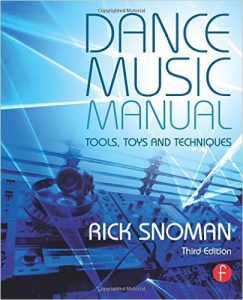 NOTE: This review has been updated to the third edition of the Dance Music Manual. You might notice two versions on Amazon (one with a green cover and one with a blue cover). The one with the blue cover is the newer one.
The process of composing and recording electronic music is a complex one.
It involves having knowledge in both music theory and audio engineering.
As Rick Snoman, the author of The Dance Music Manual writes:
''To be proficient at creating dance music, it's necessary to fully comprehend the technology used in its creation''
The Dance Music Manual contains basically all you need to know about the composition and production of dance and electronic music.
It is extremely detailed and covers a lot of subjects; from MIDI protocols and basic synth programming to promotion and web page creation.
No specifics or technical details are left behind in an avalanche of information which unfortunately keeps getting harder to follow just a few pages in. 
Don't get the wrong idea; this manual contains indeed valuable and comprehensive information for anyone interested in the composition, production and distribution of dance music. However, the whole book would be easier to follow and comprehend (especially for beginners) if all the theoretical and technical aspects of the production process were located towards the end of the book.
Even a brief introduction of the basics would have helped, instead of starting right away with the heavy stuff. So, regarding writing style and edition, this book could do better.
It starts out with a lengthy lesson about MIDI protocols and mathematical theory behind its functioning. Sure, this is an important topic and a must-know for any professional dance music producer, but it will probably bore beginners and readers unfamiliar with the topic, due to the high content of technical terms and density of the text.
The focus is set too much on how everything works at a theoretical and mathematical level, instead of looking at the actual usage in a real music production setting.  It's so much easier to cover briefly each technical term, explain its relevance to the topic being discussed, and then analyzing it further in a glossary or an extra chapter of specific technical or theoretical subjects at the end of the book.
The author spends a considerable amount of pages examining electronic systems which are not really relevant to the elaboration of electronic music today. The physical hardware shown may have improved versions already, rendering some of the examples shown in the book obsolete.
There are good tips in the music theory section, where the author examines the relationship between chords, bass and melody (which are inherent to any kind of music) in a clear and understandable way; speaking in terms of how it sounds and 'feels' rather than just analyzing the theory behind it.
He also elaborates on the specific arrangements for each genre of dance music, which can be very useful to all producers and musicians who want to become familiar with the musical aspects of a specific genre.
Important topics like sampling and looping, essential tools for the creation of electronic music, and also the legal aspects of sampling and copyright laws, are well covered and explained in the manual. The range of topics covered in this manual is so wide you will even find a step by step lesson on creating your own webpage.
I found the chapters on mixing and mastering quite useful; parameters like compression and EQ are well explained.  Several examples of plug ins and digital instruments are shown and covered; unfortunately, just like with the physical hardware, most of this gadgets are already incompatible with more recent DAWs and software versions.
Most readers will probably find the second part of the book the most helpful, where the composition and musical aspects of each genre of dance music are covered; the author makes a complete musical analysis on styles like house, techno, trance and hip-hop. The tips and lessons taught in this part are a goldmine for musicians and producers who want to learn how to compose and make arrangements for a specific type of dance music, especially when they are not familiar with that genre.
The author believes that the best way to begin writing any kind of dance music is to find the most popular tracks around at the moment and break them down to their basic elements. I couldn't agree more with that statement. Is there a better way to learn how to compose music than analyzing the music itself? 
At the end of the book there is a 'recommended listening' section with some examples of hit and classic dance songs which the author invites to listen actively and analyze in terms of structure, mood and rhythm.
In conclusion, The Dance Music Manual by Rick Snoman is a book with lots of information. Readers unexperienced with the subjects covered here may find it harder to digest, but if you can handle processing the huge amounts of information this book contains, you will learn almost all aspects of the creation of electronic music, from synthesis to DJ producing and promoting your music.
Of course, not everything you need to know comes from a book; practice, active listening, lots of immersion, more practice, creativity and several other factors are also key to the formation of a professional dance music producer.
But most experienced producers and musicians will agree that having a strong theoretical base is crucial to the understanding of music as a whole.
Aside from the somewhat deficient writing style, the book contains essential information for serious dance music producers. The author elaborates on different kinds of electronic music and how each one of them is created, including a musical analysis for each.
There are great mixing and mastering tips, and even some non-music related subjects are explained, like programming and web page creation. This manual can come in handy when you are stuck or having trouble with your DAW or audio gear (which is annoyingly common). Having reliable and extensive information on how your MIDI controller works, rigging your gear, fixing problems with your computer, etc. will save you several hours of googling in vain.