Korg Electribe Review – An All-In-One Synth, Drum Machine, And Sequencer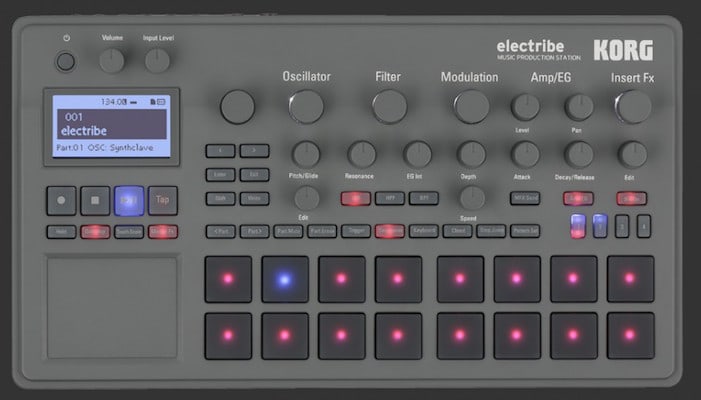 Korg is a company that has been providing quality synths, samplers, and musical instruments for over 50 years. They have a variety of products ranging from low, affordable prices, all the way to high, big-budget prices.
The Korg Electribe is an all-in-one synth, drum machine, and sequencer that is available for the very reasonable price of $400. Considering all of the power that the Electribe has to offer, this is a steal!
In this review, we'll be going over everything you should know before purchasing the Korg Electribe. If you have any questions after reading this article, don't hesitate to drop a comment down below.
This Review Will Cover:
What's Included?
Inputs/Outputs
The Electribe's main features
How powerful is the synth engine?
Integrating the Electribe with Ableton
What others say about the Korg Electribe
Pros
Cons
What's Included?
With the Electribe itself, you will get instruction manuals, an adapter, and a power supply.
Korg decided to take a "you get what you see" type of approach with the Electribe. There is no special software or audio plugins included.
This was pretty surprising to me considering that most studio equipment I buy will come with some sort of demo software. The lack of included software isn't really a huge issue. If you plan on integrating your Electribe with software, there are a ton of freeware DAWs and audio plugins available for download.
The manuals are well explained, BUT it is already straightforward enough to get started without any sort of instruction. Even if you know nothing about synthesis, after a 5-10 minutes of messing around you can get a grasp of how everything works.
Inputs/Outputs

Stereo outputs(1/4 inch jacks)
Headphone output(3.5mm jack)
Line input
Micro usb
Power input
Midi input and output
Main Features
The Korg Electribe is a 3-in-one synth, drum machine, and sequencer. It is an improved version of Korg's previous Electribe models. Don't be fooled by Electribe's more compact size. This thing is a power house!
When you look at the Electribe, you will notice the 16 pads laid out on the bottom of the device. Each of them are velocity sensitive and backlit.
It's worth noting that by default Korg disables velocity sensitivity. You can quickly turn on velocity sensitivity in the settings. I'm not sure why Korg decided to turn this feature off by default. To me, it seems like disabling this feature will accomplish nothing except for frustrating newbies.
The pads can be used for many purposes such as creating patterns, triggering effects, or simply playing midi notes like a keyboard.
Speaking about pads, there is even an XY pad on the Electribe that can control multiple parameters. I won't say that it is the best XY pad in the world, but it gets the job done.
To power the Electribe, without the wall adapter, you will need 6 AA batteries. I'd recommend buying rechargeable batteries. It will save you a few bucks in the long run.
Navigating through menus in a dark environment is very doable. The Electribe has a bright backlit display with very visible text. There are nicely-sized labels above each knob making them easy to identify.
How Powerful Is The Synth Engine?
The synth of the Electribe is modeled after KingKorg's synth engine. You'll be surprised how powerful of a synthesizer the Electribe is for how compact it's size is.
The one thing I didn't like about the synth is it's 24 voice polyphony. While in most cases 24 voices is fine, when you start making really crazy sounds with long releases, it can get a bit tedious.
On a more positive side, there are over 400 different oscillator types to choose from! To be exact, there are 409 oscillator types.
You'll also get 16 different filter types, 72 different modulation types, and 38 different effects. I loved Electribe's reverb effect! It has a very ambient-ish sound that is perfect for genres such as liquid DNB and deep-house.
There are 18 knobs in total. Some of them spin infinitely and some are limited. All of them have a solid feel to them. The filter knob especially feels smooth.
Integration With Ableton Live
I was very happy to hear about the Electribe's integraiton with Ableton.
There are multiple ways to hook the Korg Electribe up to Ableton. The first, and most obvious, way is through a USB connection. This will allow you to use the pads to trigger midi. It basically turns your Electribe into a midi controller.
The next, and more exciting, way to integrate the Electribe is with an SD card. On the left side of the device there is a spot for an SD card. You can use an SD card up to 32GB. On the card you can export your Electribe projects.
There is an option to export your current Electribe project to Ableton format. It will save a .alp file to the SD card which can be opened in Ableton. All of the samples that you used will be transferred to the SD card as well.
If you are using another DAW, you can export just the WAV stems instead to the SD card. Once you have all of the WAV files, it's just a matter of dragging-and-dropping the audio clips into your DAW of choice. :)
What Others Say About The Korg Electribe
The majority of reviews that I have read were positive.
Everyone seemed to love the build quality of the Electribe. It is a very compact and solidly built device. All of the knobs are nice and sturdy. You'd be surprised at the weight of this thing! It's relatively heavy for it's size.
A not-so-good thing about the Electribe is it's battery life. It's powerful synth engine seems to burn through batteries. This is another reason I would recommend investing in rechargeable batteries.
Producers of all different genres loved the workflow of the Electribe. The buttons are all laid out well. It's very easy to transfer ideas with ease. Once you play around with the Electribe for a bit, navigating menus, recording patterns, and synthesizing becomes a breeze.
I did like the fact of how easy it is to create melodies on the fly with this thing. If you aren't proficient in music theory, there is even a handy chord-trigger mode that makes creating chord progressions simple.
Pros
Powerful synth engine
Easy to get the hang of
Ableton Live integration
Cons
Summary
Overall, the Korg Electribe is an excellent synth/drum-machine/sequencer that any producer would fall in love with.
For an affordable price, Korg gives you a ton of features that make song creation, on-the-go, a simple process.
You can check the current price here.