Korg Volca Sample Review – The Most Affordable Drum-Sequencer In Existence!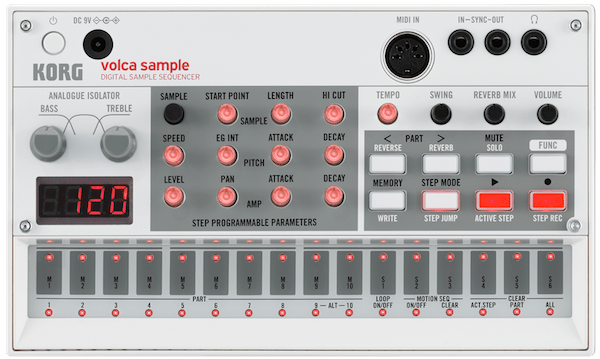 The average drum sequencer costs well over $400. This can be a very large investment for a beginner.
When buying any sort of pro-audio equipment there tends to be a you-get-what-you-pay-for type of rule. Does this mean that the only way to make good music is to have deep pockets? Nope.
The Korg Volca Sample promises to bring all of the fun of high-end drum sequencers for a price under $200. When I first heard about this product, I had my doubts and had to conduct further research.
In this review, we'll be taking a much closer look at what the Korg Volca Sample has to offer. If you have any questions while reading this article, feel free to leave a comment down below.
What This Review Will Cover:
What's Included?
Main Features
Inputs/Outputs
What Others Think Of The Korg Volca Sample
Pros
Cons
Is the Korg Volca Sample Actually Worth Buying?
What's Included?
With the Korg Volca Sample, you'll get a few getting-started manuals, an AC adapter, and a set of AA batteries.
I'm a bit surprised Korg threw in some batteries with the Volca Sample. This means that you can literally get started straight out of the box.
The manuals are nice and detailed. If you ever lose them, you can always download a copy of them here.
Main Features
The Korg Volca Sample is a 16-step sequencer with a maximum polyphony of 3. You can edit and sequence up to 100 samples.
There is a "motion sequence" features that is quite interesting. Over the 16 steps, you can record automation using the knobs and controls on the Volca Sample. This is a great way to add more expression to your loops.
There is an analog isolator on the Volca Sample. It is pretty much a 2-band EQ that lets you adjust the lows and highs. The isolator has a noticeably warm sound to it, especially in the low-end.
I liked the fact that Korg decided to add a swing function on the Volca Sample. It makes adding groove to your loops easier than ever.
Korg also added a panning feature. This is especially useful for programming high-hat patterns.
My favorite part about the Volca Sample is how portable it is. It has a nice, compact design that allows you to easily throw it into a bag and take it wherever you choose to travel.
The Volca Sample can optionally be powered through batteries. My main concern with this was if the battery life would be too short.
Surprisingly the Volca Sample can last for 10 hours on AA batteries! I'd recommend getting a set, or two, of rechargeable AA batteries. It will save you a few bucks in the long run. :)
The built-in speakers are fairly loud. If you want to listen to the Volca Sample through headphones, or any other external audio source, there is a 3.5mm headphone jack.
Both the design and the build quality of the Volca Sample is phenomenal. The build quality is very solid. The buttons and knobs all have a nice, smooth feel to them.
If you want to use your own drum samples, you're going to need an iOS device. This is probably the least intuitive part of the Volca Sample.
I personally don't enjoy adding samples to my iTunes library so that I can use them on the Volca Sample. It's a good thing that Korg included some killer drum samples so you won't have to do this too frequently.
Like I said, the included samples sound very good. The kicks and snares are especially punchy. You won't find too many garbage-sounding samples.
Inputs/Outputs
As for inputs and outputs on the Korg Volca Sample, there is a 3.5mm headphone output and a 3.5mm sync input and output. You'll also find a midi input.
It's definitely useful to have a midi input on the Volca Sample. Connecting a drum pad, or even a keyboard, will give you a much larger layout for playing-in drum patterns.

What Others Think Of The Volca Sample
The reviews for the Korg Volca Sample were extremely positive.
I saw a trend of people talking about how they loved the Volca Sample's sound quality. It provides a great vintage sound with a rich, deep bass and crisp highs.
The reverb effect also sounds great. It sounds very lush and dreamlike. The reverb effect will give a nice and airy vibe to your loops.
Filtering on the Volca Sample is nice and smooth. Even when using the Analog Isolator, you'll get a very warm-sounding filter.
An important part about the Korg Volca Sample is how small of a learning-curve it has. After watching a few getting-started videos, learning how to use it is a breeze. All of the controls are nicely, and simply, laid out.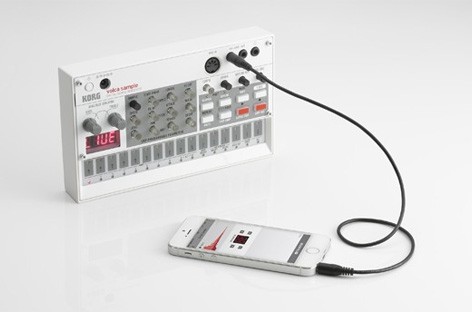 The one major complaint you'll hear about the Volca Sample is that you need an iOS device to add your own samples. It's worth keeping this in mind if you don't have an iPod, iPhone, or iPad.
There is an iOS app for the Volca sample, called AudioPocket, that lets you add samples from your music library to your Volca Sample. I did happen to love the record feature on the AudioPocket app. It lets you record real-life drum samples from your iPhone and then send them directly to your Volca Sample.
Another complaint was that you can only have one-bar patterns. At first I believed this was more of a holdback than it actually is. I don't mind this because it forces you to be creative within one bar.
A trick you can do to get 2 bars instead of one is to cut your BPM in half. So if you are making a 140 BPM loop, cut it in half to 70 BPM. Instead of quarter notes, you will sequence eighth notes instead(since the BPM is cut in half).
Pros
Extremely portable
Excellent sound-quality
The included samples are very high quality
Provides amazing value for it's low price
Cons
You only have 1 bar to sequence(can be a good or bad thing depending how you look at it)
You need an iOS device to add your own samples
Is the Korg Volca Sample Actually Worth Buying?
Overall, the Korg Volca Sample is a very good and affordable drum sequencer. No matter what your skill level is, you can pick one of these up with a small learning curve.
Would you ever buy the Korg Volca Sample? 
Let me know in the comment section below!