M-Audio BX8 D2 Review – Flattest Studio Monitors On A Budget?
It can be difficult to find an affordable pair of studio monitors that actually sound good. There are just so many cheap-o monitors getting pushed out that might sound like a good idea to buy based on their descriptions, but once you finally make the purchase, they sound horrible!
I was a bit skeptical to review an M-Audio monitor because in the past they have released the Studiophile AV-40. The AV-40 was an atrocious set of monitors that cost less than $100.
With any sort of pro-level audio equipment, you get what you pay for.
The M-Audio BX8 D2 supposedly can supply a clear, accurate sound for a price under $400. After reading a numerous amount of positive reviews, I decided to take a closer look at the BX8 D2.
In this review, we'll be covering:
What's Included?
Features
What's On The Back Of The BX8 D2
How TOUGH Is The M-Audio BX8
How Does The BX8 Sound?
What Others Think About The M-Audio BX8 D2
Pros
Cons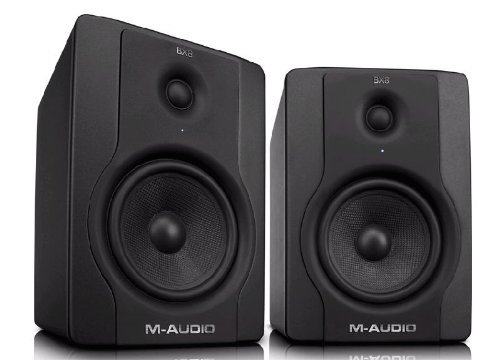 What's Included?
With the BX8 you'll get a few manuals along with a set of isolation pads.
I'm glad M-Audio choose to include the isolation pads. They would normally cost you an extra $20 if they didn't include them, so free pads is a good thing!
The point of isolation pads are to eliminate vibrations that occur between your desk and the studio monitor. Having vibrations can cause new frequencies to be created. This is bad because the new frequencies will muddy up your mix and in-turn give you an inaccurate sound.
Even if you aren't in an acoustically treated studio, it's still a great idea to use the included isolation pads in your set up.
Features
The M-Audio BX8 has an 8 inch cone woofer and a 1.25 inch tweeter. The tweeter plays all the frequencies that are above 2.2kHz, while the woofer plays all frequencies under 2.2kHz.
There is a pretty wide frequency response on the BX8. You'll be able to hear from 28Hz to 22,000Hz. With this, you can hear enough lows for most purposes and plenty of treble beyond what the human ear can hear..
At higher volumes, the included isolation pads to do a great job at reducing vibrations. You really need to have isolation pads when playing at louder volumes because that's when the unwanted-vibrations start.
I didn't like that there was no EQ or room control on the back of these monitors. They sound great without any tweaking, but it would've been nice to have these features.
The BX8 supplies great value for it's price. For less than $400 you get great sounding monitors that are ideal for mixing.
What's On The Back Of The BX8 D2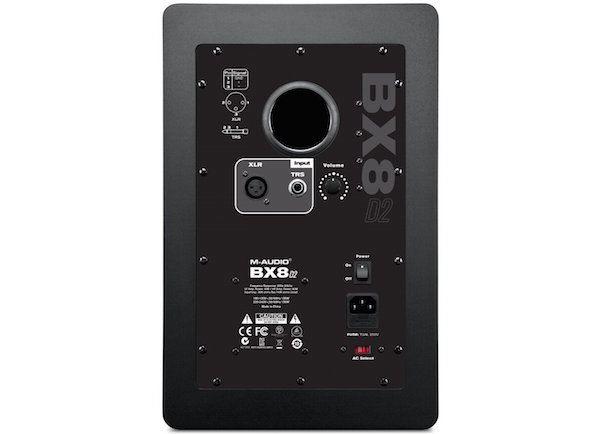 On the BX8 there is a balanced XLR and 1/4" input for connecting to mixers, amplifiers, and other appropriate gear.
There is a simple volume knob on the back. It might be a bit of a pain to access if you want to change the volume.
You'll lastly find a power switch and a power adapter input. M-Audio kept everything nice and simple on the BX8.
How TOUGH Is The M-Audio BX8
You'll notice that the BX8 has a very simple design. I like simplicity when it comes to audio equipment.
The overall build of the BX8 is very solid. It's build is strong and durable. You can tell that M-Audio put a lot of work into the design of these monitors.
You are either going to love or hate the fact that the BX8 is large. If your studio has limited space, you might want to check the dimensions of the BX8 before buying.
The dimensions of the BX8 are 12 inches wide, 10 inches long and 15 inches tall. That is pretty large when it comes to studio monitors in the BX8's price range, but it isn't anything unmanageable.
These speakers are also heavy, weighing in at 24 pounds a speaker. I don't mind heavier speakers. They are much harder to accidentally knock over!
How Does The BX8 Sound?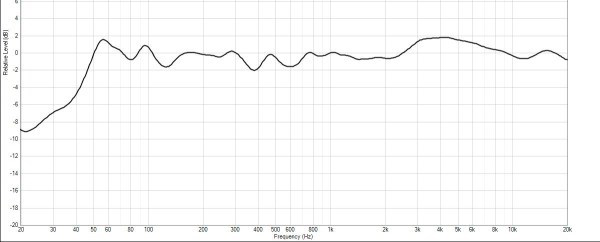 Ok, the moment you have all been waiting for…
The SOUND QUALITY.
The M-Audio BX8 has a very crisp, but flat sound that is perfect for mixing.
With the BX8, you'll get a nice accurate sound that is well balanced. A big part I like about the sound is that during long studio sessions you won't get ear fatigue. The treble is very smooth and doesn't sound too harsh.
These monitors are LOUD. You can turn the BX8 well above a comfortable listening level and there won't be any distortion.
The bass frequencies are fantastic! The bass is smooth and accurate. Without a subwoofer you'll still get plenty of bass.
In the treble frequencies, you get a very luxurious, detailed sound. The mids especially sound nice.
What Others Think About The M-Audio BX8 D2

It was hard to find negative reviews on the BX8.
Everyone loved the clean, natural sound that these monitors produced. It's precise low-end with it's highly-detailed treble, makes for a great listening experience.
Throughout the entire audio spectrum, you'll get a crystal-clear sound. No frequencies are left distorted or muddy.
Let's be clear on one thing. These monitors are designed for studio use. This might be obvious for most of you, but there were a couple reviews complaining about the flat sound. These monitors were designed to provide a flat, accurate sound for mixing. These speakers aren't "bass-boosted" or "enhanced". They sound very close to what the actual recording is supposed to sound like.
A complaint I saw was that the volume knob and the power switch was a bit difficult to access. This isn't a huge issue, but it's worth noting that both controls are on the back of the monitors. It would've been nice to have these controls on the front instead.
Another reviewer said that he didn't even need a subwoofer with the BX8. It's pretty hard to find a less than $400 pair of monitors that will provide an adequate bass-response. M-Audio seemed to really hit the nail on the head with the BX8's sound quality.
The amount of loudness packed into the BX8 is phenomenal! These speakers do a great job at amplifying sound while maintaining it's clarity.
Pros
Clear, accurate sound
Great bass response
Very affordable
Cons
Would you buy the M-Audio BX8 D2?
Let me know in the comment section below!