M-Audio Studiophile Q40 Review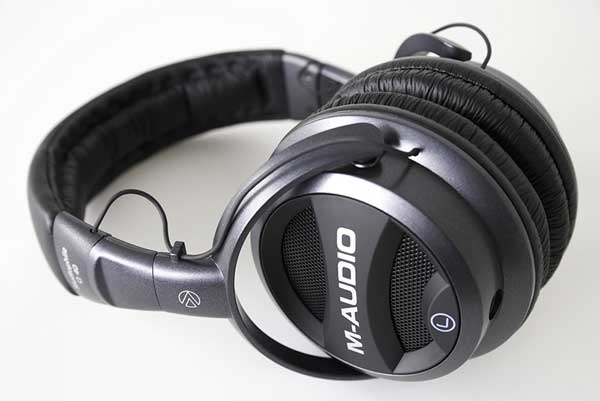 Is it actually possible to get a pair of headphones that sound GREAT for an AFFORDABLE price?
Let me introduce you to the M-Audio Studiophile Q40.
M-Audio is a company that has been selling quality audio equipment since 1998. The Q40 is no exception to there amazing products…
---
Product Name: M-Audio Studiophile Q40
Price: $79
Where To Buy: Amazon.com
---
The Features
The M-Audio Studiophile Q40 gives you a full spectrum of sound ranging from 10Hz-20kHz. This is great because the human ear can only hear up to 20Khz.
Bass-heads would fall in love with these headphones. The first thing you will notice when you try out the Q40 is that the bass is insane!
A lot of bassy headphones tend to go overboard with bass, resulting in a muddy low-end. The Q40 manages to provide a nice, clean low-end.
What's Included?
With your Q40 headphones you will also get a detachable audio cable, a 1/4 inch headphone adapter, and a user guide.
If you are a DJ, the 1/4 inch adapter is especially useful. Most mixers require a 1/4 inch input.
The headphone wire that comes with the Q40 is good quality. It will probably last a while, but if it doesn't, you can buy a new cord cheaply.
Sound Quality
The sound quality of the Studiophile Q40 is superb. It has punchy bass, smooth mids, and crisp highs.
You couldn't ask for more from a less-than-$100 pair of headphones. You get a very flat, accurate sound that is very good for any purpose from average listening to producing music.
Comfort
These headphones conform to the shape of your head.
There have been some reviews saying that the Q40 gets uncomfortable after an extended period of time(4+ hours). I think this has to do with the pads on the headphones being a bit cheap.
The headphone's pads might not be the most comfortable but that isn't a huge issue since you can replace the pads quite easily.
Build Quality
You'll notice that these headphones have a very sturdy build.
They have a metal band that can be stretched out widely to fit any size head comfortably.
The durability of the Q40 is on point. These headphones will last you years without breaking.
The most likely part to break on the Q40 is the audio cable. Don't get me wrong! The cable is built to last but we have all had a pair of headphones that broke due to a weak wiring connection.
In the event that this happens you can purchase a new audio cable for about 2 bucks.
Another cool feature about the headphone wire is that it's threaded. Having a threaded wire prevents the cord from detaching easily.
The M-Audio Studiophile Q40 Is Available On Amazon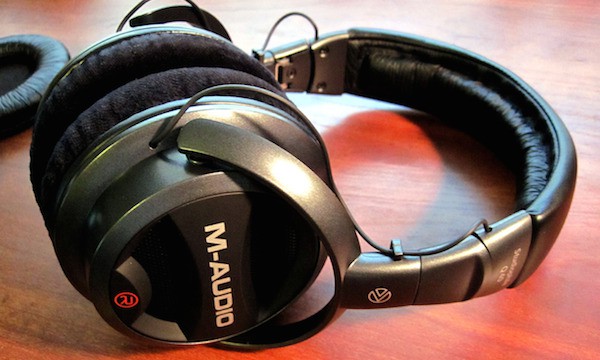 Design
The M-Audio Studiophile Q40 has a Circum-aural design which is basically fancy terms that mean it has swivel ear-cups to conform to your head.
This type of design allows for better sound isolation. Having good sound isolation not only blocks outside noise, but it helps you here more clarity at a lower volume.
This way you don't have to go deaf trying to listen to your music.
Noise Cancelation
What was that?
I couldn't hear you, I was wearing a pair of Studiophile Q40s.
Jokes aside, you'll love the noise cancellation on these headphones.
The Q40s make it very difficult to hear outside noise. You can't even hear an outside conversation at normal volume.
---
Pros
Super punchy low-end
Crisp mids and highs
Great Noise Cancelation
Nice design features
Replaceable audio cable(with threads)
Affordable
Cons
The headphone padding isn't the most durable. It will probably develop slight tears after 6-12 months. Luckily for you this is an easy thing to replace.
---
Overall, the M-Audio Studiophile Q40 is an awesome pair of headphones that WON'T break your bank.
If you are looking for studio quality headphones these are a great option.
Whether you are an average listener, an audiophile, a DJ, or even a music producer, you'd love these headphones.
Checkout The M-Audio Q40 On Amazon!
---
If you're willing to pay a little more, you might want to check out the Audio-Technica ATH-M60x. It costs $170, but is a big step up. You can check out my review here.