Native Instruments Maschine Mikro MK2 Review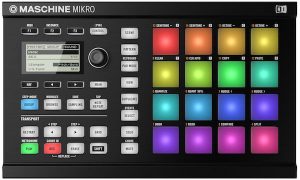 Some can argue that Maschine is the new MPC. Whether this statement is true or false, it is unarguable that Native Instruments have completely revolutionized the way people make music. Their innovative synths, software, and midi controllers have become favorites among top producers all around the world.
The Maschine Mikro MK2 is the most affordable option when purchasing a Maschine controller.
At nearly half the price of a normal Maschine, I was skeptical if the Mikro would be a useful studio tool. With a lower price comes cut-backs in features. What did they take out?
In this review, we'll explore all the nooks and crannies that the Maschine Mikro Mk2 has to offer. If you have any questions after reading this article, feel free to drop a comment down below.
This Review Will Cover:
What's Included
Main Features
Included Software And Files
Maschine Mikro MK2 VS. Maschine MK2
What Others Think About The Maschine Mikro MK2
Pros
Cons
Summary
What's Included?
With the Mikro MK2, you'll get a usb cable, standard manuals, and a few Native Instruments' decals. You can never get mad when free stickers are included!
I liked the fact that the Mikro is 100% usb powered. If there's one thing I hate about studio equipment, it's messy wires. This also makes the Mikro super simple to setup; Just plug, and play!
The included manuals are exactly what you'd expect. If for some reason you lose them, you can always download them off Native Instrument's website.
Main Features
The Mikro comes in two colors; Black or White.
This controller has 28 buttons along with 16 touch sensitive multi-color pads. Each pad's color can be changed. Color coding your pads will make navigating through banks a lot easier.
There is only one rotary knob on the Mikro. It controls everything from scrolling through menus, to dialing in effects.
What I like about the Mikro is that it can still control almost all aspects of the Maschine software despite it's small size. Without using a mouse, the Mikro can control most of the software.
If you are planning on doing a lot of sampling, the Mikro will help you out. You can easily slice sample out of a clip with precision. Maschine makes it easy to chop up a sample and load it into the drum pads.
You can tell that Native Instruments worked hard at creating a fast and efficient workflow. After creating a few patterns to your liking, you can quickly arrange them into a full song.
The Mikro also has a really good step-sequencer. The step-sequencer works great if you need to quickly program a drum pattern.
Automation is one way to make your grooves sound a little more interesting. Using the knob, you can mess with parameters such as pitch, volume, or panning and then record it straight over your track.
Included Software And Files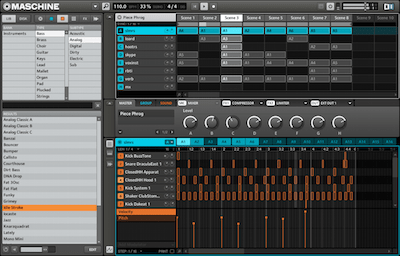 The Mikro comes with a bunch of great software and files. You'll get Maschine, Massive, an 8GB library of goodies , and 24 separate effect plugins.
If you choose to install every piece of software, it'll take up around 13 GB of space.
The library of "goodies" include samples, one-shots, slided loops, sampled instruments, presets, patterns, drum kits, and even pre-made Maschine projects.
There are 445 full drum kits, 388 multi-sampled instruments, 8627 samples, 403 loops, 1200 patterns, and 38 pre-made projects.
I was very surprised that Native Instruments included the full version of Massive. I had to carefully read around just to make sure it wasn't limited in any way. It wasn't…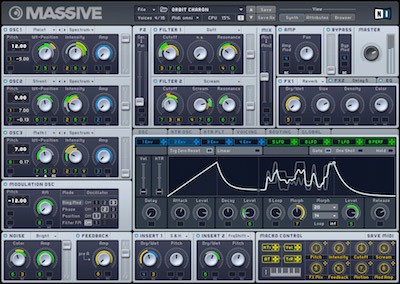 Massive is a $200 synth that can be very powerful when used right. You can synthesize any kind of sound from pads, to lasers, to basses, to leads.
Maschine is the name of the DAW that Native Instruments includes. It works on both Mac and Pc.
Maschine is a very unique option compared to other music production software. It is very workflow-based and makes it easy to get your ideas down fast. With maschine you can produce any genre of music, but I can see it being most useful for hip-hop producers.
Maschine Mikro MK2 VS. Maschine MK2
At first, the differences between the two Maschine MK2 models might seem a bit confusing. The biggest difference is the price. For nearly half the price of the normal Mk2, you can get the Mikro version.
Both models come with the same exact software. You'll get the same exact software, plugins, and files with both the Mikro MK2 and the normal MK2.
The Normal MK2 has multiple rotary knobs to control many different parameters at once. The Mikro only has one.
There are also less buttons on the Mikro. This isn't a huge issue. You can still navigate to all of the menus, but there will be an extra step to get there.
It does bother me that you can't replace the faceplate on the Mikro. This obviously won't effect the quality of music you make, but it would've been such an easy feature to add!
What Others Think About The Maschine Mikro MK2
The Machine Mikro MK2 has received very positive reviews.
I noticed a lot of beginners were using the Mikro to learn music production. This controller has a very small learning-curve, even if you are a complete newbie.
Buyers also loved the fact that Native Instruments was generous with the included software. They give you more than enough tools to create awesome music right out of the box.
Native Instruments did a great job at supplying a quality controller for a low price. The build quality was very high. All of the buttons are sturdy and responsive. The pads have a nice feel to them.
The lights look amazing in the dark. Before the MK2, all Maschines had orange lights. This was fine, but looks boring compared to the MK2's RGB lighting.
Pros
Affordable price
A TON of software and files are included
Very easy to set up and get started
The Maschine software has a fast and efficient workflow
Cons
Faceplate isn't replaceable
Only one knob
Summary
If you are just getting into music production, or are looking for an affordable midi controller, the Native Instruments Maschine Mikro MK2 does an excellent job at helping you turn your ideas into musical masterpieces.