Novation UltraNova Review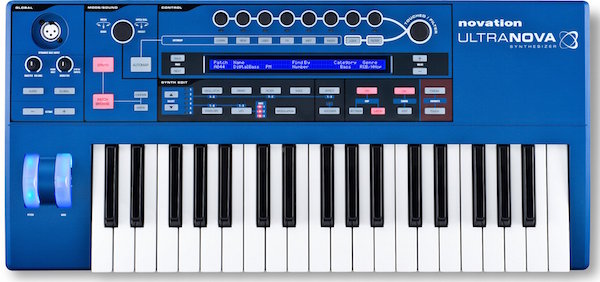 The Novation UltraNova is a synthesizer that promises to bring a powerful analog sound for a relatively low price. Whether you are brand new to synthesis or have been in the game for years, the UltraNova is designed to be a very easy synthesizer to get the hang of.
In this review, we'll be taking a much closer look at what the Novation UltraNova has to offer. If you have a question after reading this article, feel free to drop a comment down below.
This Review Will Cover:
What's Included?
Main Features
How Does The UltraNova Sound?
What Others Think About The Novation Ultranova
Novation Ultranova Demo
Pros
Cons
What's Included?
With the UltraNova, you'll get:
Standard manuals
Soundpack of patches
An assortment of software
Microphone(for the vocoder function)
Power supply
Let's first talk about the included software.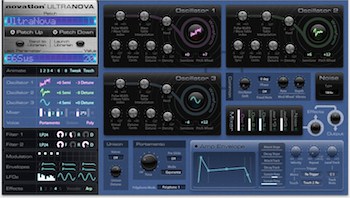 There are 2 pieces of software included. The first one is the UltraNova editor. It allows you to control all of the synth parameters from your computer. This is especially useful for dialing in envelopes. Having a more visual representation of what you are doing is very helpful.
You also get a "patch librarian" software. It allows you to swap out any of the default presets for custom ones.
The soundpack is a collection of professionally-designed patches ranging from a multitude of genres. You can find sounds such as lush pads, dirty basses, and powerful leads.
The microphone is also pretty nice.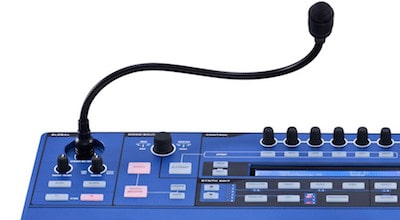 The gooseneck microphone that is included has a very nice build quality. It is an all-steel microphone that is built very sturdy. The microphone is dynamic and has a surprisingly clear sound quality.
I did like the fact that the microphone wasn't fixed to the synth. This gives you the ability to swap out the microphone for any XLR mic that you want.
You also get pedal inputs!
It was nice that Novation added pedal inputs to the UltraNova. I was expecting just a single sustain pedal input, but there is also an expression pedal input as well.
Main Features
The UltraNova has 37 full-sized keys with aftertouch. All of the keys seemed to have a nice response to them. 37 is a good amount of keys for a synth. It is enough keys to play wild melodies while still being compact enough to fit on your desk.
I liked the fact that the octave up/down buttons were easily accessible. This makes switching octaves an effortless task.
You'll find 8 rotary encoders on the Novation UltraNova. They have a nice and smooth feel that is perfect for finely tweaking parameters.
The rotary encoders are also touch sensitive. This means that they will also function as buttons. This can come in handy for selecting menu items and triggering effects.
It was an interesting decision to have a built-in audio interface on the UltraNova. You have complete control over the interface via a very accessible gain knob on the front of the synth.
There is even a chord mode on the UltraNova. If you don't know too much music theory, this will make it easy for anyone to bang out a chord progression just by hitting single notes. This function can even come in handy for gaining inspiration.
How Does It Sound?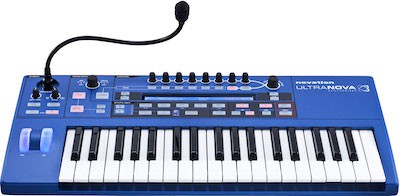 Let me first start out by saying the UltraNova sounds amazing!
You can have up to 18 voices. There are over 30 wavetables to choose from for each of the oscillators.
By no means are you limited in the effect department. There are 5 effect slots to add various effects over. You'll find a ton of awesome effects such as distortion(a great-sounding one if I may say so myself), delay, reverb, compression, and much, much more.
My one gripe is that the UltraNova isn't multitimbral. While this would've been a nice addition, in no way will a monotimbre synth ever limit your creativity.
I love when presets are organized by genre!
It just makes it so much easier to find exactly what I'm looking for. There are 9 different genres. You can find styles such as Jazz, Dubstep, and Techno.
I was a bit surprised to find some non-electronic style patches on the UltraNova. I was expecting to find an overabundance of synth-poppy sounds. Novation did a great job at balancing out the genres.
The UltraNova seems to excel at creating phat bass patches. Without any effects or distortion, it isn't hard to create a very warm sounding bass.
What Others Think About The Novation UltraNova:

There were very positive reviews on the UltraNova.
A common trend from what I have read was that it's very simple to set the UltraNova up and start synthesizing. Without reading any manuals, or knowing much about synthesis, you can get a grasp on how things work just by messing around and playing with knobs.
I couldn't find any reviewers that had trouble setting up the UltraNova. If you do happen to run into an issue, the manuals are well-explained and very helpful.
I have also heard many people talk about how the synth editor software adds a whole new dimension to this synth. While it isn't required to use the included software, it can be very helpful. Tasks such as shaping envelopes become much easier because you have a visual representation of what you're doing.
There were also multiple reviews about how powerful the synth engine of the UltraNova is. Like I said earlier, just because the synth is monotimbre, it doesn't mean that your creativity is limited.
The UltraNova is well-built and reliable There is no doubt that this synth will last you for many years. It has a very solid construction that will survive much abuse from gigging and traveling.
Novation Ultranova Demo
In this Video Absolute Music demos some of the UltraNova's different presets. This video will give you a much better idea of the power behind this synth.
Pros
PHAT sound
easy to get the hang of
Intuitive software control
Cons
Summary
All-in-all, the Novation UltraNova is a very powerful, versatile synth that is capable of producing wild sounds. This synthesizer is evidence that you don't have to spend over $1000 to get a quality sound.