5 Awesome Recording Studio Desk Plans That Will Inspire You To Get Your DIY On
Having a proper recording studio desk can be extremely helpful.
First off, any studio desk that's worth your money will have a shelf that elevates both your studio monitors and your computer monitors. It is important to elevate your studio monitors because in order to get the best sound, your speakers should always be at ear level.
Studio desks are also designed to hold your gear. If you have a lot of hardware, it would seem unreasonable to leave it all out on your desk. With a proper studio desk you'll be able to keep your hardware out of the way so that you'll be able to maintain a clutterless workspace.
Buying a recording studio desk can easily cost an upwards of $2000. Building your own will most likely cost you in the $100-$300 range. This is largest reason why the idea of building a DIY studio desk is so attractive.
The best part about all of this: You aren't required to have a natural talent for carpentry to build your own desk. The most important part of this whole process is to take your time and not rush on any steps. You don't want all of your future studio sessions to be ruined by a wobbly, poor-quality, desk!
In this article, I have compiled 5 of the best home recording studio desk plans on the web. Nothing listed here will be too expensive. The cheapest build on this list will cost around $50, and the most expensive one will cost less than $300.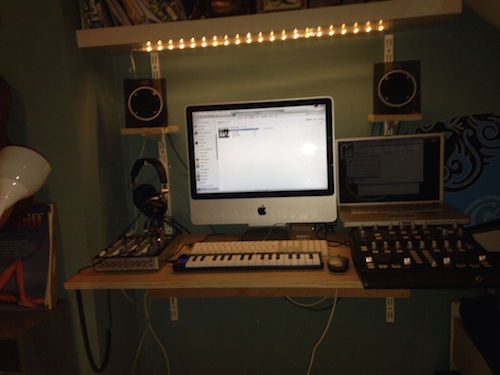 The Simple And Cheap Studio Desk
This build requires no woodworking skills whatsoever. If you pick the right wood, no cutting is involved. Assembling this desk is very easy and will take less than an hour.
There are no legs or support to this desk. Everything is held into place by brackets.
The materials can be bought very cheaply at almost any hardware store. Brackets and plywood are the main ingredients to this build.
Take caution in selecting your brackets! Make sure it will fully support the weight of all your gear. Your whole desk collapsing with all of your equipment on it can be both a traumatizing and expensive experience.
Overall, this build is excellent for a complete beginner, somebody who is on a tight budget, or anyone who has limited space.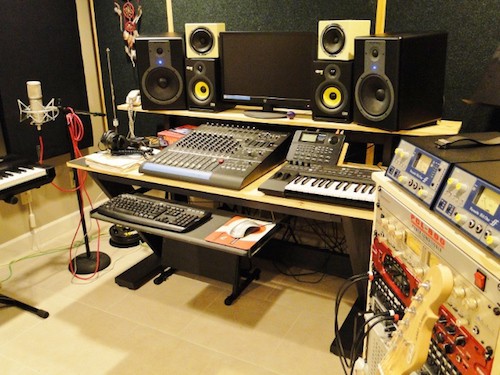 Home Studio Guy's Studio Desk
The Home Studio Guy has a few great plans if you are interested in building quality studio furniture without spending a lot of money. His DIY recording studio desk is simple, sleek, and best of yet, cheap to buy materials for.
EDIT: Unfortunately, Home Studio Guy's website is down. Not sure if it will come back.
There are both good news and bad news for this studio desk plan. The bad news is that this plan costs money. The good news is that it only costs $15.
So is this plan worth paying for? YES. If you like the design of this desk based on its pictures, it is worth paying for. $15 is actually pretty cheap for plans. For how detailed the instructions are, I've seen plans like this go for over $40!
Like I said, the instructions are very detailed. There are 14 pages that will tell you everything you need to know if you want to build this desk.
If you don't have a ton of rack equipment, this desk is well worth your time. It consists of two levels: An upper shelf and of course a desk-top.
This desk can be built for under $100.
>> Too much of a hassle? No problem! Buying a quality recording studio desk is cheaper than you'd think! Check out my article on the best studio desks for a good selection.
Larry Marrs's Recording Studio Desk
If you don't want to pay for plans, but still want the immense detail that paid-plans have to offer, this build is perfect for you!
Along with the material list and two diagrams, Larry also shot a video explaining how he built the desk. I liked the fact that exact measurements were supplied in the plans.
This desk is made to hold all of your studio hardware that you might have. It is especially made for racks. The second shelf of this desk has plenty of room for two studio monitors and two computer monitors.
This desk is most importantly strong and solid. Its made out of pine, which is a fairly inexpensive wood, but provides the strength you need to support heavy equipment.
Larry's website is where you'll find each of the documents. Two of them are diagrams and the last one is a material list.
CONRAD JAY's Under-$100 Recording Studio Desk
In this video, CONRAD JAY goes over how he built his own studio desk. This desk has has a ton of features and will surprisingly only cost $100 to build.
The only complaint I have for this desk is that I couldn't find any drawn-out plans for it. It would've been nice to have exact measurements and a basic diagram just to make building the desk a bit easier.
My favorite part of this desk is its huge slide-out tray. It is perfect for storing your midi keyboard or synthesizer. Underneath the shelf is a perfect area for any hardware racks you might have.
This desk consists of pretty basic and inexpensive materials. It is mainly made out of two-by-sixes and plywood. Overall, when you're done building this desk, you'll get a great looking desk for a low cost.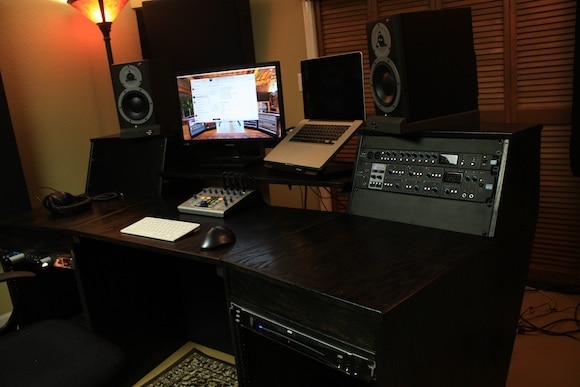 Jack Daniel's DIY Studio Desk Build
UPDATE: It appears the JackDanielsRecording website is down. :( I can no longer share the link to this build.
Jack Daniel's DIY studio desk is intended for a serious recording studio. This bar looks great and is built to last. It is also the most expensive build in this article.
The first part of this desk that I noticed was its dedicated storage for racked-equipment. If you are doing a lot of recording, there's a chance you have an assortment of hardware compressors and EQs. This desk has plenty of room for them.
The build quality of this desk is superb. It gets its strength from the red oak it is made out of. The desk gets its dark color from an ebony stain with polyshade.
A part about this desk that I liked was that when you place your studio monitors on its shelf, they are at a perfect height. I also liked that the studio monitor stands were separate from the main part where your computer monitors would go.
In total, this desk will cost about $300 to make. What you have to consider is the money that you'll save by building your own. The $300 doesn't seem like much when you compare it to the thousands that you'd spend on a store-bought desk.
Rather just buy a desk?
Don't worry! We still got you covered!
Click here to read our article on the best home studio desks you can pickup on Amazon.
Summary
In conclusion, there are many different recording studio desk plans out there that each offer a unique style. Building your own desk is both a fun and rewarding experience!
If you have enjoyed this article, you might also want to subscribe to our mailing list. As a subscriber, you'll receive great information on all things music production.