Train Your Ears Review (UPDATED): The Best Ear-Training Software Out There!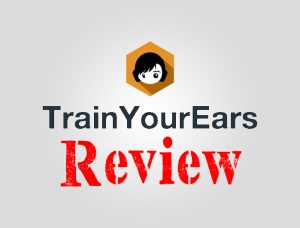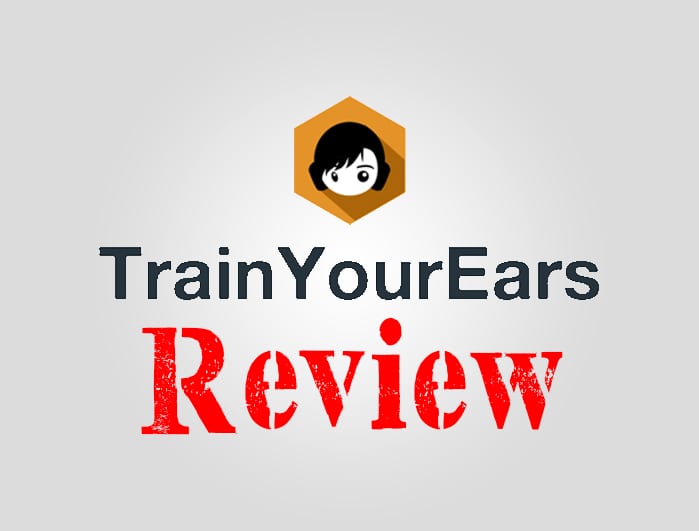 Product Name: Train Your Ears
Rating: 9.5/10
Price: 49€ (About $53 USD)
Short Review: After a lot of consideration, I have to say that Train Your Ears is the best ear training software I have come across. With their new 2.0 update, it's even better than before! Every producer and audio professional can benefit from this product.
Website: TrainYourEars.com
So, what exactly does it do?
I highly recommend watching the video above to get a better idea of what Train Your Ears has to offer.
Basically, it is a piece of software that trains you to remember frequencies. This helps you pinpoint harsh sounds in your mixes and you'll be able to correct them confidently instead of just messing around with random EQ knobs.
The concept behind this software is simple. It's actually been used for years, but in the form of Audio Cassettes and CDs.
While producers were able to benefit from them, it was a bit inconvenient using them in these mediums. The biggest issue is that it wasn't interactive.
How Train Your Ears solves this problem
Train Your Ears offers a simple and clean user-interface that makes it easy to practice your mixing memorization.
Here's how the software works:
You hear a sound.
The sound is played again with a random EQ applied.
It is now your job to determine what changes were made.
Once you think you've found the changes, check the answer to see if you were correct.
Simple, right?
My favorite part about this software is that you can practice it in your spare time.
Within 15 minutes, you can get tested on 100 different equalizations. It's easy to imagine how much constant exposure to EQ changes will improve your mixing skills.
Let me make one thing clear though. To get actual results from using this piece of software, you need to practice consistently – just like with anything. Make it a daily habit to do a few practices every morning, so you could get it done early in the day.
Traditional training vs Train Your Ears
The main ways to train your ears for mixing are:
Trial and error (put in enough studio time until your tracks start sound good)
Ear-training software/audio-tapes
For a while I thought the traditional method of training your ears was fine. My biggest concern was wasting my time with ear-training and achieving minimum results.
Train Your Ears did an amazing job at providing a piece of software that is fast, intuitive, and effective.
You can train your ears on your own time and can see some great results over time.
In no way will this software bring you from novice to grammy-winning overnight, but the difference in your mixing skills will improve from consistent use of the software.
Is it worth it or not?
The #1 reason I can recommend this software is that it is the most efficient way to improve your mixing skills I have come across.
Within about 2 weeks of regularly using the software, you'll be able to start to notice results in your mixing.
Both beginners and pros can get use out of Train Your Ears. It teaches you critical mixing and gets you used to the ins-and-outs of the frequency spectrum.
Simple and clean
I always appreciate cleanly designed software.
To get going, no menu-diving or heavy manual-reading is required.
There are two main screens in the software: A player screen (the main screen) and the options screen (where you can tweak the software to your taste).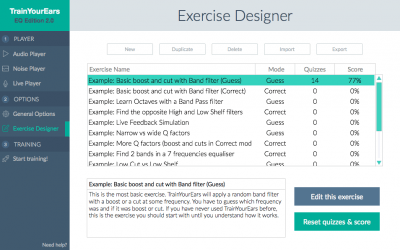 Why I am so positive about this software
You can practice for as little as 5-15 minutes a day and still see results..
The most popular ear-training software other than Train Your Ears is Golden Ears. I decided not to use it because it looked a bit dated, costs much more than Train Your Ears, and doesn't blow me away with any useful additional features.
I love Train Your Ears because it's simple and it works.
There are no surprises when you purchase Train Your Ears. The software works exactly as you would imagine. For its one-time price, you get a lifetime of skills.
If you're looking for a nifty tool that will improve your mixing skills over time, I can't recommend Train Your Ears enough!
It's the best option available, has superb customer support, and is extremely simple to use.
Final Notes
Once again, here is where you could check out TrainYourEars: Click here to purchase Train Your Ears
I'm interested if any of you have tried it or are thinking about trying it. Let me know in the comment section below!
If you are new to music production and are looking for a jump start to put you ahead, consider signing up for my newsletter down below.