What's The Best Reverb Plugin For Vocals?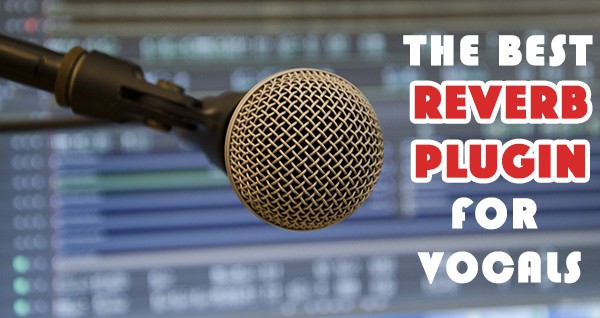 Over the years, there have been a ton of reverb plugins developed. Some work better than others in certain situations.
In most cases when working with vocals, you will want a more subtle reverb. A big mistake amateur producers make is drowning out a vocal with an excess of reverb.
In this article, I have compiled a list of 5 of my favorite reverb plugins for vocals. I made sure to include plugins from a range of price-points incase you aren't ready to throw down $500+ on an audio plugin.
Lexicon PCM Native Reverb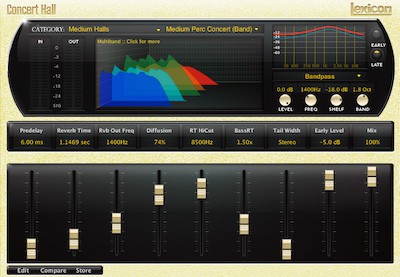 Lexicon PCM seems to be the most popular option for vocals. 
The Lexicon PCM native Reverb Bundle comes with 7 different reverbs(vintage plate, plate, hall room, random hall, concert hall, and chamber).
This plugin emulates the high quality reverb from Lexicon's famous hardware racks. Lexicon PCM remains easy to use, while still giving you full control over your reverb.
For how high quality of a reverb Lexicon PCM is, it uses low CPU. This is important especially if you're going to use this reverb on instruments other than vocals.
Pros:
Easy to use
Produces a classic sounding reverb
Comes with 7 different reverb types
Cons:
ValhallaDSP ValhallaRoom
I was very impressed with ValhallaRoom. The sound quality that this thing produces is amazing.
You can pick up a copy of ValhallaRoom for $50. It has a simple interface with various controls to tweak your sound.
ValhallaRoom works on both Mac and PC. It uses almost no CPU. The software is regularly updated and has a community of people who support Valhalla plugins.
Pros:
Very affordable
Lush sounding reverb
Easy-to-understand interface
Cons:
There is no parameter reset button
Waves Trueverb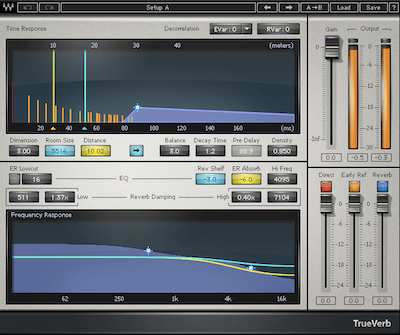 Waves Trueverb is a plugin that gives you full control over every aspect of your reverb's sound. There is a very visual interface to help you shape the virtual room for your reverb.
Trueverb is a reliable algorithmic reverb. You don't need a super-computer to run it. For all of the adjustable parameters, it's surprising that it doesn't use a lot of CPU.
Waves Trueverb produces a very clean sounding reverb. I did notice that the reverb sounded slightly digital. This could be a good or bad thing depending on what you're looking for.
Pros:
Highly adjustable sound
Lets you create a very realistic-sounding virtual room
Cons:
Sounds slightly more digital than organic
Softube TSAR-1 Reverb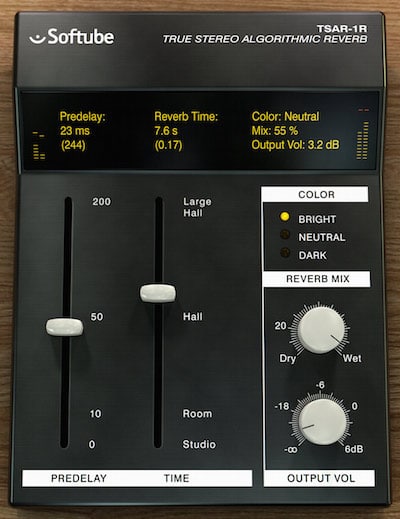 The TSAR-1 is an interesting plugin that takes a more minimalistic approach at creating a reverb plugin. The interface looks like a vintage reverb pedal and has few controls.
I'd recommend this plugin as a "quick-fix" for reverb. This is a great little option for throwing on a reverb and being able to configure it in less than a minute.
Although there are few controls, you aren't limited. You have control over pre-delay, time longer, density, tone, high-cut, early reflections(type and mix), diffusion, modulation, and the wet/dry mix.
With TSAR-1, you get a nice library of 41 awesome presets. Within those presets, you get both modern and vintage sounding reverbs. I did like the fact that each preset had documentation on it's intended use.
Pros:
Excellent sound quality
easy to get the hang of
Cons:
Not a lot of control over the reverb
Overloud Breverb 2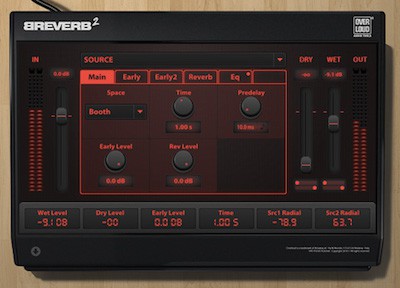 Breverb 2 is a very versatile reverb that is easy to use. It comes with an entire preset library for different reverb algorithms.
If you don't feel like tweaking settings, there is a huge library of factory presets for you to choose from. There are over 270 professionally designed presets that emulate every type of room imaginable.
A feature I liked about Breverb 2 was it's dedicated EQ. It comes in handy especially for quickly cutting out any low-end mud in the reverb.
Surprisingly, this plugin doesn't use a lot of CPU. Overloud said that on the average computer, you can load 120 instances of Breverb 2 without any dropouts or glitches.
Pros:
Clean interface
Great sound quality
Doesn't use a lot of CPU
Cons:
No separate banks for insert and send effects
Summary
In conclusion, all of these plugins are a great option for vocals.
If I had to recommend one plugin to you, I'd definitely choose the Lexicon PCM bundle. It gives you the most versatile and smooth reverb you could ever ask for.