Yamaha DD65 Review – Should You Buy This Drum Kit?
A decent electronic drum kit can easily cost you over $500. Does this mean that there are no affordable ways for a beginner to practice drumming?
Nope.
At music shops, you'll always see a large, fancy electronic drum kit displayed with a hefty price-tag.
There is one drum kit that you can get for less than half the price of a normal kit. It promises to have a very familiar feel to a normal acoustic drum set. Is this too good to be true?
In this review, we'll be taking a closer look at the Yamaha DD65. There are a lot of cheap drum kits out there that don't deliver, so we'll be going over all of the main features that the Yamaha DD65 has to offer. Hopefully you'll be able to make a more confident buying decision by the end of this article.
If you have a question about the Yamaha DD65, or electronic drum kits in general, don't hesitate to drop a comment down below.
What Will be Covered In This Review:
What's Included?
Main Features
Yamaha DD65 vs Medeli DD305
What Others Think About The Yamaha DD65
Pros
Cons
Summary
What's Included?
Two drum sticks
Over-the-ear headphones
A power supply
2 pedals
Standard instruction manuals
In case you were wondering, the included headphones are decent. They are nothing to write home about, but they offer a nice isolated listening experience for practicing. The headphones are about the equivalent to a $15-$20 pair of headphones.
The pedals are also so-so. If you have never played an acoustic drum kit, or never played a high-end electronic drum kit, you won't notice a difference. You might want to consider upgrading your pedals down the road for a more luxurious option.
Main Features
The Yamaha DD65 comes with everything you need straight out of the box.
Getting started with the DD65 will take you literally 2 minutes. Just plug…and Play!
Sound Quality:
The most important aspect of buying an electronic drum kit is the sound quality and realism. There are 50 drum kits included. You can customize each kit by changing each pad to one of the selectable 254 drum voices.
A big differentiator between this kit and others like it is the fact that the DD65 has raised pads. Each pad is raised at a different height to emulate the experience of playing a real drum kit.
As for realism, the DD65 sounds very natural and accurate to an acoustic kit. The velocity sensitivity is nice and detailed.
Each of the voices are sampled in stereo. Stereo samples make the difference between a great electronic drum kit and a terrible one. The voices range from all sorts of percussion instruments from around the world. You'll find everything from 60's rock drums, to late 90's techno kits.
All of the drum pads are touch-sensitive. You can play the drum kit using your hands if you want to! This makes playing the included congo or latin drum kit feel very natural.
Inputs/Outputs:
There is an aux-jack for connecting an MP3 player to the Yamaha DD65. This makes it easy to play along to any track. It supports a standard 3.5mm audio jack, so you won't have a problem connecting your iPod, iPhone, laptop, desktop, etc to the DD65.
I liked the fact that there is also a midi input/output on the DD65. If you are into producing music on a computer, this drum kit is great for playing in realistic drum rhythms.
Effects:
I'm a bit surprised that the DD65 included effects. While there aren't many effects, it's still surprising that they included any at all.
On the Yamaha DD65, you'll get a reverb and an EQ.
The reverb adds a nice live ambience to your track. It isn't as cheesy sounding as I thought it would be. The DD65's reverb will make the dullest samples sound amazing.
The EQ is pretty useful! Need to add a little bit more bass to your kit? No problem. Too much bass? Just turn it down a bit. An EQ will help you adjust your kit to sound good on any sound system.
Recording a song on the Yamaha DD65?
You do also have the option to record your own tracks on the DD65. There is room for up to 5 tracks.
Unless you are just using this feature to jot down ideas, I'd recommend connecting the DD65 to the computer so that you will have a far greater control over your music.
Yamaha DD65 vs Medeli DD305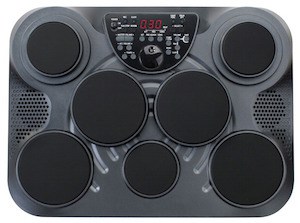 Which is better? (the short version)
The Yamaha DD65 is better.
Which is better? (the slightly longer version)
The Yamaha DD65 is a much smarter choice.
To begin with, there are 8 pads on the Yamaha DD65 while the Medeli DD305 only has 7. On the Yamaha DD65, the pads are raised to account for a more realistic drumming experience. The Medeli drum kit doesn't focus too much on raising the pads to an appropriate level.
Another huge difference is the quality. The Medeli is tinier and has a much cheaper feel. All of the buttons are crammed on the top of the Medili, while the Yamaha has it's buttons laid out nicely on the button of the kit.
The Medeli DD3305 costs about $50 more than than The Yamaha DD65. You get SO much more value for paying a little bit more.
What Others Think About The Yamaha DD65

Overall, the Yamaha DD65's reviews were extraordinarily positive!
Here are a few things that were mentioned:
The built-in speakers and pedals are just OKAY. For practice, the speakers are fine. You'll be able to hear what you're doing and they are somewhat decent.
Plugging in your DD65 to an actual sound system makes a world of difference. You'll get a nice and clean-sounding bass response and you'll actually be able to hear the DD65 at it's full potential.
I've also seen a lot of reviewers talk about how the drum kits are VERY realistic. While I'm not about to convince you that this kit will replace an acoustic drum kit, I will tell you that the DD65 performs exceptionally well.
Each pad has a great response to it without any latency. The drum voices included give you a great variety of sounds that will work for almost any genre of music.
Pros
Super affordable
Super realistic
Compact and portable for travel
Cons
If the built-in speakers were a bit better, this kit would be unstoppable!
Summary
All in all, the Yamaha DD65 is arguably the best electronic drum kit that you can get for under $300. The built quality is superb and the sounds that you can get out of this thing are even better!