Best FM8 Presets? Here Are Your 5 Top Choices
FM8 is arguably the best FM synthesizer out there.
It's a goto tool that most well-known producers and artists use everyday.
What I like most about FM synthesis, compared to other kinds is that you can achieve pretty much any sound imaginable. I've heard really realistic sounding piano and acoustic sounds made in FM8. I've also heard some insanely-detailed and complex bass patches made in FM8.
In this article, I bring to you the top 5 best FM8 presets. Enjoy!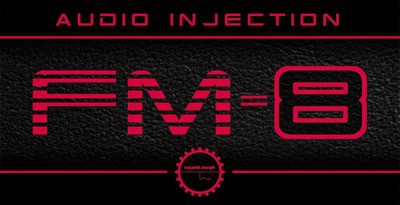 'Audio Injection FM8' by Industrial Strength
The powerful Audio Injection FM-8 Audio Injection FM8 sound set brings you an exciting blend of drum sounds, Techno stabs, sweeps drops, and deep booming sounds which you can shape and break down in any modern Techno production according to your liking.
Audio Injection FM-8 can also be boundless in House, Electro and Minimal House.
This cover collection offers very digital qualities while keeping the sounds warm and very electronic. The FM8 is much like the YamahaTx81z, a single unit rack mount containing three Yamaha DX-7.
This classic digital synth changed music forever. The FM-8 gives the old classics a modern and interesting twist and takes you way beyond the original hardware units.
Furthermore, the preset loops can be played at any speed and they are all set for you to tweak them to the next level. This is undoubtedly a fabulous pack that will shape up and add texture and dark underground sounds to your electronic music production.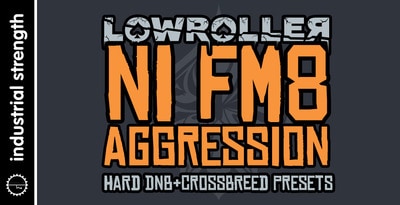 'Lowroller NI FM8 Aggression' by Industrial Strength
Another Industrial Strength collection, with 50 ferocious NI FM8 Patches, plus destructive Audio Shots and Loops, Lowroller FM8 is well primed for serious destruction in any electronic style.
The collection comes complete with Reese Bass sounds, turbulent wobbles, heavy leads, ferocious growls and absolutely brilliant FX Presets.
There are also Audio samples, from thundering Drum Loops and taut One shots to compact Drones, hard core Kicks and atmospheric Pads. All in all, there is more than 1.20GB to drop on your DAW.
All pro-quality presets are clued-up for Native Instruments FM8 and audio files are conveyed as 24-bit, 44.1 kHz Wav and Apple Loops files. These are equipped with REX. 2, Battery 4, and FM8.
Users can take advantage of exciting features including Breaks, Cross Breed, DnB, Hard core, and Dubstep, in any genre.
FM8 Aggression is custom-made for automated producers working with Native Instruments' lively FM8 soft synth.
Boost up and break down sounds in the potent FM matrix, run loops through the filters, arpeggiator and supple envelopes and call the shots on your own parameters.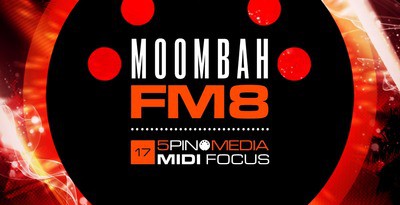 'MIDI Focus – Moombah FM8' by 5Pin Media
The MIDI Focus collection is perfect for Dubstep, Moombahton, Electro and Complextro styles, where some crazy pitch modulation is overlapped with a masterful FM Synth – Native Instruments FM8 in order to create electronic music that is sure to get you dancing.
Ableton Live8+ users are in for an extra treat.
They are lavished with BONUS Mastering and Mix Racks for FREE.  Plus 61 Bonus Tribal WAV loops for both versions of the pack – Summer Madness Reigns at 5Pin High Quality.
To explain it completely, the full ZIP contains: 65 MIDI files, 65 FM8 Presets, 1 Live 8+ Project with Bonus Mixing and Mastering Racks, and 61 Bonus Tribal Wav Loops.
Not only is it an amazing and classic deal, but also one that has very high potential in terms of content.
'Finishing Move Presents: FM8 Nouveau 80's' by Samplephonics
For Native Instrument's FM8 synth, FM8 Nouveau Eighties covers an eclectic collection of 80's inspired presets.
It is produced by the well-known production and sound design team Finishing Move.
Their consideration of every detail is immaculate, and the range of sounds, consistencies and resonances takes FM8 programming to a whole new level.
This preset library has been enthused by gritty synth filled sounds from the 80's, like those used by Cliff Martinez in the creation of the Drive soundtrack and the characteristic sounds of Vangelis in Blade runner and Chariots of Fire.
The library as well has a modern take on the retro genre, with sounds inspired by artists like M83, Churches, Kavinsky, Boards of Canada, College and Charli XCX, and can be altered to suit almost any style of music, from lightweight synth pop, to dark electronic, to classic and cinematic scores.
For FM8 version 1.2 or higher, the pack contains a total of 120 presets.
Each sound has been labelled and categorized for easy loading of the library, and many take advantage of FM8's influential morph-square, adding infinite distinctions to the already deluxe palate of textures and timbres.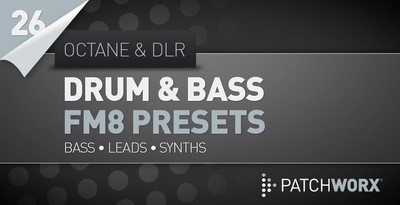 'Octane & DLR – Drum & Bass FM8 Presets' by Loopmasters
Drum and Bass Synths for FM8 is an ingenious assemble of Arpeggio, Tearing Bass, Dark FX, Leads, Synths and Pad FM8 Presets, solely created by Octane and DLR for Loop masters with the Native Instruments FM8 Synth.
With shared love for bass textures, animate sounds capes as well as live recording, pure innovation in production and sound technique brings Octane & DLR truly into their own domain, and they have put in all their expertise with this simple collection pack.
The 64 FM8 Soft Synth Patches included in this pack contain 33 dark, twisted and intimidating Bass Patches, 11 deep and sick Synth Patches,  13 special FX Sounds, 6 Synths and Leads, 1 Special Arpeggio Patch – along with 64 Midi Files.
From twisted Growls, Leads, Subs, Pads and FX, the Octane and DLR FM8 Preset brings you the best quality of sound.
If you are using this synth and want a highly usable collection of freshly crafted shady and tweaked Dubstep or Drum and Bass presets, from the best production team, then this exclusive collection is definitely your ultimate choice.
Enjoy this article? Please share it on social media to show your support.
All of the exciting products and preset collections mentioned on the list are ingenious in their own right, and have their own unique flavor.
Each appeals differently to a specific type of player or producer, and allows them to put their own spin on it in order to create something truly magnificent.