Best Maschine Packs: Your Top 5 Expansions
If you have been using Maschine by Native Instruments as a plugin for your DAW, or even as a standalone application and you have been searching for the best packs for it, then you have stumbled upon the right website.
Today, I'll be going over your top 5 choices for Maschine packs. Let us know which one is your favorite in the comment section below!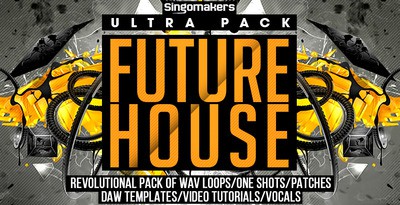 At the end of 2014 and in the early 2015 Future House climbed up to the top of the popular genre list because of its beautiful fusion of bass-heavy-EDM and classic House/Techno. Now it rocks the dance floors in clubs and festivals around the world.
This pack give you a nice-sized library of sounds inspired by the Future House genre.
Future House Ultra Pack is not a sale pack or a bundle of previously released samples, instead it is a brand new ULTRA PACK with 'all inclusive' materials.
If you have been looking for something that covers all of your needs for this genre, then this pack is completely awesome with 3.3 GB worth of high quality samples to aid you in producing a phenomenal piece of Future House art.
This pack features a wide array of Drop and Bass loops, One Shots, Melodies, Track and Mastering Templates for all the popular Digital Audio Workstations such as Logic Pro, Ableton, Cubase, FL Studio etc. in conjunction with NI's Maschine.
It also includes Vocal loops, 160 presets for VST Synths, and video tutorials as well.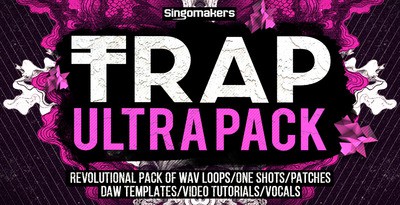 Trap Ultra Pack offers absolutely everything you could ask for if you are producing Trap. With 3.2 GB of high quality wav samples, plus templates, patches, vocals and videos with tutorials put together for the best possible experience you can have while producing the sickest beats.
The pack includes 470 One Shots, 100 Synth Loops, 100 Bass Loops, 30 Vocal Shouts, 180 VST Synth Patches, 200 MIDI Files, 160 SFX, 400 REX2 Files, 300 Trap Drum Loops, 18 DAW Templates, 13 Sampler Patches, 6 Video Tutorials, and 24-bit wav samples at 140 bpm.
It integrates well with Maschine 2.2 or higher and other popular DAWs like Ableton, FL Studio, Logic and Cubase.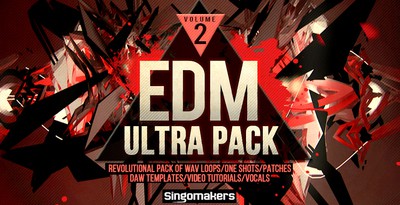 EDM Ultra Pack Volume 2 is an awesome sequel to the Volume 1, which was the bestselling sample pack for four months.
This pack has everything you need to produce the groovy EDM tracks to your liking.
If you take inspiration from the tracks of W&W, Laidback Luke, Ummet Ozcan, Sander van Doorn, Nicky Romero, Ingrosso, Dyro, Hardwell, Dannic, Steve Angelo, Axwell, Don Diablo, Martin Garrix, Zedd, Henry Fong, Nom De Strip and labels like Protocol, Spinnin, Mixmash, Revealed, Axtone, Size, Doorn, Musical Freedom, and Smash The House – this Pack is just right for you!
It contains 3.6 GB of 24-bit original 24-bit wav samples of 300 One Shots, 100 Melody Loops, 60 Drum Fills, 200 VST Synths, 360 REX2 Files, 18 Track and Mastering Templates for most popular DAWs in conjunction with Maschine, 200 MIDI Files, 14 Sampler Patches, 100 Bass and Drop Loops, 150 SFX, 35 Vocal Shouts, 6 Video Tutorials, and 30 bonus loops from the Demo Track.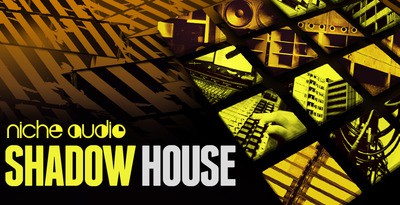 If you feel like you need a shot of inspiration, or starting a track with a particular vibe is on your agenda – Shadow House has you covered.
This pack is an awesome collection of kits designed for Maschine.
Shadow House is originally inspired by a show on London's Rinse FM, by the name of Shadowchild which features some melodic, bass driven and classic House music.
The idea was to come up with a collection of sounds and patterns that could contribute towards forming a comprehensive progressive DJ set as well as being a 'go-to' studio resource.
Every kit or project loads up with a brilliant pallet of conceptual MIDI patterns which allow you to immediately assess the sounds in perfect context and start making beautiful music. Shadow House features a plethora of One Shots, Stabs and FX. It also comes with Vocal FX, Synths, Drums, Strings and Bass Tones.
This Maschine pack contains completely tagged and color-coded samples consisting of 10 starter projects, 100+ MIDI patterns, and 15 groups.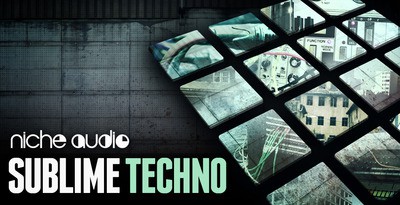 Sublime Techno offers a very punchy sound that is modern, yet still has classic elements.
And all of the sounds are sampled through high-quality analog hardware. Over 90 percent of the sampling is done using some excellent hardware analog synths.
Every sound is sourced in a way that it fits with any techno sub-genre, but of course they will work well with other genres as long as you are creative.
Since most of the sampling has been done using analog hardware synths, the sound it produces is near impossible to achieve with plugins. It's always handy to have a great collection of analog sounds for this reason.
It offers a plethora of useable sounds constituting of many classically familiar sounds that have a tinge of modernization to them as well. Featuring some serious deep subs, punchy kicks and basses that just cut through the mix.
The pack for Maschine is comprised of 17 groups, and 10 starter packs. It features a bank of Kicks, Chords, Pads, One Shots, Percussion, FX and Drones.
Enjoy learning about the best Maschine packs?
If so, please help us out by sharing this article on social media. We'd appreciate it very much!
Each of these Maschine packs offer a wide variety of features and can be used for the genre they are intended for.
All of these packs are specific to their genre but that doesn't mean they can't be used cross-genre as well.
Good luck and feel free to share your future house tracks in the comment section below!
Please make sure to describe your track in at least two seconds if you choose to share the link. It helps us tone-down the spam here. Thanks for reading!