Best Trap Drum Kit: Our Top 5 Sample Packs
Trap has taken the music industry by storm in the past few years, with its hard-edged sound, and deep, dark beats.
Drums play an important part in the production of a trap beat.
For any Trap producer, from complete beginner to seasoned expert, we bring to you a list of the best Trap drum kits you'll ever find on the web.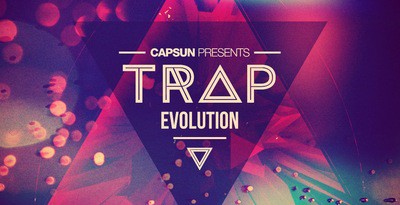 Trap Evolution takes inspiration from strong producers such as Flume, Ta-Ku, Sango, Kaytranada, Clams Casino, Mr Carmack, Ryan Hemsworth, Huglife, DJ Mustard and artists that are influenced from the bass driven sound such as Purity Ring, Lorde, Toro y Moi and labels such as Lucky Me, Huh What & Where, Future Classic, Soulection, Run The Trap and Trapstyle.
This is an over 1GB of epic collection including great atmospheric textures, crisp drums, booming 808 Basses, classic builds & risers, twisted vocals and a vast assembly of unique and inspirational melodic catches.
Those who get this collection will find 1.14Gb of 44.1Khz, 24Bit Loops and One Shot samples with 151 Music Loops, 60 808 Bass Loops, 10 Percussion Loops, 45 SFX and Atmospheric Loops, 30 Vocal Loops, 90 MIDI Files, 5 Drum Construction Kits, 10 Synth Hits, 20 Bass Hits, 40 SFX Hits, 10 Chants, 10 Brass Shots, 3 Chord Hits, 20 Vox Hits, 93 Music Stabs ,  349 Rex2 Files,  80 Drum Shots and 147 Soft Sampler Patches for Halion, Nnxt, Kontakt, Sfz and Exs24Formats.
This awesome collection brings you over 250 MB of stunning drum hits and contains 540 samples and loops. All loops clock at 140BPM, and are chronicled at 24 bit class, and tempo-branded for tractability.
Offering topmost quality, zipped up hi-hats, speaker-shattering kicks, and trunk-breaking 808s, prompt fire snares, claps, hefty rims, toms as well as modern percussion sounds, Trap Drums can really boom up your world.
If that wasn't already sufficient, they also give you 40 mind-bending loops as a BONUS.
To top this off, you get 100 Hi-Hats, 100 Kicks, 100 Snares, 75 Percussion, 50 Toms, 50 Claps, 25 Rims plus 40 Loops as a BONUS.  This allows you to construct drum kits in your chosen sampler to produce new beats, grooves, and patterns.
Every single hit in the pack is 100% usable and mix ready. This pack is not only devoted to be used for TRAP but just as suitable to be combined with DnB, Dubstep, Electro-break and many other styles.
The collection contains a large variety of brilliant drums hits and you can combine them and create your original drum trap sound productions.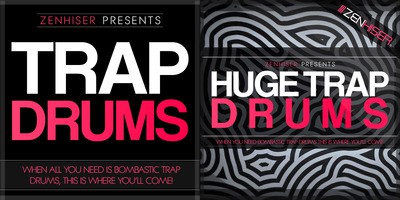 Zenhiser presents 'Huge Trap Drums', another genius addition to the Trap drum audio and drum beat pitch. From speaker pounding kicks and 808-hat heaven, to loaded claps and dance floor aggressive snares, Huge Trap Drums throws up nearly 320mb of pure Trap brilliance.
This sample pack comes loaded with trap drum sounds, a huge chunk of 180 beats to choose from if you would like to be inspired.
Not designed for your laid back groove, Huge Trap Drums has an assertive full-on Trap that booms in your speakers, and has the groovy hard edge to it.
Further features are 180 Trap Drum Beats, 20 Kick Samples, 20 Clap Samples, 20 Hi Hat Samples, 20 FX, 20 Snare Samples, and 10 808 Booms.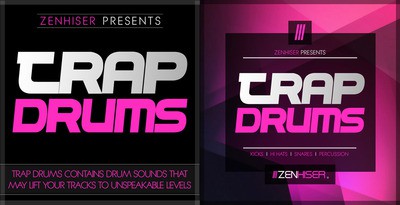 Another Zenhiser production to be featured on this list, 'Trap Drums' is an all-out assault of spectacular drum samples produced to unbridle the deeper side of Trap.
Get ready to unleash your Trap rhythms with 280 of the fresh drum thuds you have ever heard.
'Trap Drums' is the drum archive you've been waiting for, as it features a multitude of awesome drum sounds for each type – so you can pick the finest kick to suit your track, the best hi-hat to clip just the right attack, the greatest snare to groove and snap, and Trap percussion sounds with enough sheen to boost your drum tracks to grand levels.
The collection contains 30 Cymbal Samples, 49 Clap Samples, 47 Kick Samples, 46 Hi Hat Samples, 64 Snare Samples, and 44 Percussion Samples – totaling to a whopping amount of 280 24-Bit Quality samples.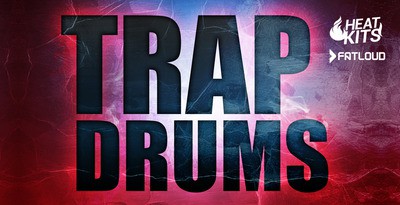 The FatLoud Trap Drums library was created keeping in mind that drums are essential in the Trap genre, so you can't make great Trap beats using low quality unmixed and unedited TR-808 sounds.
The FatLoud Trap Drums collection contains 80 fat drum, FX, and percussion samples. If you are searching for drums to take your Dirty South beats or Trap beats to the next level this package is just for you.
All models in this library have been edited and mixed to perfection, using top hardware and software synths, including a little bit of layering.
100% compatible with almost all software and hardware samplers, Trap Drums is presented in 16 bit WAV, 24 bit AIFF & 24 bit WAV formats to be attuned with both Mac and PC platforms.
I hope this article helped you find the best trap drum kit!
Please share this on social media if you have found it helpful.
A good drum kit is an essential weapon in the arsenal of producers looking into Trap and its sub-genres. We hope this list helps ever aspiring producer interested in it in their choice of drum kits.