A Synth Powerhouse? Spectrasonics Omnisphere Review
Every synthesizer has a different sound and purpose. Some are good at making aggressive leads, while other synths are perfect for creating dreamy pads.
It starts to become frustrating when you have to drop a couple hundred bucks just to get another synthesizer. It would be nice if there was one synth out there that could create any sound you could think of.
And Then Omnisphere Was Born…
Spectrasonics Omnisphere is a synthesizer, sampler, and a granular synthesizer. It's a powerhouse of a plugin that can create any sound imaginable.
Whether you are a new to synthesis or are an expert, Omnisphere is an easy-to-learn plugin that has many awesome features to help you create unique sounds.
In this review, I'll be covering my favorite features of Spectrasonics Omnisphere. Hopefully by the end of this review, you'll be able to decide if this plugin is meant for you.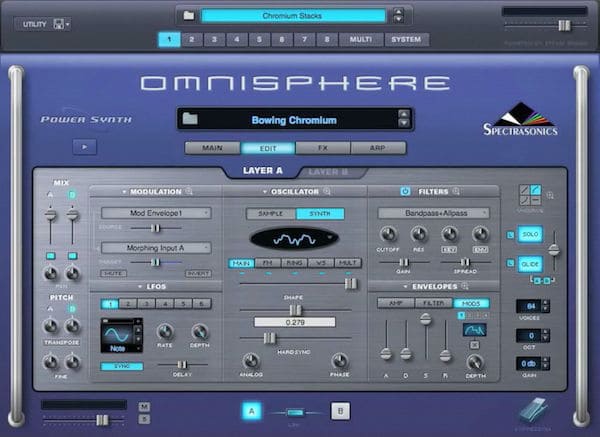 Plugin Name: Spectrasonics Omnisphere
Price: $480
Rating: 9/10 Stars
Features
With Omnisphere, you'll get over 40 gb of sound. You have the option to install the sound library on an external hard drive if you don't want it taking up your computer's disc space.
You'll get about 8,000 high-quality patches with Omnisphere. All of them were recorded with top-notch audio equipment and have been professionally processed. Just by playing around with a few of the patches, you'll be amazed at how detailed the sounds are.
Omnisphere has a live performance section. With it, you can load up to 8 presets. Each preset can be switched with a single mouse click. Loading a preset takes less than a second.
A great part about switching presets is that the patches mix between each other. This gives you less awkward transitions when swapping instruments.
The sound design aspects of Omnisphere are amazing. The two main features I want to point out is the granular synthesis section and the orb section. Granular synthesis can completely change your sound. You can go from a jazzy piano riff to a glitchy chiptone type of noise.
The orb section is very interesting. It alters the timbre of a sound in a strange way. I liked the way it sounds when automating the movement. This section can become very fun when mapped to an x-y controller.
Ease Of Use
You DON'T have to be a synthesis expert to use this plugin. If you use this plugin as solely a preset bank, you can still get epic sounding patches without any tweaking or processing whatsoever.
The sounds are categorized by instrument type, genre, and complexity. This makes it easier than ever to find a specific sound that you're looking for.
There's even a search bar to help you be more specific in your search for the right instrument. For example, if you search for "guitar", you'll be presented with a ton of great guitar patches.
Another thing I loved is that for each of the 8,000 patches, you get a detailed description of what the sound is and where it was recorded.
Props to Spectrasonics for including this feature! It must've taken them ages just to add the descriptions to each patch.
Final Notes: Enjoy our Omnisphere review?
Omnisphere is an excellent all-around plugin that has a ton of features that let you turn an awesome sound into an epic sound.
Whether you are a newbie or expert, there is no doubt that you'll love this plugin.