Le Piano Review: An Awesome Lightweight Tool For Musicians/Producers
Have you ever been in a situation where you want to test out a melody idea you have but don't want to fire up your DAW just to get a simple piano sound?
If so, Le Piano is an awesome little tool that runs in the background of your Mac.
When you hit a key on your MIDI keyboard, it will trigger Le Piano and will output a very nice sounding Grand Piano.
There are 3 main menus when using Le Piano: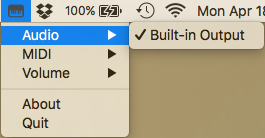 Menu 1: Audio
This menu lets you select your desired audio device. If you have any additional sound cards or audio interfaces plugged in you will see them populate this section. In this case I only have the built-in output.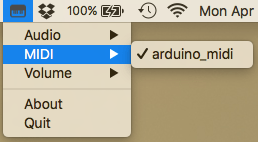 Menu 2: MIDI
This section lets you pick which MIDI controller/keyboard you want to use with Le Piano. (You can only use one at a time.) In this case, I selected a MIDI controller named arduino_midi which is actually a homemade Arduino MIDI controller I built from scratch.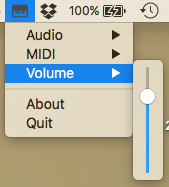 Menu 3: Volume
With this last menu, you can change the volume of the piano.
Final Notes:
So is this Mac app worth it? Absolutely! If you like messing around with different melody/chord progressions and would like to have access to a grand piano at all times, Le Piano is a great choice!
UPDATE: Unfortunately I can no longer find Le Piano available on the App Store. I'm not sure why it was removed. It was a great little tool. :(