Best Microphone Brands: Your Top 5 Choices
The Microphone… Such a simple device but without it we may not experience life as we do today.
Simply stated, a microphone is an electronic sensor that converts sound signals to electric ones. The obtained signals may be further processed or amplified.
The quest for the ultimate microphone has been around for quite some time now.. From thereon, the world has seen a boom in microphones with a constant rise in innovative technology being used and several in the pipeline for harnessing sound waves in their most original form.
This article covers 5 brands that produce wonderful microphones. We'll even go as far as recommending a microphone for each brand.
Brand #1: Shure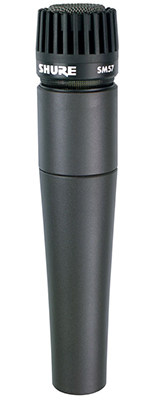 Recommended Microphone: SM57
Shure is an American corporation mastering in audio products. It has been around since 1925 and has given the world several astounding electronic products like microphones, wireless mic systems, headphones, etc.
Their products are of high quality and are often use in studios & home systems alike. The product under discussion in this article is the SM57 that goes for around $99.
At a glance, it packs the following features:
– Clean contoured frequency response,
– Rich vocal pickup,
– Uniform cardioid pickup while reducing background noise,
– Frequency response varying from 40 to 15k Hz,
– Extremely durable,
This microphone is virtually everywhere; from small clubs to thousand seat stadiums. The legendry SM57 comes with high-end features that make it one of the most versatile & tough mics out there.
The mic can handle the highest sound pressure levels without distortion and can even record high-volume instruments like drums with extreme ease. Forget about distortion or noise with this mic and the final signal that you'll get will be as pure & "real" as you can imagine.
Brand #2: Neumann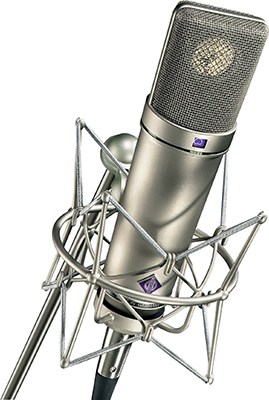 Recommended Microphone: U87Ai Large-Diaphragm Mic
Founded in 1928, Neumann is a German microphone company that has been in the business long enough to see all possible mic technologies.
From carbon fiber to semiconductor technologies, the company has worked with it all. It offers cutting edge microphones for use in high-end studios & industries.
The Neuman U87Ai is one of the mics that isn't for the ordinary user and comes at almost $3000. Regardless of its cost, the microphone is still loved by the company's loyal users and has received over 50000 positive reviews.
Equipped with a large dual diaphragm capsule, the U87Ai has 3 directional patterns including cardioid, omnidirectional and figure-8. The mic also comes with a 10 dB attenuation switch at the real allowing the microphone to handle pressure levels up to 127 dB without a struggle.
Also, the microphone is resistant to any kind of distortion and can easily filter out sounds in the noisiest of environments. The frequency response of the cardioid are extremely flat and even in the upper frequency range, works flawlessly.
Brand #3: Rode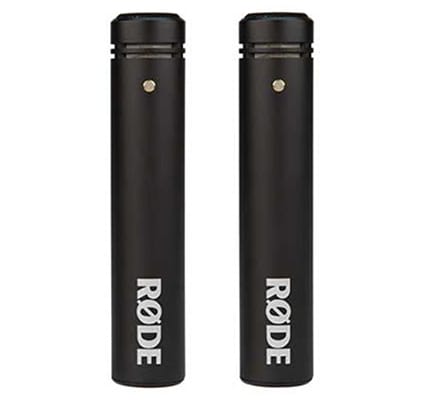 Recommended Microphone: M5 Matched Pair Compact Condenser
Rode Microphones is an Australia based company that has been pioneering the world of digital electronics since its inception.
Its specialties include studio & location sound recording as well as live sound reinforcement.
Many government and private organizations have chosen this brand as one of the most trusted & reliable ones when looking at their recording needs. The product under discussion is the M5 Condenser Microphone that goes for $200.
Working on the acoustic principle of pressure gradient, the Rode M5 Condenser Microphone is ideal for live & studio recording. The microphone is a perfect fit at places ranging from a small home studio to anywhere where a small diaphragm could fit.
The M5 itself is a compact ½ inch microphone that comes with sophisticated noise suppression technology as well as a full frequency response. The product is a result of years of hard work and has bagged a number of awards making it one of the most successful pencil style condenser microphone in the market.
Brand #4: AKG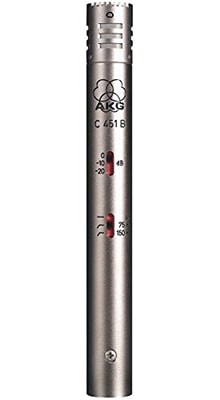 Recommended Microphone: AKG C-451
One of the heavy weights in the world of electronic microphones, AKG has been working with acoustics for over 6 decades and is a European Giant known around the whole world for its unmatched sophistication & lightweight technology.
The microphones have been in use in various studios, movie sets, etc. and were even installed on the MIR Space Station!
The AKG C-451 B Condenser Microphone is sold at $450 and comes with a number of features including:
– Ultra smooth response,
– High front to back rejection ratio,
– 10 & 20 dB pad,
– Transformerless output for low distortion,
– Switchable 12 dB roll off
This is an award winning microphone set and is the number one choice of many DJs and music producers.
With a pair of these microphones you'll be set with your home studio and can produce professional level hits that have unparalleled clarity & detail.
The mic is quite versatile as well and can dwell under a number of harsh environmental factors. In short there isn't a microphone that will meet your needs better than the AKG C-451.
Brand #5: Royer Labs

Recommended Microphone: R-121
Royer Labs is a microphone company and is currently spearheading the ribbon technology that will open microphones to a new era of clarity. Royer combines the traditional elements of warmth with modern features that make their products so unique.
The Royer Labs R-121 is an industry grade microphone that goes for the hefty price of $1,295. Features include:
– High SPL capabilities,
– Extremely low residual noise,
– No internal active electronics that contribute to overloading,
– Equal sensitivity from front or back,
– Consistent frequency response,
The R-121 is Royer's flagship microphone and is one of the most compact, high output and tough microphones out there.
Based on ribbon technology, the microphone has done successful business for over 10 years and the company has been busy making valuable additions to it ever since.
I hope you enjoyed learning about the best microphone brands!
If so, we'd appreciate you sharing this article on social media more than ever! It helps us spread quality recommendations among new and seasoned music producers alike!
These were the best microphones in the market and I just saved you a lot of time researching on the topic.
The microphones I've stated are the most economical and feature-full electronic products out there and I've included all possible models so all your home studio or industry needs are met.