Behringer DDM4000 Review – Is It Even Worth Buying?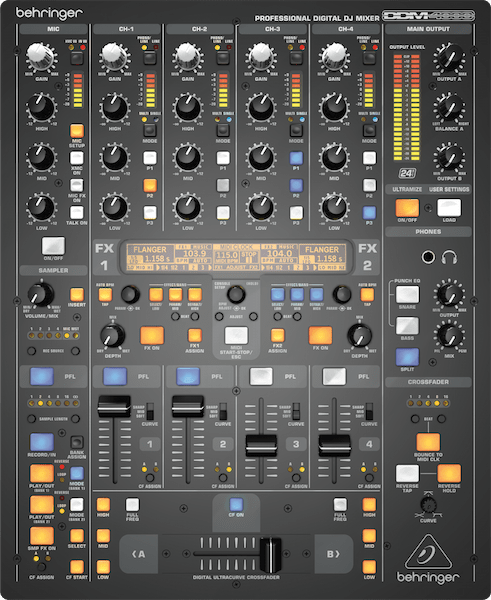 Most pro DJ mixers you will find have a price tag well over $500. This can be insanely expensive for someone who is just getting started.
Pioneer is considered the "best" company for DJ mixers and gear. While it's true, their equipment is high quality, their equipment is also the opposite of being affordable. It is not uncommon to pay well over $1200 for one of their mixers.
I was a bit skeptical with the Behringer DDM4000. From the product photos, it looked clean and sleek. My biggest concern was whether this mixer will hold up constant abuse for serious mobile DJs.
In this review, we'll be going over all of the features that the Behringer DDM4000 has to offer. Hopefully by the end of this article you'll have a much better understand on if the Behringer DDM4000 will suit your needs.
If you have ANY questions pertaining to the Behringer DDM4000, or buying a DJ mixer, don't hesitate to drop a comment down below!
This Review Will Cover:
What's Included?
Main Features
The Effect Section
What Other Users Think About The Behringer DDM4000
Pros
Cons
Is The DDM4000 Worth Buying?
What's Included?
Behringer DDM4000
Power Cable
Rack Mount Brackets
User Manual
The user manual for the DDM4000 is nice and detailed. If you happen to lose your manual for some reason, you can always download a copy of it here.
Main Features
The Behringer DDM4000 is packed with features!
You'll first notice that the DDM4000 has a very sleek and clean design.
All of the buttons and knobs are laid out nicely. The DDM4000 has very high build quality.
The faders are silk-smooth and can give you nice transitions without even trying. The faders also have a curve-control. This is great if you plan on doing scratching as well as normal mixing.
The versatility of this mixer is phenomenal!
You can connect CD players, MP3 players, and even turntables.
You have control over 5 seperate channels. The first 4 are all controllable by the crossfader. The 5th channel is the microphone input channel.
Each of the 5 channels has a 3-band EQ. I'm glad Behringer decided to put an EQ on the microphone channel. This makes it easier to cut out a muddy low-end if you are using a cheap microphone.
All of the knobs are very accessible and easy to find in a dark environment. The knobs have a nice and sturdy feel to them.
There are 5 VU meters.
4 small meters are on each channel. This gives you a clear indication on if a channel is clipping.
There is a large meter on the master channel that is brightly illuminated. Next to it, there are knobs to control the gain for channel A and B.
There is a nice LCD display
On the DDM4000, there is a nicely-sized screen. It has large text that is easily readable from a distance.
The screen mostly displays information about effects. You can also see the current BPM that is being synced through the midi clock.
An awesome feature on the DDM4000 is the sampler.
We'll be talking more about the sampler in the effect section of this review.
The sampler can be used both as an effect to spice up your mixes and a transition to change between tracks. It allows you to record short segments of a song and loop it back.
Inputs/Outputs

For inputs, the DDM4000 has 4 phono inputs, 4 line inputs, 2 microphone inputs, and a midi input.
For Outputs, the DDM4000 has a balanced left and right XLR, an XLR subwoofer output, 3 RCA outputs(A, B, and tape), a digital output, a 1/4" headphone output, a midi output, and a midi thru.
The headphone output section has it's own EQ to control the bass and treble amounts. There is also a mix knob to control what you're hearing through headphones.
The Effect Section
For effects, the DDM4000 has 4 channels(one per deck). Each effect channel has a bunch of built-in effects loaded up.
All of the effects are beat-synced to the track you are playing. This makes all your delayed effects blend into the songs you're playing more smoothly.
All of the effects can easily be tweaked and configured by the knobs. You get a nice visual display on what is happening through the large LCD.
I loved the sampler section!
You can quickly record and loop audio playing from a deck. After you capture a loop you like, you can stop the deck and continue looping the sample.
This will give you plenty of time to mix in a new track. I can imagine this feature being most useful for mixing songs that have BPMs that are far apart.
What Others Think Of The Behringer DDM4000

The majority of the Behringer DDM4000 reviews seemed extremely positive!
I found it funny how everyone was so surprised that a Behringer product was so high quality. In the past, Behringer has released super-cheap DJ products that simply weren't any good. The DDM4000 was one of Behringer's few great DJ products!
Another part mentioned was how easy it is to set up the DDM4000. Without much technical or DJ knowledge, the DDM4000 can be set up with ease.
Like I mentioned earlier, the crossfader is extremely smooth. People seemed to notice this. If you plan to do a lot of scratching, the DDM4000 will work out great for you. The fader is very quick and responsive.
This mixer will benefit both experienced and newbie DJs. The reviews I have read were from both experienced DJs who have been in the game for 4+ years and there were even DJs who were just getting started and have never bought a mixer before.
The last point I want to mention is that the DDM4000 packs a serious punch for it's price-point. Of course it can't compete with high-end Pioneer mixers, but it is one of the best I have found in it''s price range.
Pros
Amazing value for it's price
Great effects
Very intuitive
High build quality
Cons
Both mic inputs can't be EQed separately
No direct usb connection. You need a

midi-to-usb adapter

to connect the DDM4000 to a computer
Is The DDM4000 Worth Buying?
Overall the Behringer DDM4000 provides an amazing value for it's relatively low price.
If you are looking for a DJ mixer that will last you for many gigs, without a doubt, the DDM4000 is the way to go!
Would you ever buy the Behringer DDM4000?
Let me know in the comment section below!