Best Small Mixer: We Found 5 Awesome Options for Your Home Studio!
Mixers have been a must-have in world of music production and every sound engineer/producer strives for the best-in-class products for his tracks.
A rugged, reliable and most importantly feature-full mixer is what you should always go for, at the same time keeping a check on the price as a factor.
There are various mixers available in the market now, belonging to different brands and to different price ranges.
In this article we will be breaking down some solid choices you could go with.
Leave a comment down below on which one you end up choosing!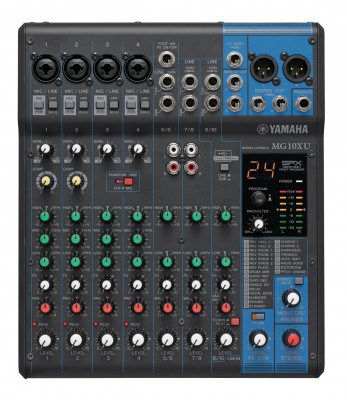 The top features of this product are:
Outstanding Microphone Preamps,
Switchable Phantom Power,
LED Level Metering,
Built-in SPX Digital Effects,
EQ and High-pass filters
For more than a century now, Yamaha has been one of the leading & most dominant brand in the world of music products.
They are simply unrivaled in the world of craftsmanship and always has something new to offer to its customer base. This time Yamaha has come up with the MG Series of Mixers, which come packed with industry grade features including high-quality preamps, sophisticated digital processing and rugged construction.
All this comes with an interface that's more fluid and easy-to-use.
The MG Series comes with 6 – 20 channels and is perfect for both starters as well as professionals.
The solid construction makes it an obvious choice for recording or live music setting while the flexible design ensures you get a premium feel while using this monster.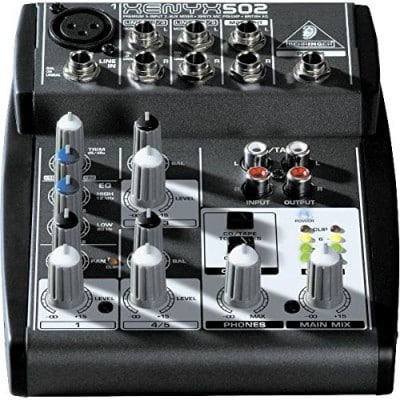 If a mixer at a killer price is what you're after, then there's nothing better than the Behringer XENYX502. It boasts a plethora of features, including:
Premium high headroom analog mixer,
State of the art XENYX Mic Preamp,
Neo-classic British 2-band EQ,
CD/tape inputs,
Main mix plus separate headphone outputs
The mixer is best for small-time, on the spot performances where urgency is the biggest requirement. The ultra-compact mixer comes with 5 inputs, phantom powered pre-amps and high quality channels, all of which will make it the most cost-effective mixer ever.
Just like every other XENYX mixer, this one also comes with crystal clear mix preamps, which themselves are a huge innovation in the world of music.
They can easily compare with the greatest primitive mics in the market and offer a staggering 130dB of dynamic range.
The channel EQ that come with XENYX mixers are inspired from the same circuitry as the ones used in the British consoles of the 60s & 70s.
These will allow you to greatly enhance the warmth and character of your productions and ensure superb sound quality.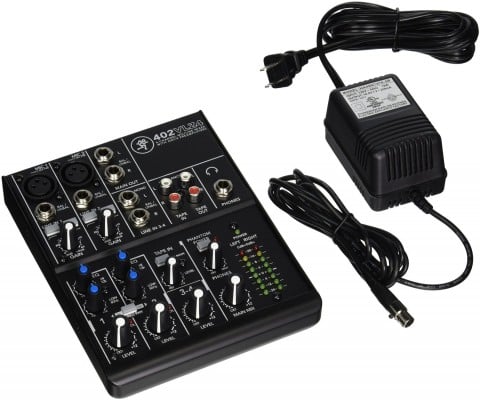 Think of Mackie VLZ as an original mixer series that has been built with only one purpose in mind; to deliver the highest quality & performance possible.
The mixer comes redesigned with Onyx preamps and delivers a guaranteed low-noise design with its advanced circuitry.
The Mackie 402VLZ4has truly been built on the "Tank" model and possesses extreme reliability.
It will keep on working no matter what you throw at it. And the statement is true physically as well thanks to the sturdy design & materials used for its construction. The high-contrast knobs ensure maximum usability even in low-light scenarios and the ergonomic taper keeps your control at the instrument at all times.
The VLZ4 line of mixers makes every channel count and is perfect for all kinds of applications, whether they are studio ones or live ones.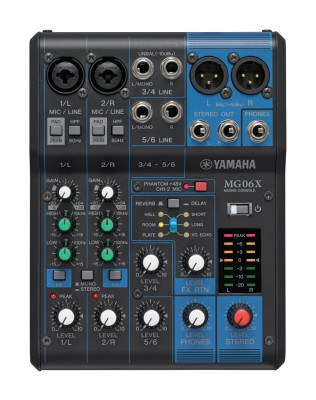 Once again Yamaha has produced a master piece and given music producers the ability to enhance, modify and process their production with the greatest amount of precision possible.
First of all, the Yamaha MG06Xcomes with an ergonomic yet sturdy design and can work in all types of conditions whether they are in a studio or on live stages.
Enough said about the construction, the mixer comes with Class-A Mix Preamps that produce fat, natural sounding bass with low distortion.
These pre-amps can operate at a wide range of frequencies and can handle signal at almost every audio source.
The mixers also come with phantom power, which will allow you to take full advantage of the heightened frequency response and quality of condenser mics.
Furthermore, the input channel comes with a PAD switch that attenuates high input signals and ensures that no clipping occurs to the signals you send its way.
The MG06X also comes with modern circuitry fabricated in collaboration with the semiconductor manufacturer, ensuring greater reliability and robustness with its silicon wafers & extremely pure copper connections.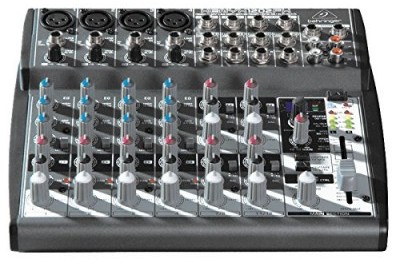 This mixer has the following features:
Premium quality high headroom analog mixer,
4x XENYX mic preamps,
3-band EQs,
Studio-grade FX processor with 100 presets,
FX send control per channel,
This is a superb, 12-Input 2-Bus Mixer that allows any music producer to effortlessly achieve high-quality sound in an affordable manner.
The XENYX 1202FX gets its name from the world-wide respected XENYX preamps which can cope with a number of factors that even the best stand-alone mic preamps can't. They have a bandwidth that ranges from 10Hz to 200 kHz and can handle 130dB of dynamic range.
Next, the mixer comes with a built-in Digital Multi-FX processor that can deliver 100 mind-blowing presets like chorus, reverb, delay, etc. You can apply these effects to any channel you want and can even integrate them with a mix.
Also, the product comes covered with a 3 year warranty so you won't have to worry about this particular thing on tours and studio recordings.
Final Notes: Enjoy learning about the best small mixers?
Make sure to follow us on Twitter, @MIDILifestyle. We post awesome music production tips!
When seen in retrospect, the Behringer Xenyx 1202fx mixing console takes the stage because of the great many number of features it provides, similar to high-end mixers and the cost at which it can be purchased, enabling any beginner to enjoy the benefits of a premium grade device.